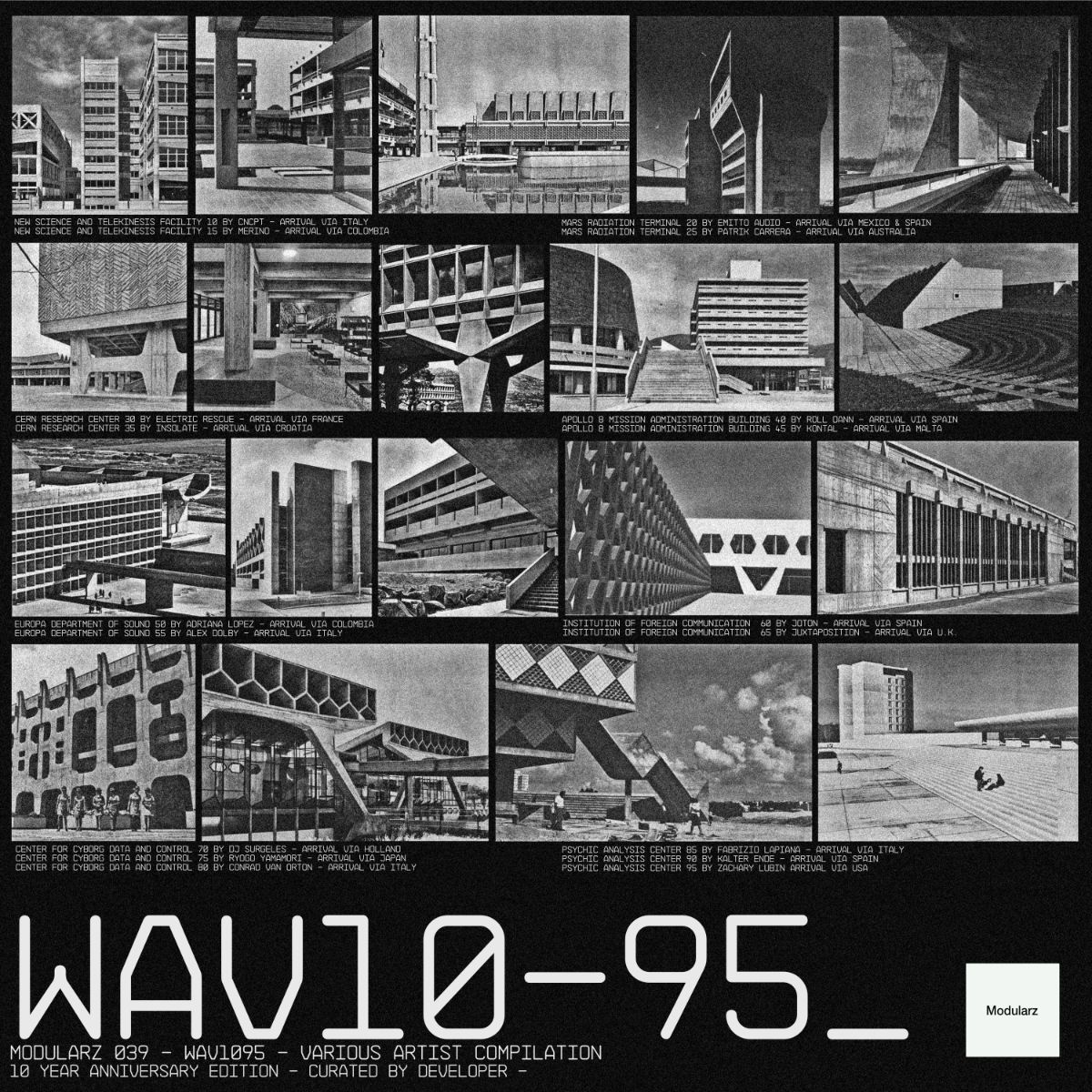 Various Artists - WAV10-95
LA-based Techno label Modularz is celebrating their 10 year anniversary with the release of a colossal 18-track various artists compilation, 'WAV10-95'.
(Read the news at RA)
Formed in 2009 by Developer alongside fellow LA Techno titans Silent Servant,Truncate and Fannon Flowers, Modularz has since become one of the most consistent and highly-celebrated imprints operating out of the US. With dynamic releases over the last ten years from the likes of Oscar Mulero, Exium, Stanislav Tolkachev, and Terrence Dixon, there is plenty of reason to celebrate this momentous milestone. And what better way to kick off the celebrations than with a monstrous compilation of pure, unadulterated techno, curated by Developer himself.
'WAV10-95' marks the label's 39th release and provides a distinct snapshot of everything that has made Modularz such a highly-regarded imprint. There is a startling consistency to all 18 tracks which is a testament to the dependability of the Modularz output. An eclectic array of artists – new and old from across the global techno scene – invariably deliver forward-thinking, richly textured and meticulously crafted techno slammers. Rich sonic textures and raw kinetic energy is to be found across each cut – from the brutal percussion and foreboding pads of CNCPT's opening track 'New Science and Telekinesis', right through to the crunching rhythms and melancholic swells of Electric Rescue's closer, 'Cern Research Center 30'.
In true Modularz fashion, 'Wav10-95' contains no shortage of heavy-hitting techno weapons. Deep kicks, hefty layers of distorted percussion, piercing synths, and harsh filtered noise can be found on peak-hour bombs from Patrick Carrera, Adriana Lopez, and Roll Dann. The compilation also includes its fair share of psychedelic experimentations full of freaky melodics, off-kilter percussion, dissonant chords, polyrhythmic patterns, extraterrestrial textures, and ghostly howls from the likes of Juxta Position and DJ Surgeles. Yet reprieve is to be found in the stripped back modular tones of Ryogo Yamamori and the insular yet powerful deep-tech of Conrad Van Orton – highlighting the multi-dimensional quality of this marathon release.
Modularz kicks off their 10-year celebration with the release of WAV10-95 on March 8th, followed by a four-track vinyl compilation in April, and label nights scheduled across the globe throughout the year.