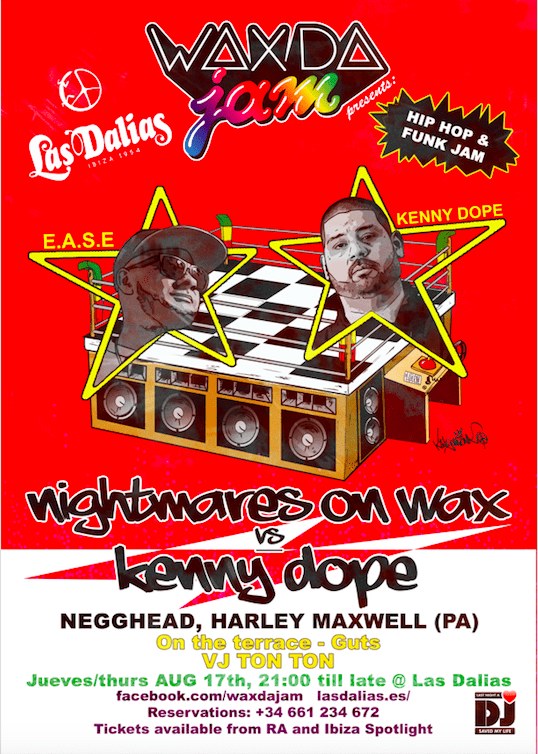 Wax Da Jam Hip Hop & Funk Jam w/ Kenny Dope
Wax Da Jam delivers their eighth season in Ibiza, offering something different and alive from the island's oldest discoteca, Las Dalias, with four special events, and the theme 'season of giving' – with 10% of the profits going to Last Night A DJ Saved My Life, towards building a well in Africa or India.

On August 17th, Wax Da Jam goes ghetto with a Hip Hop and funk jam session between Nightmares On Wax and very special guest Kenny Dope. Island resident Harley Maxwellwill be on hand for live lyrics, and no hip-hop event would be complete without a crew of break-dancers performing throughout the night to bring that extra bit of hype!

On the Terrace from 9pm the soulful sound of the extremely talented GUTS will providingthe soundtrack to the start of the evening.

Treats on the terrace come from two of the islands most in demand artists Chali Creations and Gerson Adonay Castro who will be combining their talents on live graffiti art, and Wax Da Jam regular Jo Jamface is back on make-up duties.
"Our third event for the season is a Hip Hop and Funk Jam digging into the foundations of DJ and Hip Hop culture, with the legend that is Kenny Dope.
This will be a musical journey that will take us through the 70's 80's 90's and will include contemporary act Guts from France who will be playing a 3hr set on the terrace. Plus a live show from the next generation of Hip Hop, local hero Harley Maxwell. Street art & culture will be evident everywhere, with a touch of Wax da Jam Funk and Fun. All break-dancers and rappers are welcome to join our dance floor battles & open mic. Remembering this is all for our great cause Last night a DJ saved my life foundation to build them water wells in Africa. Let's go!" – (DJ E.A.S.E) Nightmares On Wax
Wax Da Jam welcomes any age from 16 and over and the party happens inside and out, with good food, market stalls and so much more from 9pm to 5am.
TREATS ON THE TERRACE
Las Dalias Restaurant
https://web.lasdalias.es/restaurante
Bookings: +34 971 32 68 25