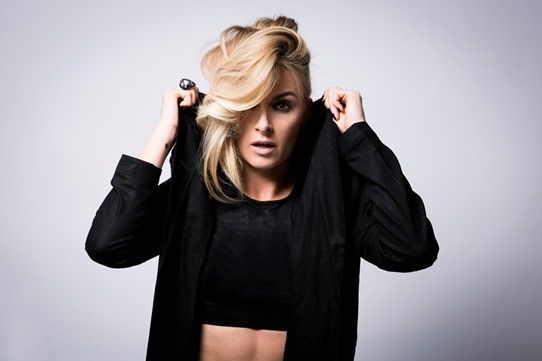 Krystal Roxx - We Are Amazing
DJ and Producer, Krystal Roxx is set to release her debut single 'We Are Amazing' on 25 September on Superfoxx Records, as a digital download via iTunes. Known for her energetic DJ sets for the likes of Hed Kandi and Morning Gloryville, the single showcases Krystal's contemporary house style and infallible ear for the dancefloor. With remixes from Marc JB, Brendan Mills and Mark Loverush vs Stereojackers, 'We Are Amazing' is just the start, as Krystal Roxx kicks it up a level. On 26 September, Krystal will headline Polo at Proud Camden along with Twiggy Garcia and the Polo resident DJs, for her official iTunes launch party – come on down and see just how contagious a Krystal Roxx set really is! Listen to the Marc JB remix of We Are Amazing with nearly 63k plays on Soundcloud:
Londoner, Krystal Roxx is in high demand. She honed her skills presenting Hed Kandi Radio on Ministry of Sound, deejaying around the world for the leading club brand, as well as taking her live sets and 'Superfoxx' club nights to some of the world's most beautiful club locations including Gotha Cannes, Etoille Rouge Verbier, and Torch Montenegro.
A fitness fanatic, her high-energy love of music and clubbing is infectious, never failing to set the dancefloor alight. She regularly plays alongside some of dance music's biggest names such as Fatboy Slim and Bakermat, and is equally at home DJing in a sweaty club or in front of huge crowds. 'We Are Amazing' is the first taster from her forthcoming album project. She explains,
"The track was something we put together out of a session with Maegan Cottone (Iggy Azalea) and Marc JB (Bimbo Jones), we wanted to get a really intense hook and an uplifting track. I am looking to set the tone to my album next year. It's got a housier feel, more 125-128 BPM, than perhaps where my head was at 2 years ago when I was smashing V Drums on a live show! I want people to feel uplifted by my music so I guess I came up with this cheesy title but it makes you feel good and that's something I am proud of."

On the remix front, Marc JB, one half of funky house outfit, Bimbo Jones – who've remixed for everyone including Rita Ora and Madonna – takes things in a disco direction with big funky basslines and surefire drops. Rising star Brendan Mills takes a deeper route, adding a cool veneer to the overall sound. Acclaimed duo, Mark Loverush vs Stereojackers step up to deliver a trademark progressive trance remix, guaranteed to fill the dancefloor. The remixes, released 11 September on Beatport, have seen wide support across Kiss FM, Planet Radio, FFH Hit Radio, Night Wax, The Selector, After Dark, Capital FM, and Gaydio.
The feel-good title is a nod to Krystal's passion for music, clubbing, fitness and empowerment and underlines her reasons for starting the Superfoxx brand. Krystal's Superfoxx club nights bring together some of the very best women at the top of their profession – from DJs and nutritionists, to fitness experts and makeup artists with the aim to empower, inspire and support the next generation of women.
Krystal is also the brains behind the first female-focused DJ academy in London. The Superfoxx DJ Academy was initially started as a means for Krystal to help young women break into a male-dominated industry, with courses designed by some of the industry's leading professional talent, taught at a state of the art music studio in East London. Superfoxx is also a social enterprise where 20% of all profits go towards running mentoring events to inspire and support young women across the country.
Krystal Roxx's mix of energy and enterprise is inspirational. With her new single 'We Are Amazing' coming to a dancefloor near you, this is one Superfoxx who is destined for great things.
Pre-order now: itun.es/gb/VjOp9
Buy remixes on Beatport: pro.beatport.com/release/we-are-amazing/1590518
Proud Camden iTunes Launch Party – tickets & info: www.residentadvisor.net/event.aspx?744870