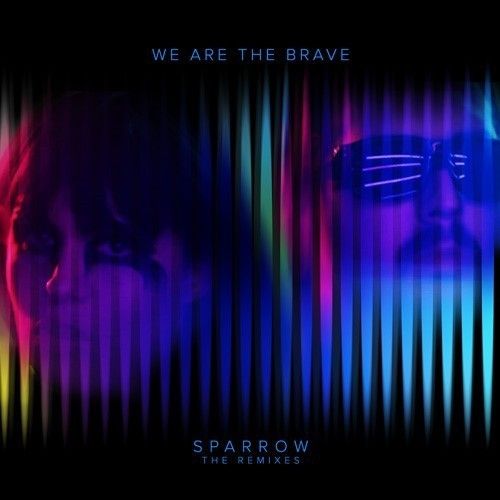 We Are The Brave – Sparrow (ATTAR! Remix)
Sydney-based indie/synth-pop duo We Are The Brave (aka singer-songwriter Jess Chalker and hip-hop producer Ox Why) get the remix treatment from Belgian producer, remixer and DJ ATARR! (aka Renaud Deru) on their breakthrough single "Sparrow". Deru (who also records under the monikers Mustang, Cosy Mozzy, Dirty Dancing and Libertine Supersport) has gained international acclaim for his remixes for artists like Gossip, Chrome Canyons, Giorgio Moroder and Propellers. He delivers a full-bodied, acid-tinged deep house mix that tips its hat to the classic house sounds of Chicago and Detroit with a modern twist.

Offered as a FREE DOWNLOAD, this exclusive new mix (not included on the group's Sparrow (The Remixes) commercial release) brilliantly reinvents the nostalgic indie-pop anthem into a pumping, sinister and hypnotic late night workout. Check it out at Earmilk where it premiered and on SoundCloud.

We Are the Brave were formed in Sydney where they found common ground in 70s soft rock, adventurous 80s pop, 90s sci-fi, trip-hop and contemporary alterna-pop and were inspired to create a modern sound that re-imagined their influences. Hailed as one of this year's most promising acts to emerge out of Australia's fertile indie scene, the duo gained international acclaim and domestic airplay with their self-produced and self-released debut EP Noctua and singles "All Good Things Must Come" and "Sparrow" (with its accompanying MTV Iggy and MTV Buzzworthy championed video directed by James Chappell).

Their recently released Sparrow (The Remixes) EP includes reworks by Rich Morel, Culture Fires, Nightriders, The Dualists and Gnome that embody the song's dynamic kaleidoscopic sound. It kicks off with an extended mix of the brooding title track that swells with sweeping synths and a melancholy saxophone (performed by multi-instrumentalist Mark Cisneros of Deathfix and Medications) before vocalist Jess Chalker's unmistakable voice cuts through with lyrics as seductive as they are cautionary. Renowned singer/songwriter, producer and DJ Rich Morel (of BLOWOFF/Deathfix fame) brings the instantly memorable vocal melody to the forefront and highlights it with a luminous rhythm that takes the track from midnight to daybreak. The Dualists' propulsive electro-tinged mix chops up Chalker's voice against a backdrop of bouncy bass and percussion and sparkling horns. Boston-based nu-disco outfit Nightriders reinvent "Sparrow" into a pulsating and emotive late night anthem that will tug at your heartstrings whether you're on the dance floor or listening on your headphones. London-based experimental dream-pop trio Gnome bring out the tracks' darker edges with their pitched down mix laced with militaristic beats, plaintive guitars, heavily effected vocals and swirling textures that focus on the song's piercing lyric, "You can't tame an animal".

The band has also shared a FREE DOWNLOAD of the exclusive "Sparrow (Alcala Remix)", not included on the commercial release. Alcala (whose done remixes for artists like M83, Givers and Crystal Castles) adds a seductive pulse that underscores the original's noir imagery.
We Are the Brave will release a new single later this spring. Stay tuned!