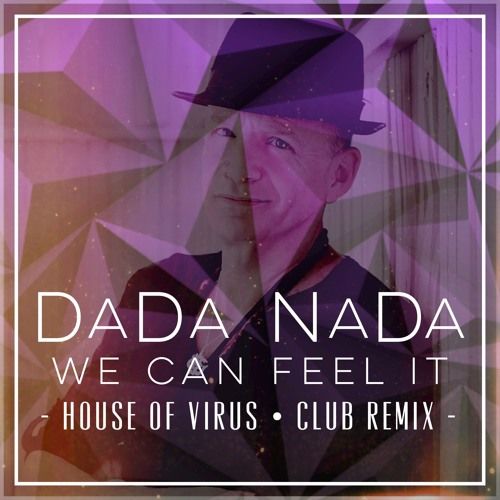 DaDa NaDa - We Can Feel It – The Remixes
DaDa NaDa is here with his brand new release 'We Can Feel It', which is packed full of a variety of mixes to suit every vibe you're feeling: House of Virus, who unleash bucket loads of fresh funky House, Mntna with a mysterious, underground take, Classic Acid Flava's bangin' piano and Aman's melodic minimalism, who both fashion their own unique Pop approach – all making this package a must-have inclusion in any music lover's record collection. Enriching the feel good sensations, the lyrics explore the deeper meaning of love on a mystical and spiritual level, which reflects DaDa's NaDa's life-long journey exploring different paths of love. Whatever vibe you're into, you will be dancing for the rest of the summer and into the fall!
After a 26-year absence from music, the LA based, singer-writer-producer and House pioneer, DaDa NaDa, made a huge comeback, giving the world a taste of what it had been missing released on his own label, DaDa NaDa Records, his 2016 track 'Je Suis Paris/I Am Orlando', paid tribute to the victims of terror attacks, and hit no. 13 on the UK's Music Week Dance Chart, finding massive success within the LGBTQ community and its straight allies. DaDa NaDa's following up this celebrated comeback with 'We Can Feel It', a masterpiece that is set to be a sensual end-of-summer-through-fall anthem that seduces them on the dance floor in all kinds of exciting ways. Make sure you're tuned-in for more from DaDa NaDa 'cause he's back and here to stay!
Available on iTunes
https://itunes.apple.com/gb/album/we-can-feel-it-the-remixes/id1280655442
DaDa NaDa Online
https://www.dadanada.com
https://www.facebook.com/pg/DadaNadaOfficialPage
https://twitter.com/DadaNadaMusic
https://soundcloud.com/dada-nada
https://www.instagram.com/dadanada.official