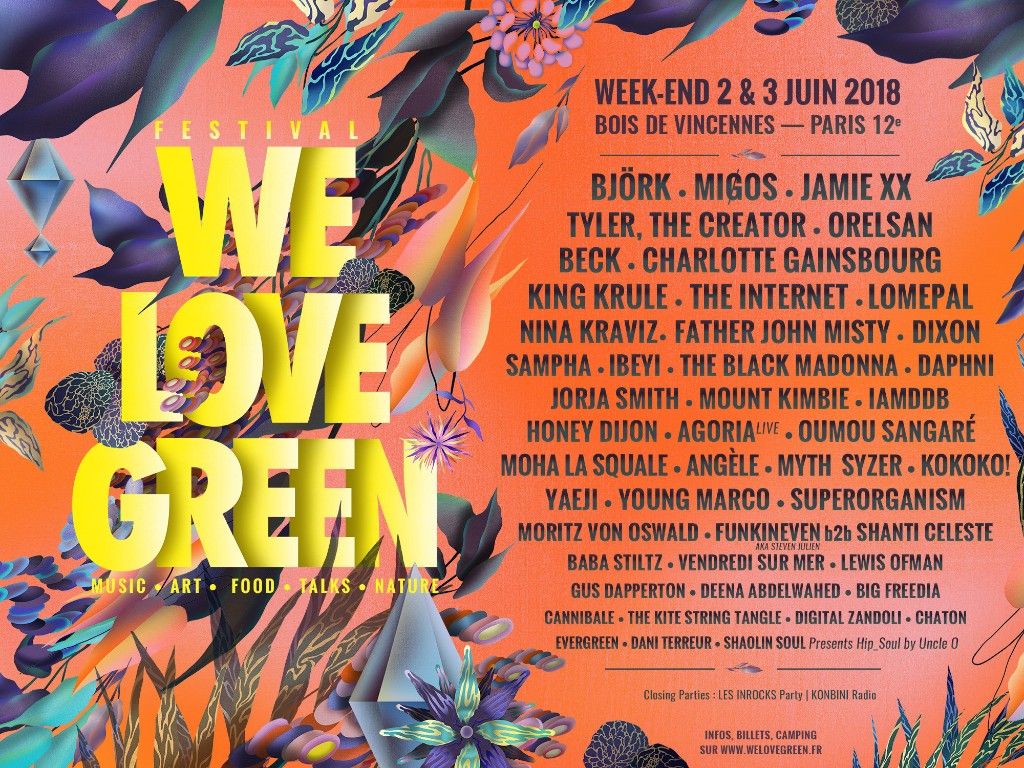 We Love Green Festival, Paris – announces more acts…
We Love Green's 2018 festival is shaping up to be its best yet. Now relocated to La Belle Étoile in the scenic Bois de Vincennes forest just outside the centre of Paris, this year will see 70,000 fans enjoy a weekend of music, debate and food, all within one of the most environmentally sustainable and 'green' settings.

Following the first wave of artists announced for 2018 – Björk, Migos, Jamie XX, Tyler the Creator, Beck and many more – today We Love Green can reveal details of its second wave of artists for 2018. Charlotte Gainsbourg, Sampha, Mount Kimbie and Agoria are just some of the artists who reflect We Love Green's distinctive musical vision: a blend of influential, established artists together with those who are exploring their own avant-garde adventures.

This summer will see two exciting new stages launched deep within the woods: the Canopée, a third stage constructed in wood which hosts the rising stars of the music scene, and Club Lalaland, a summer clubbing experience which presents some of dance music's most vital talents.
Spanning rap, rock and hip-hop, the Canopée is dedicated to some of the most essential live artists around. France's domestic scene is represented by a cornucopia of talent in the shape of Moha la Squale, Myth Syzer, Cannibale, Vendredi Sur Mer and Dani Terreur.They're joined by an enviable array of international talent including 'the badass new star of UK hip hop' IAMDDB, multi-national new cult sensations Superorganism, and the frenetic Congolese collective Kokoko!. They're joined by Sons of Raphael and Evergreen before Oneohtrix Point Never closes the show with his innovative electronica.
Confirmed for Club Lalaland, We Love Green's electronic playground are: Dixon, Innervisions founder and arguably one of the biggest DJs in the world right now; First Lady of techno Nina Kraviz; Chi-Town revolutionary The Black Madonna; Studio Barnhus wunderkind Baba Stiltz; an exclusive b2b from Funkineven and Shanti Celeste; and experimental techno from the Tunisian DJ Deena Abdelwahed.
One of We Love Green's unique selling points is the Think Tank; an ideas lab which presents an opportunity to explore new ways to ensure sustainable development in our daily lives. Fifty inspiring figures such as activists, NGO leaders, entrepreneurs and campaigners will delve into issues and raise public awareness on a variety of issues such as ocean and forest biodiversity; biomimetics; e-waste; new energy sources; transhumanism; quantum mechanics; and other issues which impact upon the world, both now and in the future.
Five speakers are already confirmed:
Ernst Zürcher – a forest engineer, doctor of natural sciences, professor and researcher in wood science, and author of the book 'The Trees and The Invisible'.
The Surfrider Foundation Europe – a not-for-profit organization dedicated to the protection and enhancement of lakes, rivers, oceans, waves and the coastline.
Isabelle Delannoy – an agricultural engineer, and author of the book 'Symbiotic Economy'.
François Sarano – a doctor of oceanography, professional diver, and former scientific advisor to Jacques Cousteau.
Taylor Lane – a designer who created a surfboard made from 10,000 cigarette butts collected while cleaning California's beaches).
We Love Green is run on the core principles of reduce, reuse and recycle, all of which informs the festival's organisation in terms of energy, water, waste, food, transportation and promotion. By applying those concepts to their activities, We Love Green is run entirely on 100% renewable energy, while 70% of all its waste is recycled.
This year sees We Love Green teaming up with other European festivals that are committed to sustainable methods in the shape of Boom Festival (Portugal), Dour Festival (Belgium) and Pohoda Festival (Slovakia) as well as the Go Group and A Greener Festival organisations. By pooling their wealth of experience, this like-minded network aims to transform independent festivals from the inside out, and encourage attendees to be true ambassadors for change.
Tickets for We Love Green 2018 are on sale from http://www.welovegreen.fr/tickets/?lang=en. They're available at a Nice Price of 50 Euros for a day ticket or 89 Euros for a weekend pass.