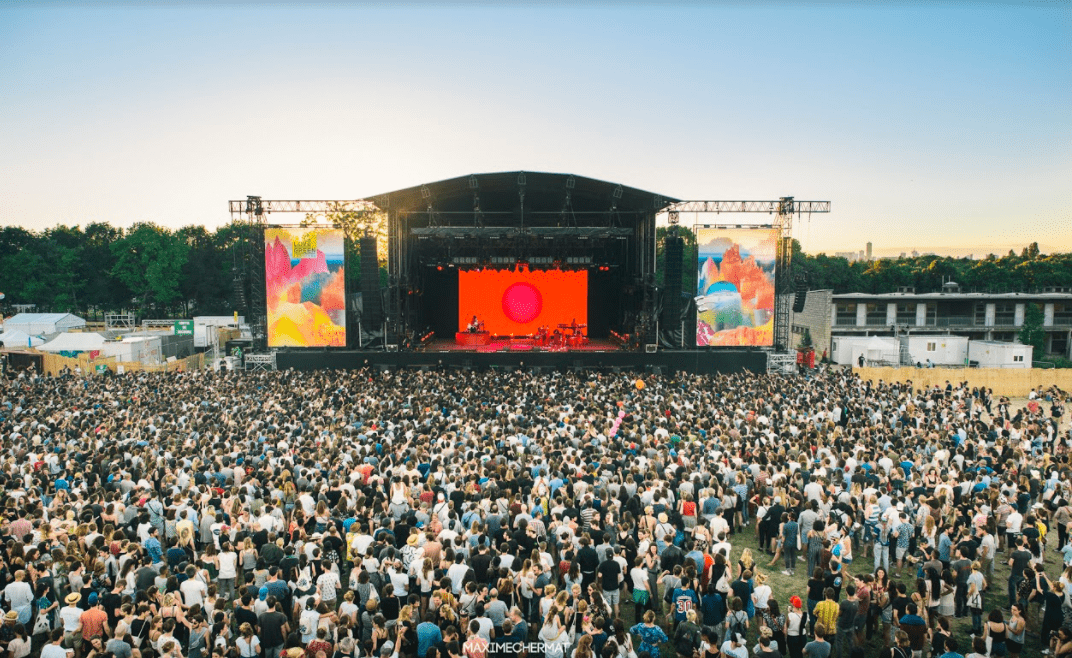 We Love Green Festival, Paris – First names announced.
Following the news that Björk will be headlining We Love Green, today Paris' leading sustainable music and arts festival announces its first wave of acts for 2018.

Confirmed to headline on Saturday 2nd June will be party-starting hip-hip trio Migos. Pioneers of the triplet flow, 2017 saw them land their first Billboard #1 album with 'Culture' which subsequently featured on numerous influential albums of the year lists. They've already built anticipation for their forthcoming follow-up 'Culture 2' by dropping two recent tracks: 'MotorSport' alongside rap royalty Nicki Minaj and Cardi B, as well as 'Stir Fry' which boasts funk-fuelled production from Pharrell Williams.

Joining them will be producer extraordinaire Jamie xx; visionary OFWGKTA leader Tyler, The Creator; longstanding innovative force and mult-genre master, Beck; and young London's finest King Krule. Archy Ivan Marshall's genre-twisting current album 'The OOZ' was heralded by a Pitchfork as "a masterpiece of jaundiced vision from one of the most compelling artists alive" and subsequently reached #3 on their rundown of The 50 Best Albums of 2017.
Although a new name to British audiences, rapper and producer OrelSan enjoys superstar status in France. Often described as the nation's equivalent to Eminem, OrelSan's latest album 'La fête est finie' ('The Party Is Over') takes a more reflective and introspective approach to his previous work. Not that his change of direction impacted upon his popularity as the album shot straight to #1 in his homeland and was certified Platinum just a week after its release.

Also confirmed are Grammy-nominated LA based neo soul collective, The Internet; Father John Misty, who is sure to bring an abundance of charisma to the festival as well as killer cuts from his revered albums 'I Love You, Honeybear' and 'Pure Comedy'; and prolific French rapper Lomepal.
Representing the electronic contigent this year will be Daphni, the club-focused alias of Caribou figurehead Dan Snaith; highly influential German producer Moritz von Oswald, who will be present with his distinctive brand of ambient techno, minimalism and dub; and chic trans icon Honey Dijon.

Rounding off the first wave of artists are French-Cuban duo Ibeyi; Young Marco, the DJ and producer renowned for discovering previously lost classics from the depths of music history; and rising British star Jorja Smith, who features on two cuts from Drake's all-conquering mixtape-meets-playlist 'More Life'.

Expect to see further details of We Love Green's stellar 2018 line-up to be revealed soon.
Tickets for We Love Green are now available at a special nice price of €50 for individual day tickets or €89 for a weekend pass.

As previously announced, this year will see We Love Green move to a new home within the Bois de Vincennes public park on the Eastern outskirts of Paris: the Plaine de la Belle Étoile. Next year's edition looks set to be the best yet with several inventive additions to the event, including: new talent stages; hidden mini-dancefloors; art installations throughout the woodland paths which lead to the festival; new visual displays; and an optimised festival site which allows attendees to flow between stages at ease.
2ND – 3RD JUNE 2018
BOIS DE VINCENNES, PARIS
http://www.welovegreen.fr/en