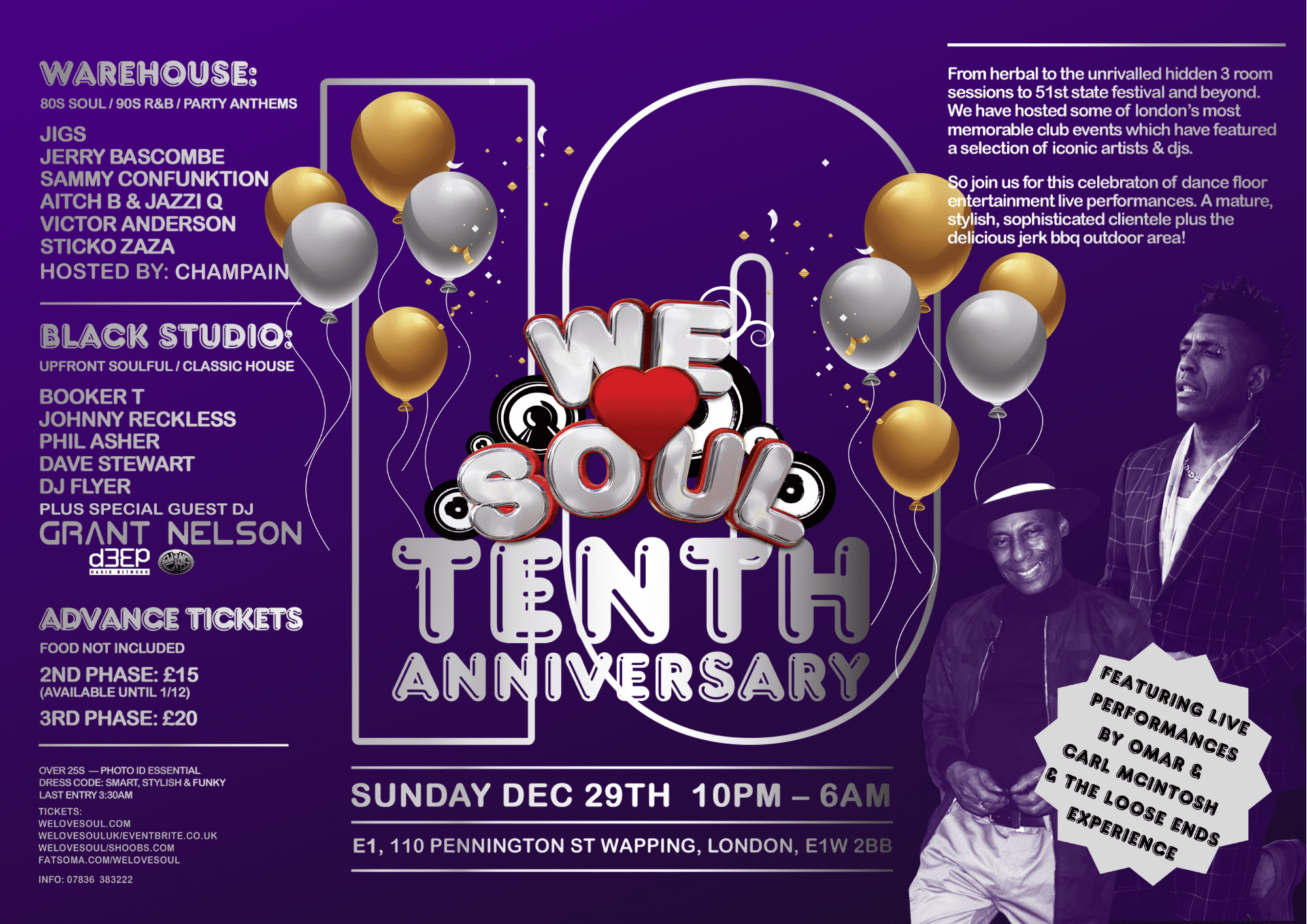 WE LOVE SOUL 10th Anniversary Featuring Omar & Loose Ends, Sunday 29th December 2019.
We Love Soul is extremely delighted to be celebrating our 10 year anniversary, featuring live performances by Omar and Carl McIntosh & The Loose Ends Experience.
From herbal to the unrivalled hidden 3 room sessions to 51st State Festival and beyond, we have hosted some of London's most memorable club events which have featured a selection of Soul Legends, Iconic Artists and DJ's.
So! Come join us for this landmark celebration of dance floor entertainment and live performances. A mature, stylish, sophisticated clientele, plus you'll enjoy the delicious Jerk BBQ outdoor area. Secure Early Bird Tickets for only £15 (available until December 1st – then £20 thereafter) so grab 'em while they last!
WHO WILL BE DJ-ING? 🎤🎧
Only the most epic DJ's will be playing at We Love Soul 10th Anniversary. This event will boast one of the strongest DJ lineups in history; Jigs, Jerry Bascombe, Sammy Confunktion, Aitch B & Jazzi Q, Booker T, Phil Asher, Johnny Reckless, DJ Flyer, & + SPECIAL GUEST DJ: Grant Nelson
We are super excited to announce Grant Nelson will be making an exclusive festive season London DJ appearance at our event at E1 London on Sunday, Dec 29th.
If you don't know who Grant Nelson is, you might know him as… Wishdokta, Bump & Flex, N'n'G, 24 Hour Experience, Ricky Suarez, Livin' Large, M-Gee, Nu Rhythmix, Mixmaster Gee and a whole bunch of other names.
WHAT TO EXPECT
The Venue capacity is split over two rooms. The largest room being the Warehouse, whilst the Black Studio introduces intimacy.
Complete With 2 Rooms of Music
ROOM#1: THE WAREHOUSE
Soul / Funk / 90s R&B / Party Anthems / Neo Soul / Boogie
Jigs (Mi-Soul Radio)
Jerry Bascombe (The Soul Of London Radio (TSOL Radio)
Sammy Confunktion (Groove Odyssey/ 51st State Festival)
Aitch B & Jazzi Q (We Love Soul/ Soul II Soul Sound System)
Victor Anderson (Back2Back FM)
Sticko Zaza (ActiveLove)
Hosted by: Champain
ROOM#2: BLACK STUDIO
Upfront Soulful/ Classic House / Broken Beats
Booker T (Mi-Soul Radio)
Phil Asher (Producer/Remixer)
Johnny Reckless (Colourful Radio)
Dave Stewart (London Music Radio)
DJ Flyer
+SPECIAL GUEST: Grant Nelson
Photo ID required
Age: 25+
Last entry: 3:30am
Dress Code: Smart, Stylish & Funky / No hoods or baseball hats
#WeLoveSoul10thAnniversary
#WeLoveSoul10YearAnniversary
#OmarLyefook
#LooseEnds
ABOUT THE VENUE – E1 London
The venture is the brainchild of a group of professionals with proven track records in the music and events industry. The venue owners have worked with the country`s leading promoters and production houses. The bookers are the orchestrators of some of London`s biggest events over the last decade.
The management team comes with experience from the capital`s best alternative establishments.
The site itself has been transformed working with an acoustic consultancy and pioneering audio specialists, Funktion-One, to install a bespoke, integrated sound system to rival any in the capital. The Funktion-One system has been painstakingly designed and utilizes the company`s latest loudspeaker products and technological innovations. An exceptional air conditioning system also adds to E1`s premium status.
The capacity is split over two rooms, the largest being the Warehouse, whilst the Black Studio introduces intimacy. To ensure the highest possible audio quality, the systems were installed by Sound-Services and are powered by Full Fat Audio amplification. Both spaces have been treated and tuned for optimal acoustic performances by specialist Shaun Murkett, boasting a sound system of clarity, depth, power and without noise issues affecting the signal path. We deliver the finest in audio quality and the best of its kind built in the United Kingdom.