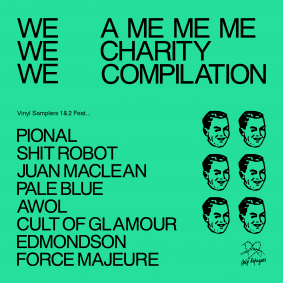 Various Artists - We We We Sampler 1&2
Next to the full 25 track compilation 'We We We', Man Power's Me Me Me label is serving up two vinyl samplers from it. As well as tracks from the original compilation—which is donating all profits to the essential Help Refugees charity—each sampler also features one exclusive, vinyl only track.
The first sampler kicks off with Hivern Discs man and John Talabot collaborator Pional. His 'Night Charmer' is a slick, futuristic cut of metallic house music with sad chords dampening down the prickly drums and perc. Next the legendary DFA Records act Juan MacLean feat. Amy Douglas then offers 'Quantum Reach', bringing seven tender minutes of deep, teary-eyed house with lots of wide open space to allow the spine-tingling vocals of Douglas to really resonate.
The mysterious Force Majeure hails from the north of England and delivers here the wild, intense 'Tiwanaku', a broody mix of relentless drums and dance floor heat that has freaky vocals and tumbling toms getting you in the zone. This cut is exclusively available on the vinyl sampler. Finally, Me Me Me label artist Edmondson offers up 'Village', an intriguing track of machine sounds, weird effects, trudging drums and a taught riff that keeps you guessing throughout.
The second sampler comes a week later and kicks off with Shit Robot who returns to the label for the second time. The Irish artist's 'Today I Cried' is a heavyweight, no frills dub techno cut that rolls and rolls and hypnotises as it goes. Next up we have AWOL with his first musical offering since the 'AWOL 1' EP on Lobster Theremin tore up techno dancefloors worldwide in 2016. Here he delivers a cut built around broken drums and old school Detroit chords that cannot fail to grab you. Pale Blue's 'A Heart Whose Love is Innocent' flips the script with a romantic and late-night house feel that is awash with warming chords, breathy vocal coos and beautiful sounds to sooth the soul before Me Me Me label act Cult of Glamour round things out with scintillating synths laid dramatically over chug-disco drums.
These two samplers offer plenty of varied sounds from dub to disco, house to techno, and prove Man Power's A&R and curatorial game is strong indeed whilst offering a great insight into the superb 'We We We' compilation.
Tracklist:
We We We Sampler 1
1. Pional – Night Charmer
2. Juan Maclean feat Amy Douglas – Quantum Reach
3. Force Majeure – Tiwanaku
4. Edmondson – Village (Newcastle Rhythm Mix)
We We We Sampler 2
1. Shit Robot – Today I Cried
2. AWOL – 25 55.003583, -1.444611
3. Pale Blue – A Heart Whose Love is Innocent
4. Cult of Glamour – Inductive Logic