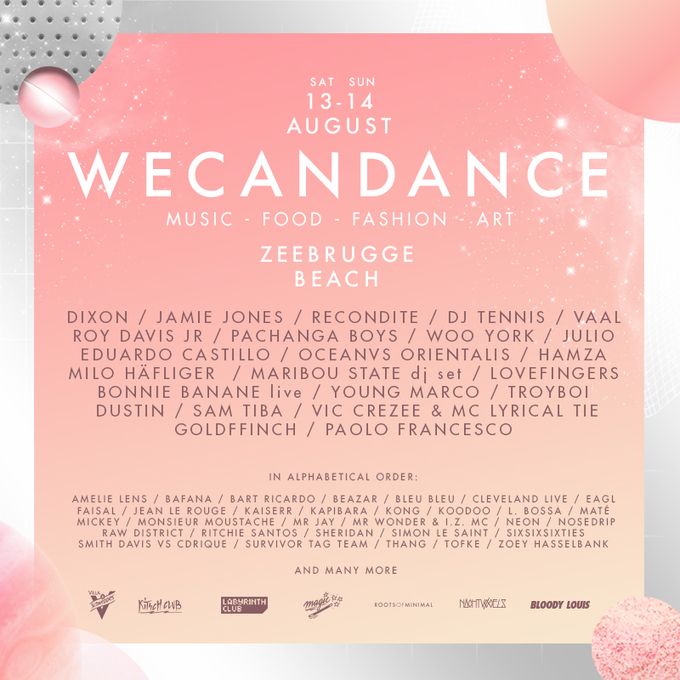 WECANDANCE Festival announces complete line-up
Taking place from 13-14 August 2016, on the sun-kissed golden sands of Zeebrugge Beach in Belgium, WECANDANCE festival showcases an exceptional line-up of quality underground music across 4 main stages. Today the festival unveils the complete line-up for 2016.
Alongside headline sets from acts including Innervisions co-founder Dixon, Life And Death label head DJ Tennis, Recondite and Hot Creations/Paradise main man Jamie Jones, the stunning beach location will also play host to house and techno's finest, including Pachanga Boys, Vaal, Woo York, Roy Davis Jr, Young Marco, Goldffinch, Eduardo Castillo, Lovefingers and Maribou State. Belgium's finest underground talent is also represented with today's new additions Beazar, Cleveland, Hush Hefner, Kapibara, Nick Bril, Nosedrip, Raw District and Tofke. Click, drag and take a look around the 360 video to discover all of the artists on the bill: https://youtu.be/-Bbswp94Zww.

SATURDAY
NÄCHTVØGELS x ROOTS OF MINIMAL
DJ TENNIS
VAAL
WOO YORK
DJ DUSTIN
CLEVELAND live
BEAZAR
MATÉ
BLOODY LOUIS
FAISAL
HAMZA
RITCHIE SANTOS
BONNIE BANANE live
MR. WONDER & I.Z. MC
BLEU BLEU
SURVIVOR TAG TEAM
ZOEY HASSELBANK
KITSCH CLUB x MAGIC
MONSIEUR MOUSTACHE
JEAN LE ROUGE
JULIO
THANG
ROY DAVIS JR
BART RICARDO
MICKEY
GUS & SENSE
VILLA SCHWEPPES
KOODOO
EDUARDO CASTILLO
OCEANVS ORIENTALIS
MARIBOU STATE dj set
MILO HÄFLIGER
CHARLOTTE DC
SHERIDAN
H&M
LAURA DE GREEF
POLAR YOUTH
SUPAFLY COLLECTIVE
PURE C
RICK SHIVER
RENAAT VANDEPAPELIERE

SUNDAY
LABYRINTH
DIXON
RECONDITE
GOLDFFINCH
AMELIE LENS
NICK BRIL
TOFKE
RAW DISTRICT
KAPIBARA
KAISERR
BLOODY LOUIS
TROYBOI
SAM TIBA
TLP
VIC CREZÉE & MC LYRICAL TIE
EAGL
SIMON LE SAINT
MR JAY
THE LIZZIES
KITSCH CLUB x MAGIC
L. BOSSA
NEON
JAMIE JONES
PAOLO FRANCESCO
MONSIEUR MOUSTACHE
HUSH HEFNER
SMITH DAVIS vs CDRIQUE
VILLA SCHWEPPES
PACHANGA BOYS
YOUNG MARCO
LOVEFINGERS
BAFANA
KONG
BOREALIS
SIXSIXSIXTIES
H&M
BIBI SECK
BLACKGOLDDIGGER
CATWAR & LILIHELL
PURE C
NOSEDRIP
TOP SECRET GUEST

#WECANTASTE
Food is a also big part of the #WCD16 experience. Visitors will be able to choose from a wide range of signature dishes developed by many of Belgium's leading restaurants and chefs, inspired by this year's festival theme of Space.
WECANDANCE are delighted to welcome celebrated chefs Sergio Herman and Nick Bril, who will close their doors of their Michelin-starred restuarant The Jane in Antwerp and move their entire staff to WECANDANCE for two days to deliver a tasteud-tingling menu, joined by drinks specialists and master mixologists Pure C.
Fifteen additional food partners are confirmed for this year's Food Market, including Balls & Glory, Blend, blvd., Capriani, Carcasse, Chyl, Essence, Jean Sur Mer, Mondada, NXT Door , Oesterput, Romain Roquette, Sander Jan Beirens, Umami and WOW, delivering an impressive international collection of signature dishes.
#WECANDRESS
The festival theme for this year's edition of WECANDANCE is SPACE! The festival site will be transformed into an an interplanetary playground and guests are encouraged to come along in their finest futuristic space-inspired outfits.Think sheer materials, glistening metallics, transparent plastics and splashes of eye-blinding white and silver
Book your place at #WCD16 now at www.WECANDANCE.be.
WCD16 LINE-UP A-Z
AMELIE LENS / BAFANA / BART RICARDO / BEAZAR / BLEU BLEU / BONNIE BANANE live / BOREALIS / CHARLOTTE DC / CLEVELAND live / DIXON / DJ DUSTIN / DJ TENNIS / EAGL / EDUARDO CASTILLO / FAISAL / GOLDFFINCH / GUS N SENSE / HAMZA / HUSH HEFNER / JAMIE JONES / JEAN LE ROUGE / JULIO / KAISERR / KAPIBARA / KONG / KOODOO / L. BOSSA / LOVEFINGERS / MARIBOU STATE dj set / MATÉ / MICKEY / MILO HÄFLIGER / MONSIEUR MOUSTACHE / MR JAY / MR WONDER & I.Z. MC / NEON / NICK BRIL / NOSEDRIP / OCEANVS ORIENTALIS / PACHANGA BOYS / PAOLO FRANCESCO / RAW DISTRICT / RECONDITE / RITCHIE SANTOS / ROY DAVIS JR / SAM TIBA / SHERIDAN / SIMON LE SAINT / SIXSIXSIXTIES / SMITH DAVIS vs CDRIQUE / SURVIVOR TAG TEAM / THANG / THE LIZZIES / TLP / TOFKE / TROYBOI / VAAL / VIC CREZEE & MC LYRICAL TIE / WOO YORK / YOUNG MARCO / ZOEY HASSELBANK
TICKETS
WCD Weekend Ticket €79.00
WCD Saturday Ticket €49.00
WCD Sunday Ticket €49.00
The Jane Saturday €175.00
The Jane Sunday €175.00
Book now at wecandance.be/tickets
CAMPING
WECANCAMP Easy €40.00
(1 person, bring your own tent, excl breakfast & entrance)
WECANCAMP Easy Relax €205.00
(2 persons, incl. WCD tent, excl breakfast & entrance)
WECANCAMP All inc. €410.00
(2 persons,includes luxe-cabin, 50€ drinkvoucher, excl breakfast & entrance)
Book now at wecandance.be/tickets
VIP
THE OBSERVATORY: KITSCH CLUB X MAGIC
€2500 / 10 people (10x entrance + €1700 spending budget)
€1500 / 10 people (10x entrance + €700 spending budget)
HYPER GALAXY: BLOODY LOUIS
€2500 / 10 people (10x entrance + €1700 spending budget)
€1500 / 10 people (10x entrance + €700 spending budget)
For more information about the different packages, contact [email protected]
CONNECT
http://wecandance.be
https://www.facebook.com/WECANDANCE.FEST
https://twitter.com/WECANDANCEFEST
https://www.instagram.com/wecandancefest
https://nl.pinterest.com/wecandancefest
https://www.snapchat.com/add/wecandance_fest