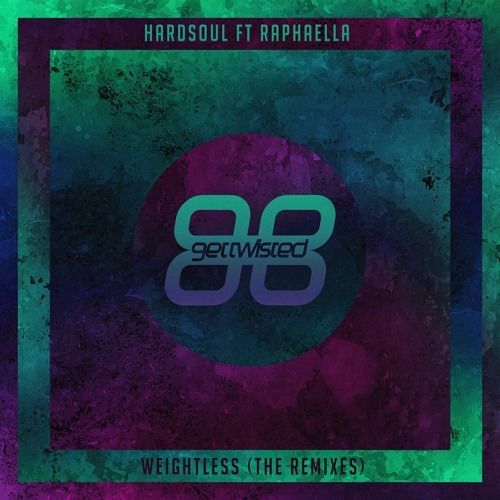 Hardsoul - Weightless (Remixes)
Hardsoul's euphoric 'Weightless' gets the remix treatment from three of the UK's hottest producers – Tom Bull, Blaise and GAWP for the remix bundle released on Get Twisted Records on 31 March 2017.
Tom Bull gives 'Weightless' a tougher and darker edge with Raphaella's vocal going deeper before building to a full on, twisted bass anthem.
Blaise then continues the deeper vibe, entering into acid house territory. Finally, GAWP produces a punchy remix complete with broken beats that chops up Raphaella's vocal and overlays with driving high hats.
Hardsoul, the group built around Dutch House don ROOG, have been carving out their own brand of true house music since the mid-90s. Their unique sound is laden with soul, funk and Latin influences and has been supported by a string of top house DJs and Producers including Roger Sanchez, Frankie Knuckles, Louie Vega and Joey Negro.
Hardsoul's first release on Get Twisted Records was the collaboration with Dirty Freek, 'Just Another Face', in 2015. The track became an underground hit and featured on Ministry of Sound's premier compilation 'The Annual'. Hardsoul's next release on Get Twisted Records was 'You & I' in 2016 with Ill Phil and featuring The Rise.
Since its inception 2012, Tough Love's record label, Get Twisted Records, has gone from strength to strength, featuring releases from both established names and rising talent including Roger Sanchez, Todd Terry, Sandy Riviera, Amine Edge & DANCE, Man Without A Clue, Full Crate, No Artificial Colours, Hannah Wants AS I AM, LiTek, Newbie Nerdz, and Midnight City. Get Twisted Records continues to grow in stature, with four sell-out London shows in 2016 showing the power the label currently commands in the UK.
Social Media links
Hardsoul:
www.hardsoul.nl
www.soundcloud.com/hardsoulofficial
www.facebook.com/Hardsoulofficial
www.twitter.com/hardsoul
www.youtube.com/user/hardsoulpressingstv
Tom Bull:
www.soundcloud.com/tombulldj
www.facebook.com/Tombulldj
www.twitter.com/tombulldj
www.instagram.com/tombulldj
Blaise:
www.soundcloud.com/blaisedj
www.facebook.com/blaisedj
www.twitter.com/BlaiseDJ
GAWP:
www.facebook.com/pg/GAWPmusic
www.soundcloud.com/gawp
www.twitter.com/gawpmusic
Get Twisted Records:
gettwistedrecords.com
soundcloud.com/gettwistedrecords
facebook.com/gettwistedrecords
twitter.com/gettwistedrecs
youtube.com/gettwistedrecords
www.instagram.com/gettwistedrecords