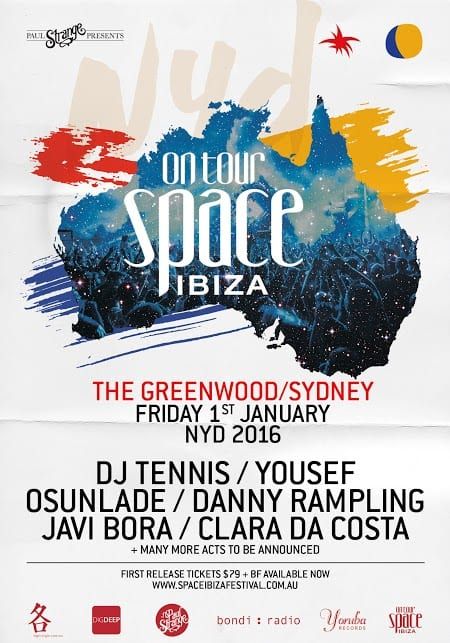 Welcomes the New Year with Space Ibiza NYD 2016 in Sydney
After last years 25th spectacular worldwide anniversary tour… The worlds most awarded club SPACE IBIZA returns to Sydney, Australia for its 7th Annual New Years Day event in the land down under, bringing with it that unique Space vibe and piece of Ibiza magic from the white Island.
Over the last previous six NYD events we have had sold outs shows and the worlds elite underground djs, making this event become the biggest annual Underground House & Techno event in Sydney, which is no mean feat at all.
With huge vibes and high ticket sales already since launching, this years event looks set to yet again be heading towards to another sold out show and yet again we will be bringing in the massive sound and production set up familiar to the Space Ibiza parties, taking the Greenwood venue to the next level to yet again exceed all expectations.
Circus Recordings ringmaster YOUSEF a dj who is certainly no stranger to Sydney, previously over the last few years bringing the house down at Space, Sankeys and the Stereosonic Festival, is back by popular demand. If you have seen him in action before then you will know that YOUSEF and Circus Recordings mean business and are at the forefront of the music scene and sound. Expect big things from him as he closes out our New Year's Day fiesta!
Multi-talented selector DJ TENNIS joins the festivities, and if you've been lucky enough to cop his latest deluge of remixes, you will already be furiously clicking 'Buy Now'. The Italian-American DJ has been remixing the likes of Baio (of Vampire Weekend), as well as busily keeping his imprint Life and Death firing on all cylinders. Tennis has been making waves gigging worldwide as he gets dance floors writhing and everyone asking for more! Game set match to this guy! This guy is hot property at the moment to don't miss out your chance of checking him out on NYD,
The Godfather of UK of the UK House scene, DANNY RAMPLING is one of the most instrumental figures in the House music scene. While no introduction is necessary, but for the uninitiated; listen up. Danny Ramping is without question, the backbone of the scene that exists today, and has much to do with why we party. Rampling brought his taste of Ibiza back to London in the form of rave and iconic event "Shoom". Giving birth to the acid house music movement, as we know it. With a resume that reads as long as our arm, but know this. I you think you like house music, watch Danny Rampling – be schooled and be truly entertained!
Yoruba Records head honcho OSUNLADE makes a long awaited return to Australia, and not a moment too soon. With releases on Defected, Strictly Rhythm plus his own imprint, Osunlade is an addition to the SPACE line up that is not to be missed. It's said each and every time he plays, you can expect a unique and new musical experience. We can't wait to see what he's got in store, but we just know it will be good along with Osunlade he will also be bringing talented Yoruba label mate Mike Steva from Melbourne with him who is certainly another one to watch at the party,
Space Ibiza and Kehakuma resident DJ JAVI BORA is fast becoming one of the most sought after acts in the world and has a string of amazing productions to back up his extensive world touring with the worlds no.1 club… Javi never fails to deliver and is one of the favourites at the Space Opening and Closing Fiestas in Ibiza and here in Sydney, Australia for the New Years Day event in which this will be his 3rd in a row he has performed,
2015 certainly has been great year for CLARA DA COSTA after being presented with an award from the Ibiza Clubbing Guide for her show Jack's House and several performances for Carl Cox night at Space where she hosted her own room Jacks House as well as taking that branded night on the road,
With that amazing line-up mixed with that amazing outdoor, open air, terrace and 3 indoor rooms of The Greenwood this is certainly a mouth watering prospect of an event for anyone who appreciates quality house and techno and that is in the harbour city around the festive period and simply cannot be missed… Tickets are selling fast so we suggest you jump on it quickly before they are gone and we will see you on the dance floor for another amazing start to another amazing, fresh, new year, – Space Ibiza style!