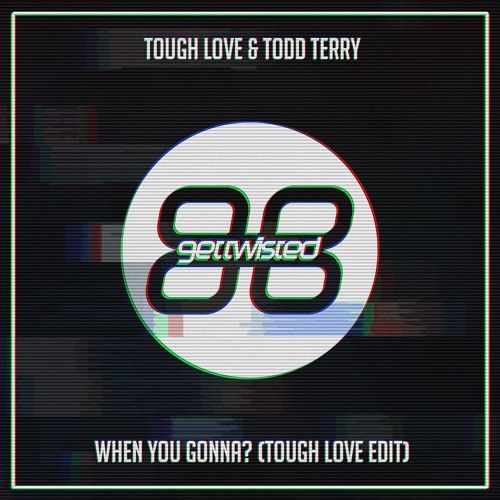 Tough Love & Todd Terry - When You Gonna?
Tough Love celebrate the 100th release on their imprint Get Twisted Records in true style by recruiting one of the icons of house music, Todd Terry on the deep and twisted 'When You Gonna?', released on 1 December.
Todd Terry's hypnotic vocal refrain "when you gonna play house music?" is deployed perfectly alongside the stabbing bass infused beats that keep building, before reaching a climatic peak as he exclaims, "no, this house music".
'When You Gonna?' presents the dynamic house style that has made both Todd Terry and Tough Love so revered – punchy beats, ultra-catchy vocal, alongside an acid house break, to deliver an unforgettable future dance floor classic.
London-based duo Tough Love have rapidly risen through the ranks of the house scene over the last six years. Their sound is instantly recognisable in their production and can be described as bass-infused house with plenty of '90s influences and hard-hitting grooves. It's this infectious sound that won them 'Best Single' in The Bass Music Awards 2015 and saw them nominated for 'Best Breakthrough Act' at the DJ Mag Awards in 2016
Already notching up two UK Top 40 singles in So Freakin' Tight and Pony (Jump On It), Tough Love have continued to demonstrate their production and songwriting prowess with a string of big dance records in 'Touch', 'What You Need Is Me', 'Like I Can', 'Like A Drug' & most recently 'Closer To Love'. The duo have always maintained their appetite for the underground and club scene as shown in recent releases 'Surrender' (Toolroom), 'Brrrr' (Sweat It Out) and the massive 'Hold On' – a collaboration with two of dance music's greats in Roger Sanchez and Boy George. In 2017, Tough Love released their eagerly-awaited debut album, 'Past Present Future', being released in three parts across the year.
Brooklyn-born Grammy Award nominated DJ/Producer Todd Terry needs little introduction. As one of the most celebrated figures in dance music and with a career spanning nearly three decades, he has worked with a diverse range of musical talent, from Snap! to Annie Lennox, The Rolling Stones to Bjork.
Todd Terry achieved two huge Top 10 crossover hits in the 90s through 'Keep on Jumpin' and 'Somethin Going On', whilst all the while continuing to break new ground with his remix and in 1995 his remix of Everything But The Girl's 'Missing' became a worldwide smash. In 2007, he created the Todd Terry All Stars bringing together Kenny Dope, DJ Sneak and Terry Hunter releasing 'Get Down'.
Todd Terry continues to command huge audiences across the world. He has previously released on Get Twisted Records with 'Canibus' in 2015, and last year's 'Cold Shoulder' with rising producers Cormack & Simmelink.
Since its inception 2012, Tough Love's record label, Get Twisted Records, has gone from strength to strength, signing an imprint deal with Columbia Records in 2015 and featuring releases from both established names and rising talent including Roger Sanchez, Todd Terry, Sandy Riviera, Amine Edge & DANCE, Man Without A Clue, Purple Disco Machine, Full Crate, No Artificial Colours, Hannah Wants, LiTek, Leon Lour, and Felon. Get Twisted Records continues to grow in stature, with sell-out shows across 2017 showing the power the label currently commands.
Social Media links
Tough Love
www.toughloveofficial.com
www.soundcloud.com/toughlovemusic
www.facebook.com/toughlovemusic
www.twitter.com/toughlovemusic
www.youtube.com/user/ToughLoveMusic
Todd Terry
www.toddterry.com
www.soundcloud.com/todd-terry-inhouserecords
www.facebook.com/djtoddterry
www.twitter.com/djtoddterry
www.youtube.com/user/djtoddterry
Get Twisted Records
www.gettwistedrecords.com
www.soundcloud.com/gettwistedrecords
www.facebook.com/gettwistedrecords
www.twitter.com/gettwistedrecs
www.youtube.com/gettwistedrecords
www.instagram.com/gettwistedrecords