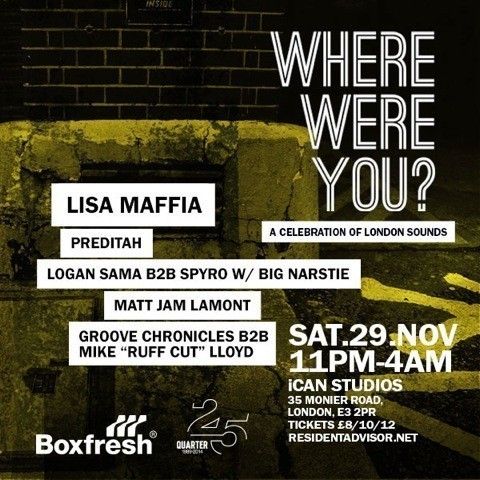 Where Were You?
Journeying through the history of the nation's favourite underground grime and garage sounds, on Saturday November 29th iconic London streetwear brand Boxfresh presents Where Were You? at I can studios.
A party set to champion the diverse, hybrid sound of the UK, Where Were You? celebrates this breeding ground of musical pioneers across the spectrums of grime, garage and beyond. Heading back to the city where it all began, 25 years ago, Boxfresh invites you to join them for Where Were You?
Where Were You? will present an archive of the very best of UK sounds celebrating seminal moments and names from the last 25 years. 2014 has seen Boxfresh present workshops, lectures, radio takeovers, club shows and more, bringing together the biggest and best in urban talent from the spectrums of art, music and fashion. The series so far has included the likes of Bok Bok, Skream, Goldie, Fatima, Metalheadz, Millionhands, Shy FX, Novelist and many more.