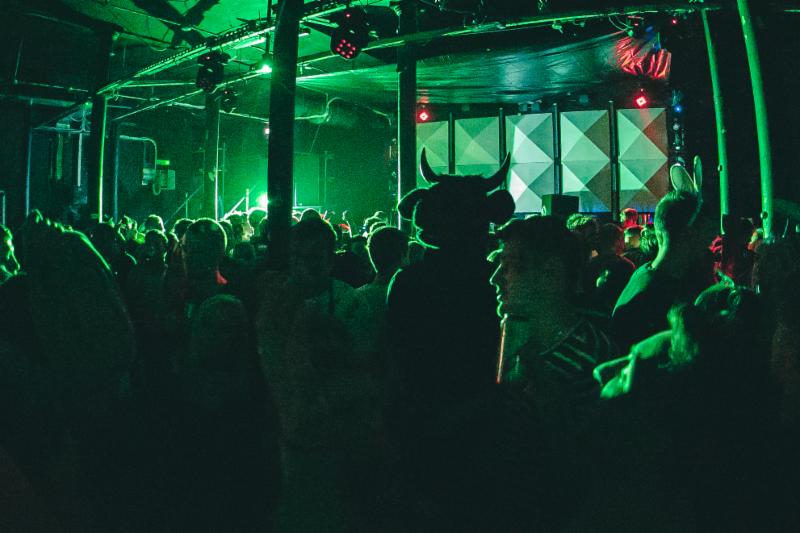 Wigflex City Festival Outlines Well-Being, Art And Stage Breakdown For Debut Edition
After unveiling a stunning musical programme, Wigflex City Festival reveals full details of well-being, art and stage breakdown for Sunday 5th May 2019, with Max Cooper (Live), rRoxymore, Machine Woman (Live), CCL and Shannen SP also joining the bill.
The boundary pushing festival will utilise over fifteen of Nottingham's most innovative and unique spaces, filling them with a varied selection of workshops, panels and art installations, some lasting beyond the festival, with the aspiration that the event can leave a positive legacy within the community.
One of the city's most iconic buildings, the soundproof concrete bunker of the Nottingham Contemporary art gallery will host two visual installations by Multimodal, most notably 'Strange Attractor' which will illuminate the venue with light and generative visuals to model the chaotic underlying systems that form the world around us. Attendees will also have the opportunity to experience a totally personal virtual reality simulation, custom-built and totally unique for each individual, created by digital artist Lewis Hackett; all housed within one of the cities most thumping basements that comes complete with it's own secret cinema concealed within its walls…if you can find it.
One of Nottingham's most historic sites, the former Victorian courtroom, jail and police station, and now home to FourFour DJ Academy, will host a number of free music and well-being talks on the Saturday, open to the whole community and not just ticket holders. For those wishing to make a contribution to the days events, Wigflex will be giving 100% of all donations to local domestic abuse charity Equation.
Talks on Health, Well-Being and Equality will include a 'Women In Music' industry panel featuring Carin Abdula (founder of Outer Agency), Sofia Ilyas (Float PR and Float) and Keira Sinclair (co-founder of POLY Agency). Further panels and talks revolve around 'Manufacturing Authenticity' with the founders of Tusk Wax and This is Balearic, 'Mental Health & Music', 'Healing Through Nature: An Education on Plant Medicine, CBD & Micro-Dosing', 'Conversations About Consent & Club Culture' hosted by Vogue journalist Paris Lees and ambassador for 'The Survivors Trust' Erika Leadbeater, as well as 'Celebrating the Interpretation of Identity', an open and honest LGBTQ+ education and discovery discussion, a live panel and Q&A donned 'A Retrospective On Soundsystem & Pirate Radio Culture' from WOC and LGBTQ+ perspective with Shannen SP (Hyperdub, Ø) and B.O.S.S. (Black Obsidian Soundsystem). Plus an exclusive 'Future Bubblers' talk on developing new talent with Gilles Petersonhosted within the 18th century courtroom. The academy will also offer the chance for attendees to experiment with Technology & Music Production through Ableton Live Sessions, Pioneer DJ workstations, Allen & Heath sessions and a DJ workshop. Plus modular synth workshops, vintage equipment demos and gear stations hosted by 'Source Distribution' and 'Synthetic Audio'.
The festival also marks the debut launch of 'Wigflex Studios', the brand's permanent residence comprising of a bespoke synth den and production suite that boasts breathtaking panoramic views of the city and an intimate dance floor that many Nottingham locals are yet to be introduced to. Wigflex City Festival offers an exciting first look at this sublime venue, and during the day the studios will host a record fair for vinyl enthusiasts.
In the heart of the city lies the festival's designated chill-out destination 'Fast City', inspired by Wigflex's forthcoming EP of the same name by Son Of Philip, as well as playing host to secondary ambient sets from some of the main headliners including James Holden (exclusive DJ set), Call Super, Midland and Mumdance all playing from a floor level DJ booth. This fully relaxing, immersive zone will be filled with a bespoke Wigflex City Festival scent, bean bags, and an installation by local architect Will Bradley beamed onto the ceiling plus a four point soundsystem. Quite simply, it wouldn't be a Wigflex event without The Brickworks, an immersive warehouse space and arguably the party's spiritual home, which has been modified over the years to stand as the perfect blank canvas for AV artists. It'll be fully utilised by Nicole Gordon, her subtly curated lighting installation set to hypnotise dancers.
'The Wigflex Arena' will form the beating heart of the festival site and include an unmissable installation from Potential Difference, keeping dancers occupied until 7am. And never before used for a public event of this nature, The Secret Courtyard will be a treat for those that can track it down; hosting sets from Honey Dijon and new fabric resident Bobby, it will also house the festival's largest and most ambitious installation, 'Animalesque: The Symphony' by Karim Rouabah, which will be revealed on the day and become a permanent fixture within Nottingham's infrastructure. Based on stridulation, the sounds made by crickets, this art piece aims to encourage ecological conservation within Nottingham's urban city-centre as well as being a total audio/visual masterpiece.
Nottingham's newly built cross-media arts centre 'The Metronome' will be used in all its glory, at its full potential for Max Cooper's fully immersive 270 degree live AV show, in a brand new addition to the line-up. The purpose-built media hub will include a custom installation from avva.studios, who will be utilising the equipment to create a 'digital fauna' of accompanying visual art in the space for a completely one-off user experience.
Furthermore, Wigflex will lock down a street party with Gilles Peterson that includes local food and drink vendors, plus Rough Trade will provide an array of talks and live music. One for the explorers, on the edge of the festival site lies a compact club with intriguing corners and hidden cubby holes full to the brim with weirdness and wonder.
Tickets are available now:
www.residentadvisor.net/events/1194245
+++
FULL LINEUP:
Honey Dijon
Gilles Peterson
Midland
Avalon Emerson
DJ Stingray
James Holden & The Animal Spirits (Live)
Young Marco
Call Super
Yazmin Lacey (Live)
Shanti Celeste
Bufiman (Live)
Djrum
DJ Slimzee ("00-04" set)
Eris Drew
Peach
SPFDJ
Max Cooper (Live)
rRoxymore
Machine Woman (Live)
CCL
Shannen SP
LINKS & FURTHER INFO
TICKETS
www.residentadvisor.net/events
SOCIAL MEDIA:
www.facebook.com/Wigflex
www.twitter.com/Wigflex
www.instagram.com/lukas_wigflex