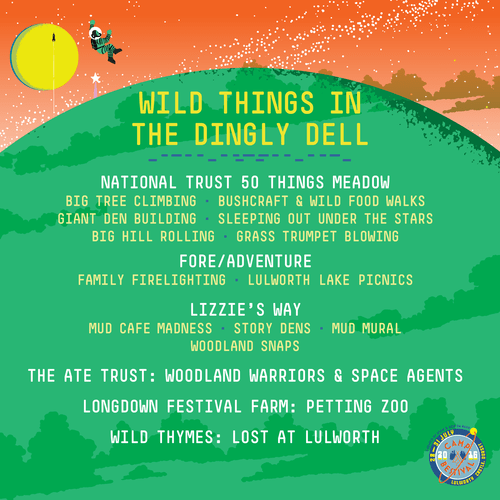 Wild Activities Announced for Camp Bestival
Our Outer Space-themed Camp Bestival, this coming 28-31 July, has something for everyone, from world conquering dance music legends and record breaking pop stars to Kids' TV royalty and more space-based action than you can shake a stick at. In among all the cosmic commotion, tucked away in an enchanted glade that is our much treasured Dingly Dell you'll find a host of wild things and fun and games, revelling in the joy of the natural world, continuing our mission to reconnect with Mother Nature.
Cosmic countryphile Rob da Bank says: "Where on Earth could you build a den, go grass trumpet blowing, roll around in a mud kitchen and top it all off sleeping under the stars with your little ones and loved ones? Camp Bestival, that's where! Strangely, with everything else that's going on around the site, the Dingle Dell appears to have a giant kids-magnet in it, pulling everyone towards nature. My kids love it, hope yours will too!"
We're very pleased to announce that the National Trust 50 things meadow will be back at Camp Bestival this year. A massive hit with everyone who loves discovering the great outdoors, this year you'll be able to release your inner monkey while Big Tree Climbing, help create space-inspired shelters with Giant Den Building, test your courage as you go Big Hill Rolling, and get naturally musical Grass Trumpet Blowing. National Trust will also have Bushcraft Walks, Wild Food Walks and the chance of Sleeping Out Under the Stars, but places for these activities will be limited, so if you want to get involved head to the sign up pages: Bushcraft Walks / Wild Food Walks / Sleeping Out Under the Stars
Camp Bestival's wildness continues with Fore / Adventures who will be holding exciting Family Firelighting and picturesque Lulworth Lake Picnics. Again places for these activities are limited, so please sign up for firelighting here and here for the picnics.
The amazing Lizzie's Way will be back for another year too, extolling the virtues of getting your hands dirty with Mud Cafe Madness, Story Dens, Mud Mural and Woodland Snaps. The ATE Trust will be investigating a strange and curious crashed spaceship in the heart of the Dingly Dell with the help of your Woodland Warriors & Space Agents, plus we'll also have the chance to get hands on with a host of farmyard animals courtesy of Longdown Festival Farm Petting Zoo and there are limited places to join Wild Thymes as they get Lost at Lulworth and head into the wilds beyond the festival searching for magical treasures among the trees. If Wild Thymes sounds like your kind of thing sign up here.
Go wild in the best of ways and get your tickets now and keep on checking our website, Facebook and Twitter for all the latest sub space communications.