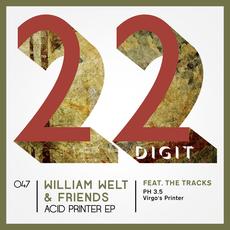 William Welt – Acid Printer EP
22 Digit Records is an eclectic label with releases that cover a full spectrum of music ranging between Deep Techno and Ambient House. With a roster of artists that include Inxec, Moodymanc, Matt Tolfrey, Trus'me and Tom Ellis amongst others, it's clear to see why this label is on the rise.
Run by William Reed and Peter Bartram 22 Digit has deep roots in the North East of England, where Peter is both Resident VJ and main room warmup DJ for Newcastle Upon Tyne based clubbing institution Shindig.
The labels new release sees label boss William Reed aka William Welt present two collaborations. William who has a strong passion for dark Techno and Minimal enjoys blending his style with different producers with different musical tastes and backgrounds.
Arguably a double A side this EP also features Peter Bartram and Mike Boorman who both appear as celebrative artists. Perhaps best known for escapades with a now famous bad taxidermy stuffed fox which he bought for Space Dimension Controller, Mike makes his debut release on this EP. The incredible story with the fox made Mike a short lived Russian celebrity and as a result has played DJ gigs all over the world. His almost unbelievable story was followed by the Ransom Note blog and for disbelievers unaware of the story we have posted a link below…
http://www.theransomnote.co.uk/new-world-musings/the-fox/
First on this EP is the collaboration with Mike Boorman and as you can probably guess from the story about the stuffed fox, it's a quirky little Tech House number filled with William's Techno influence. The Dub Techno influenced sound and the rolling groove of the thickset bassline is complimented by a muffled vocal and unusual lead sound that's reminiscent of an old printer. Titled "Virgo's Printer" it's distinctively individual, the tracks stand out qualities and dancefloor appeal will no doubt split opinion, but like Marmite the people who like it will love it!
Second up is a dark bass driven monster titled "PH 3.5," which is a collaboration between label boss due Will and Pete. PH 3.5 is the positive reading for acid when doing a scientific litmus test and the title links in with the tracks recorded vocal hook. Started in 2009 the track is heavily influenced by the classic sound of artists like M.A.N.D.Y and Shonky, but at the time was never finished. After going through some old files the pair rediscovered the rise of the infectiously catchy base hook and the piece was finally finished in 2015. Sitting somewhere between spaced out Minimal and dark Tech House the track oozes crossover appeal.