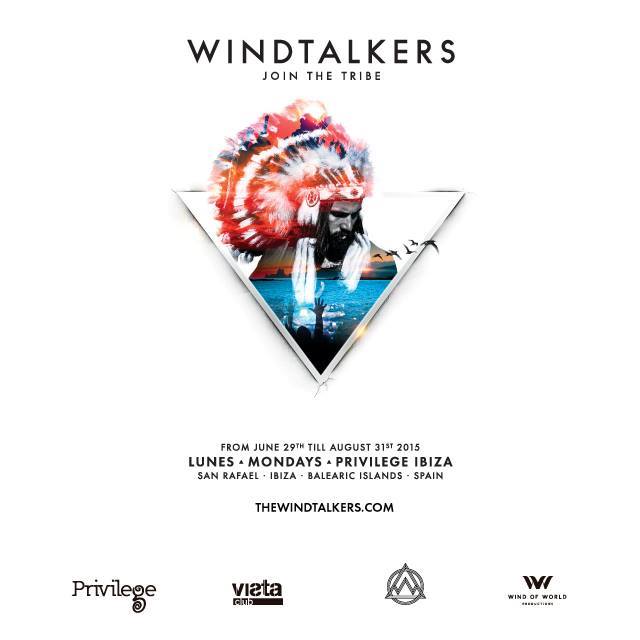 WINDTALKERS ANNOUNCE 10 WEEK RESIDENCY AT PRIVILEGE IBIZA
One of the last Openings in Privilege Ibiza is for Windtalkers, presenting its residence on Mondays for 10 weeks straight at Vista Club – Privilege , the club which welcomes each year world renowned DJs and fans from every corner of the world
Windtalkers is a surprising global experience that fuses music and urban art performance. The bond among its members, the freedom, the interconnection and celebration through dance, creates a unique atmosphere that will make you feel part of the tribe
Windtalkers will begin the season at Privilege's Vista Club on Monday 29th June with Technasia, Slam and Marc Houle . The party on Monday July 6th will feature Vitalic and July 13th with the participation of Fritz Kalkbrenner as headliner. In the midseason we dazzle Tiga alongside UMEK, on July 20th and August 10th with Terry Francis and DJ Sneak.

WINDTALKERS didn't forget Book Shade, who will be with them on July 27th and August 3rd, closing the season with Vitalic on August 31st .
WINDTALKERS will lead to a unique and unforgettable experience full of sensations from the start and until the very last moment of the event, every single Monday at Vista Club in Privilege.
RESIDENCY DATES: VISTA CLUB @PRIVILEGE
29TH JUNE– OPENING PARTY
TECHNASIA
SLAM
MARC HOULE
06TH JULY
VITALIC
ANDRÉS CAMPOS
DAVID DURIEZ
+MANY MORE TBA
13TH JULY
FRITZ KALKBRENNER
DOSEM
+MANY MORE TBA
20TH JULY
TIGA
UMEK
+MANY MORE TBA
27TH JULY
BOOKA SHADE
MIRLO LOKO
+MANY MORE TBA
03RD AUGUST
BOOKA SHADE
AMBIVALENT
+MANY MORE TBA
10TH AUGUST
TIGA
TERRY FRANCIS
DJ SNEAK
+MANY MORE TBA
17TH AUGUST
RIVA STA MARC ROMBOY
TERRY FRANCIS
+MANY MORE TBA
24TH AUGUST
TECHNASIA
CLAPTON
+MANY MORE TBA
31ST AUGUST
VITALIC
ANDRES CAMPOS
JUST BE
+MANY MORE TBA
Event: https://www.facebook.com/events/1595175940747496/
TICKETS: www.privilegeibiza.com