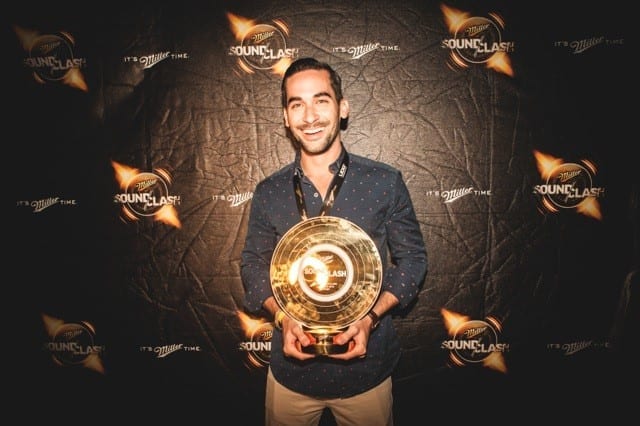 WINNER OF MILLER SOUNDCLASH 2015 IS CROWNED 
The hunt for the world's next superstar DJ climaxed last night as DJ Augusto Yepes from Colombia was crowned the ultimate winner of the prestigious Miller SoundClash Competition in Las Vegas. The Colombian DJ was named as the winner after playing the set of his life at Las Vegas's Marquee Dayclub, host of the best outdoor pool party.
DJ Augusto Yepes beat off stiff competition from thirteen other budding DJs who were flown in from all corners of the globe by Miller Genuine Draft to compete in the epic DJ battle. Each DJ had 17 minutes to impress the crowd and a panel of expert judges including DJ Dannic, Aftercluv Dancelab, Universal Music Latin America's dance division, Miller Genuine Draft and DJ Mag during the Miller Soundclash final.
After being crowned the winner, DJ Augusto Yepes was whisked to one of Vegas's most epic nightspots Drai's to play alongside international superstar DJ Dannic.
After winning the competition, DJ Augusto Yepes said: "SoundClash has been one of the best experiences of my life and I'm overwhelmed by the feedback from the judges and still buzzing from the Vegas crowd!
"Thanks so much to Miller Genuine Draft for this opportunity, I can't wait to celebrate with all my fellow DJ finalists tonight!"
Returning for a second year, the highly anticipated event was the culmination of a three-month global search for the world's most exciting new DJ talent by Miller Genuine Draft in partnership with leading dance music magazine DJ Mag and streaming platform Mixcloud.
The 'big break' prize includes a deal with Aftercluv Dancelab the first major label operating in the entire Latin American region, dedicated 100% to dance music. The label will be supporting the winner in creating their first music video as a SoundClash champion and additionally, will back the top three finalists with the opportunity to release a single and offer development with A&R services.
DJ Augusto Yepes will also be appointed as a global ambassador for Miller Genuine Draft, alongside DJ Hardwell, helping launch his career by giving him a year long sponsorship from premium DJ merchandise providers UDG and V-Moda headphones and the opportunity to perform at some of EDM's most exciting global events. Last year's winner Tom & Collins went on to be signed by Aftercluv Dance lab (Universal Music).
Steve Arkley, Head of Miller – Global Brand said:
"We didn't think we could top the huge success of last year's Miller SoundClash but we were blown away by this year's undiscovered talent. Not only do we have an outstanding winner in DJ Augusto Yepes, but all the finalists have proven themselves to be a force to be reckoned with in the global EDM scene.
"Miller Genuine Draft will be working closely with DJ Augusto Yepes to support all of his exciting career developments and I can't wait to see what he will bring to the table over the next year. I would like to thank all participants for an outstanding event in Vegas! It's Miller Time!"
The team at DJ Mag said: "It's exciting for DJ Mag to be so heavily involved in this project for a second year running. We were astounded again at the global entry standard and the finalist's performances.
"Choosing a winner was always going to be tough, but DJ Augusto Yepes had the winning mixture of talent and charisma and really connected with the crowd. This year's winner also held his own alongside Dannic, a global superstar when he performed at Drai's and there is no doubt DJ Augusto Yepes has a big future ahead. We're looking forward to following him!"
Miller SoundClash is the latest initiative from Miller Genuine Draft – a brand with a rich history of supporting electronic dance music across the globe. It follows the unprecedented success of the annual Miller Music Tours, ground-breaking partnerships with leading artists including Swedish House Mafia star Sebastian Ingrosso and an annual association with market-leading global dance music magazine DJ Mag and their Top 100 Clubs poll.