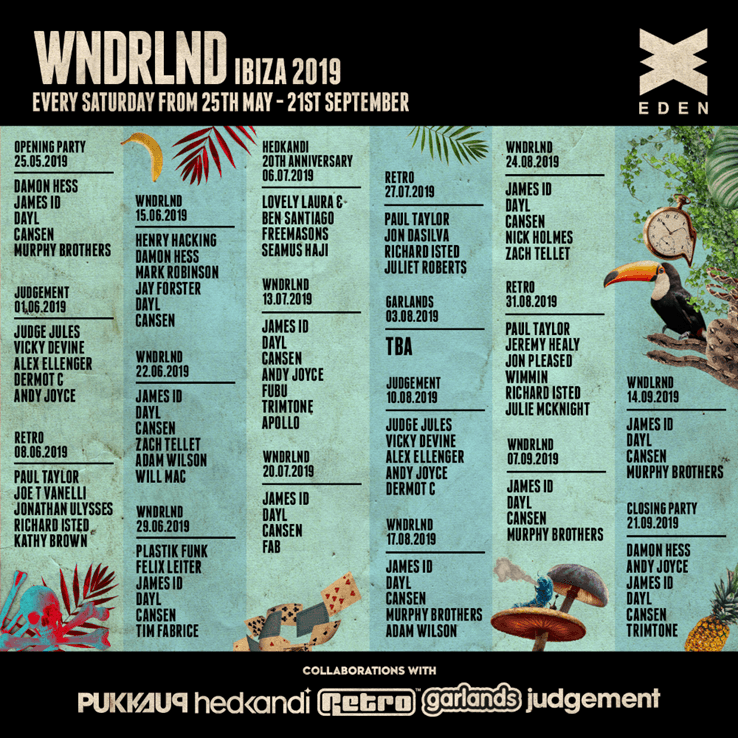 WNDRLND Announces Lineups For 2019 Season at Eden Ibiza
DJs such as Jeremy Healy, Joe T Vanelli, Judge Jules, Paul Taylor, Seamus Haji, Vicky Devine, Henry Hacking, Freemasons, Jon Dasilva, Jon Pleased Wimmin, plus live acts Lovely Laura, Kathy Brown and Julie Mcknight and many more, will play the newly re-branded 'WNDRLND' at Eden. Immersive themes including 'Voodoo', 'Wilderness' and 'Down The Rabbit Hole' come on rotation throughout the season, and with co-hosts from Hedkandi, Retro, Garlands and Judgment, it makes for one of the island's must-visit parties of 2019.
'WNDRLND' the newly incarnated Saturday night at Eden Ibiza from the island's longest running sunset boat party providers, Pukka Up, has announced the lineups for its weekly residency from Saturday 25th May – 21st September 2019. With more production than ever before across three freshly branded nights, plus co-hosted parties fromHedkandi, Judgement, Garlands and Retro; DJs and live acts include, Jeremy Healy, Judge Jules, Paul Taylor, Vicky Devine, Henry Hacking, Freemasons, Jon Dasilva, Seamus Haji, Jonathan Ulysses, Jon Pleased Wimmin, Plastik Funk, Lovely Laura, Kathy Brown, Julie McKnight and more are all set to play across the season. WNDRLND is one for the wild and imaginative, and for lovers of all things house music. Tickets are now on sale at €22.50 from www.pukkaup.com.
Formerly known as 'Tropical Wonderland' which debuted in Ibiza to great acclaim in 2017, WNDRLND has been given a makeover for 2019 promising bigger production, crazier entertainment and an assortment of whimsical themes. Each week, the world-famous Eden will be transformed with exotic décor and dancers, while illuminated animals and visually impressive designs are set to sink revellers deep into new and imagined worlds of fantasy and fun.
The bold new themes for 2019 are 'Voodoo' complete with tribal décor, sugar skull performances and cursed skulls. 'Wilderness' with creeping vines, flamingos, huge Amazonian flowers and tropical dancers, and the colourful psychedelia of 'Down The Rabbit Hole' with hanging clocks and playing cards making the enchanted forest of Eden into an Alice in Wonderland experience.
The opening of WNDRLND on 25th May is a huge bash with guest DJ and Dirty Bird signee, Damon Hess, plus residents James iD, DAYL, Cansen, and Murphy Brothers, bringing the very best in upfront house from deep to sexy to vocal. Across the season at WNDRLND as the theme switches each time, it will welcome several key house DJs to the booth with residents providing crucial support. Production juggernaut Henry Hacking headlines on 15th June showcasing his arsenal of house music weapons that've signed to Tiger Records, Vicious Recordings, Pukka Up Deep, and more. Hacking will be joined by Pukka Up label boss, Mark Robinson and Damon Hess, the latter who returns again to play the closing party on 21st September, while 29th June sees German duo Plastik Funk take over the club. More guest spots are to be announced.
The long running and iconic Judgement kicks off on 1st June and hosts a second party on 10th August with founder and all round influential dance figure, Judge Jules at the helm; Judgement Sundays residents, Vicky Devine and Alex Ellenger, and others are set to play the trance and progressive house party.
Making the magical season even more special are some historic celebrations. On 6th July, Hedkandi takes over one night at WNDRLND to celebrate an impressive 20 years as the leading house brand in the world. Bringing the funky vibes are DJs long affiliated with the Hedkandi name including Freemasons and Seamus Haji, plus the DJ / saxophonist double act, Lovely Laura & Ben Santiago, in what is set to be one hell of an anniversary bash.
Continuing with the celebrations on 8th June, 27th July and 31st August is house classics night Retro, marking 30 years with some unmissable events with the likes of founder Paul Taylor, Milan's finest Joe T Vanelli, Ibiza stalwart Jonathan Ulysses, Hacienda resident Jon Dasilva, Circus founder Jeremy Healy, the flamboyant Jon Pleased Wimmin and live acts Kathy Brown, Juliet Roberts and Julie Mcknight all taking clubbers back to the old school in style.
The naughtiest night of them all is Garlands, which rolls in on 3rd August as it celebrates its own milestone of 25 years as one of Liverpool's most exemplary club nights. The Garlands lineup is yet to be announced, but island dwellers are guaranteed the best in big room and vocal house music when they arrive.
With this news, WNDRLND confirms it will be the most eventful and unforgettable night out in Ibiza this summer. Keep up to date with all the latest news and announcements via the Facebook page. www.facebook.com/WNDRLNDEVENTS