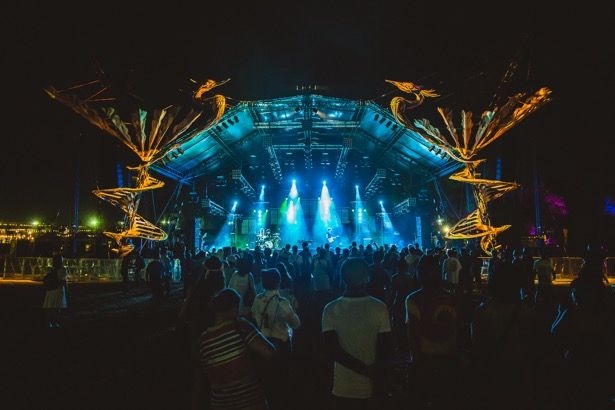 Wonderfruit adds more acts!
Wonderfruit Festival, Thailand's pioneering sustainable, eco-friendly, cross-cultural live celebration of art, music and life, today announces further live and DJ additions to the 2016 line up.
Lianne La Havas, Shura, Stephan Bodzin, YokoO, Marc Antona, Uone, Blitzen Trapper, Buke & Gase and Eric Volta have all been added to the musical line up on the Wonderfruit's Living Stage, Farm Stage, Solar Stage, The Quarry and Forbidden Fruit – joining the previously-announced acts including Rudimental, Young Fathers, Wolf + Lamb, Mad Professor, Matador and more.
[LIVING STAGE] Having released two UK top 5 albums to date and performed on stage with the likes of Prince and Coldplay – MOBO and Grammy-nominated artist Lianne La Havas is confirmed to perform Wonderfruit's Living Stage this year. 2015 BBC Sound Poll artist Shura will play the also play the Living Stage, with her acclaimed debut album 'Nothing's Real' released earlier this year. Mercury Prize-winning trio Young Fathers are set to headline the stage, as well as Rudimental, who will be performing songs from their UK number 1 albums 'We The Generation' and the platinum-selling 'Home'. Other highlights on the Living Stage include experimental alternative country band Blitzen Trapper. [FORBIDDEN FRUIT] Among the acts confirmed to play the Forbidden Fruit at Wonderfruit this year include New York duo Wolf + Lamb and Uone – who will present a tribute to David Bowie and Prince. [SOLAR STAGE] During sunset and sunrise at Wonderfruit, the only activity on site will be the acts performing on the Solar Stage. Chicago-born house and techno producer Kate Simko will bring her acclaimed electronic-meets-classical live show with the London Electronic Orchestra to the Solar Stage, along with dub producer Mad Professor and house DJ/producer YokoO. These sunset and sunrise sets on the Solar Stage will create an opportunity for Wonderers to come together at the beginning and end of each day. The Solar Stage will also host Wonderfruit 2016's closing party, with Music On stalwart Marc Antona, Eric Volta – the producer behind one of 2013's most-played tracks – and James Watt bringing an end to the festival's music programming for another year. [FARM STAGE] Wonderfruit's Farm Stage will play host to acts including Buke and Gase, multi-instrumentalist duo from Brooklyn, and Thai live favourite The Superglasses Ska Ensemble – one of the many local artists confirmed for this year's line up. And to celebrate one of Thailand's greatest exports and mark the village's annual harvest, the Farm Stage will be completely covered in un-milled rice from local farmers. After the event the rice will be milled ready for eating and donated back to the local community. [THE QUARRY] Irish techno DJ and producer Matador will play the The Quarry at Wonderfruit this year, alongside Ukrainian DJ and Propaganda Records boss Nastia, German techno innovator Stephan Bodzin and Thailand's very own DJ Dragon.
Wonderfruit is like no other festival: incredible natural adventures, art installations from the world's leading architects, sustainability, local and global community, Thai culture, health, wellness and an incredible music line up. Four days that perfectly combine the best elements of a festival and the ideal holiday destination.
Wonderfruit takes place from 15 to 18 December in The Fields at Siam Country Club, Pattaya, just 150 kilometers (two hours' drive) southeast of Bangkok. First wave ticket pricing begins at £223 Baht for an adult 4-day pass, which includes general camping. Luxurious boutique and RV camping is available for booking and hotel packages are also available with partner properties in Pattaya.