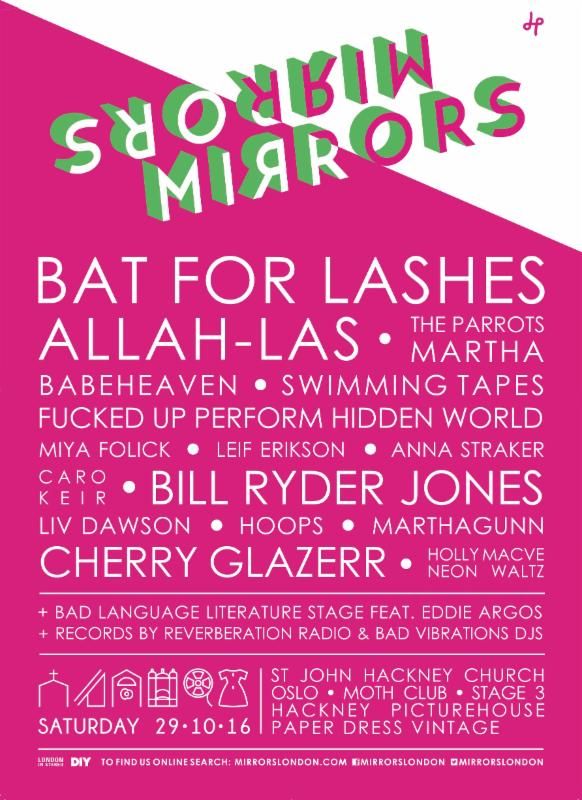 MIRRORS 2016 – New Acts Announced
With just five weeks to go, multi-venue music event MIRRORS announce the full lineup for their 2016 edition, taking place across six stunning Hackney venues on Saturday 29th October.
Crafting a lineup to showcase the scene's most exciting and unique new artists, recent additions include Spanish three-piece The Parrots, who's dreamy-rock sound has grabbed the attention of industry tastemakers across the globe. With their highly anticipated debut album 'Los Niños Sin Miedo' released just yesterday, their set at MIRRORS will be the first UK airing for the new material.
2016 Neptune Prize winners Martha have also joined the bill. Hailing from the bizarrely named district of Pity Me in Co. Durham, their infectiously catchy output is ironically up-beat, riddled with humour and sure to strike a chord with the crowd.
Making a long trip to London from John O'Groats, Neon Waltz were founded in 2013 and by 2015 were already tipped by the likes of NME as artists to watch. Their distinctive style is complex in structure, yet feels effortless in delivery and astonishingly refined.
LA-based singer-songwriter Miya Folick met her band on Tinder. Raised as a Buddhist, she spent nine years playing basketball before quitting education at NYU in favour of perusing a career in music, taking great pleasure from forming thoughts into sounds.
As part of their first ever European tour, MIRRORS also welcomes HOOPS for their UK debut. The Indiana-based four-piece will bring warmth to Hackney with a shimmering, sun-soaked sonics.
Closer to home, Brighton's MarthaGunn deliver classic sounds with a contemporary twist. Helmed by the raw soprano of Abi Woodman, their sophomore double A-Side was released on Communion Singles Club earlier this year.
Bringing influences from jazz, blues and folk, Holly Macve is a rare talent. Her striking vocal style and instinctive ability for song-writing have already garnered an Anchor Award nomination at the age of just 20 years old.
6 Music favourites with a penchant for history, Leif Erikson join ranks and the incredible vocal talents of Anna Straker will bring soaring melodies to the blustery autumnal event.
Backed by BBC Introducing, Kier also joins the lineup with previously announced acts including Bat For Lashes, Allah-Las, Bill Rider-Jones and Fucked Up.
Brand new for 2016, MIRRORS have teamed-up with award-winning Manchester literature promoters 'Bad Language' to host a stage entirely dedicated to spoken word at Paper Dress Vintage featuring Eddie Argos.
With five further stages of music on offer at St John's At Hackney Church, Oslo Hackney, Moth Club, Hackney Picturehouse and Stage 3, plus newly announced late-night party with Allah-Las' Reverberation Radio and Bad Vibrations DJs, MIRRORS 2016 will be a feast for the eyes, the ears and the soul.
LINEUP
BAT FOR LASHES
ALLAH-LAS
FUCKED UP PERFORM HIDDEN WORLD
BILL RYDER JONES
CHERRY GLAZERR
MARTHA
BABEHEAVEN
THE PARROTS
NEON WALTZ
MIYA FOLICK
HOOPS
SWIMMING TAPES
CARO
LEIF ERIKSON
MARTHAGUNN
ANNA STRAIKER
LIV DAWSON
HOLLY MACVE
KEIR
Tickets for MIRRORS are available from £25 at Alt Tickets: http://alt-tickets.co.uk/mirrors-tickets