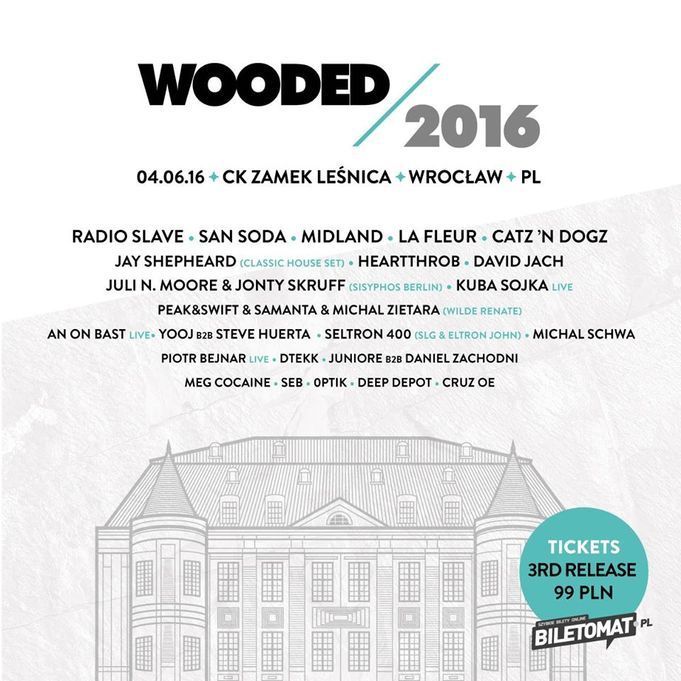 WOODED 2016 – Radio Slave, San Soda, Midland, La Fleur, Catz 'n Dogz and more
WOODED, Wrocław's greatest annual electronic music celebration, returns for 2016, taking place on 4 June 2016 at the stunning imperial castle CK Zamek in Leśnica.
Founded by Polish DJ duo Catz 'N Dogz, together with two booking agencies: C&C Bookings and Feast Artists, 2016 marks the second edition of the event, with a line-up that features DJ sets and live performances from many of the leading acts on the Polish and international electronic music scene.
Today, the festival reveals the line-up for the 2016 edition, which takes place during Wrocław's residency as a European Capital of Culture 2016.
The confirmed artists are:
RADIO SLAVE . SAN SODA . MIDLAND . LA FLEUR . CATZ 'N DOGZ
JAY SHEPHEARD (CLASSIC HOUSE SET) . HEARTTHROB . DAVID JACH
JULI N. MOORE & JONTY SKRUFFF . KUBA SOJKA LIVE
PEAK&SWIFT & SAMANTA & MICHAŁ ZIĘTARA (WILDE RENATE)
AN ON BAST LIVE . YOOJ B2B STEVE HUERTA .
SELTRON 400 (SLG & ELTRON JOHN) . MICHAL SCHWA
PIOTR BEJNAR LIVE . DTEEK . JUNIORE B2B DANIEL ZACHODNI
MEG COCAINE . SEB . OPTIK . DEEP DEPOT . CRUZ OE
Naturally festival co-founders Catz 'n Dogz will make a headline appearance, along with Rekids label head Radio Slave, Belgium's San Soda and UK producer Midland. Next, making their WOODED festival debut are Jay Shepheard, Heartthrob, Yooj b2b Steve Huerta and Michal Schwa. David Jach, Juli N. More & Jonty Skrufff (the DJ residents of Sisyphos Berlin), Peak & Swift, Samanta Fox and Michał Ziętara from Berlin's Wilde Renate also join the bill. Plus in the true WOODED tradition, the event will showcase an array of Polish talent. An On Bast and Piotr Bejnar will present their brand new live shows, Kuba Sojka will share his rich, complex and imaginative live set supported by his Seltron 400 crew, and Daniel Zachodni, Juniore, Seb, Dteek, Optik, Cruz Oe, Meg Cocaine and Deep Depot will also perform.
Tickets, priced at €30 are available at Resident Advisor
CONNECT
http://www.wooded.pl
https://web.facebook.com/wooded.events
https://www.residentadvisor.net/event.aspx?816627