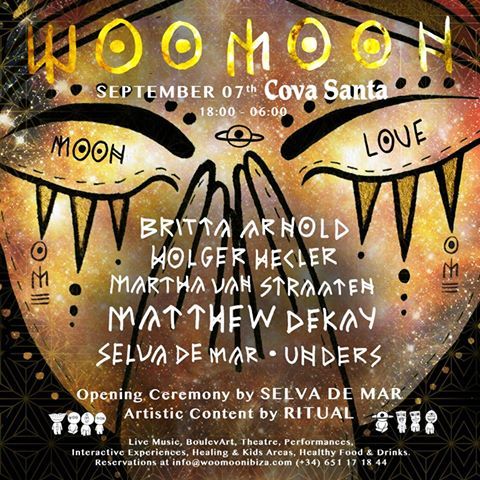 WooMooN – Concienca Colectiva – Wednesday 7th September
In the past 9 weeks WooMooN has built a collective consciousness. An open, inclusive, respectful, celebration together, all unique and different we danced as if we were ONE.
And that's just the beginning of a universal community that WooMooN has become part of. That the desire to celebrate has changed and that the perception of the world has also. Wanting to connect with oneself and with the other. We must think and act as individuals but with a "Collective Consciousness".
This week we will celebrate: loving, smiling and dancing together. Remember. ToGather is Better!
For this we have many musical explorers to make you want to travel to WooMooN.
Let´s begin with Matthew Dekay, the man behind All Day I Dream (with Lee Burridge) responsible for some of the most beautiful songs from his romantic and dreamy house. Next, comes the Dutchman Unders (Whoosah Beachclub / Sun Selected Records), one of the greatest exponents of deep electronica house in Europe.
Also joining us will be Britta Arnold, a child of Berlin and resident at two benchmark clubs there; Bar25 and KaterBlau. In addition, Germans Holger Hecler and Martha van Straaten who return back to the WooMooN fold. The opening ceremony will be born by Barcelona's Selva De Mar.
This is the last WooMooN on a Wednesday before our final summer closing. So do not miss the journey. We begin 6pm at Cova Santa.
More details coming soon about our season finale on Friday 16th September in support of Ibiza non-profit associations……
What: Woomoon
When: Last Wednesday of the Summer – 7th September
Closing Party – Friday 16th September Supporting Ibiza
Non-Profit Associations
Where: Cova Santa
Who: Storytellers Ibiza