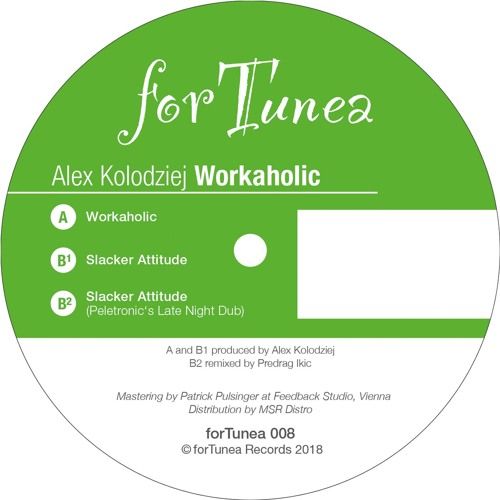 Alex Kolodziej - Workaholic
Alex Kolodziej, a German with Polish roots, now firmly based in Vienna, has been one of the most in-demand techno and house DJs in the Austrian capital since the early 2010s.
With a limited number of productions released to the public, Alex's DJ sets have been the main avenue for others to hear his tracks. Now Alex has revealed a crucial three track single for the forTunea label.
Leading with "Workaholic", the release quickly establishes a hallucinatory deep house vibe, thanks to the pulsing bass drone and enigmatic spoken vocal that open the track. Crisp percussion and building melodies develop throughout the dream-like affair without ever losing grasp of the dance floor.
"Slacker Attitude" gets into down-and-dirty territory, introducing a throbbing, funky bass line under the cut's slinky tempo. Strange vocals pop in and out, and various treatments and tone splashes imply a covert operation in progress. Viennese DJ/producer Peletronic(Hungarian Hot Wax, Underluxe Records) provides a spacey remix of "Slacker Attitude" to close the single, showcasing strategically placed sonic hits and flourishes that compliment the steadily reverberating pad and insistent kick drum. Late night satisfaction guaranteed.
Label and Artist Links:
www.facebook.com/fortunearecords
www.facebook.com/kolodziej.booking