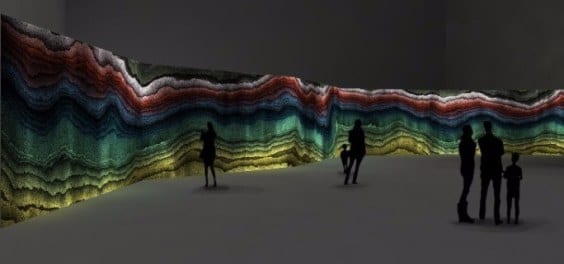 World premiere of the Earthworks installation at Sónar Barcelona
The piece consist of 5 x 5.5 metre screens, placed in zig-zag form, on which detailed animated graphics representing the Earth's strata surrounding PLANTA -the industrial headquarters of the Sorigué business group (based in Balaguer, Lleida) will be projected.

"Earthworks" graphics will be triggered by seismic data turned sounds of earthquakes, volcanoes and glaciers, as well as by data obtained by the human activity working on the PLANTA excavations and the movements produced by machinery used in quarries.

The seismographic data which act as the engine for the piece are obtained from the IRIS public records, an organization of seismological research institutionswith the help of Geotechnology experts from the Faculty of Earth Sciences at the University of Barcelona.

British studio Semiconductor, which specializes in works of art incorporating and based on scientific data, has this year been selected to produce the large formatcentrepiece for SonarPLANTA. Previously, Semiconductor has taken up residences in scientific research centres including NASA, CERN and the Smithsonian Institute's Natural History Museum.

Starting in in 2014 SonarPLANTA is the joint initiative between Sónar and the Sorigué Foundation, which aims to promote and celebrate the research and experimentation of creative languages, based ??around technology and new media art. Since its introduction, each year SonarPLANTA has invited renowned artists in the field of art and technology to present a New Media Art project that will be premiered across the three days of Sónar Barcelona. PLANTA -the cultural project launched by the Sorigué business group and the Sorigué Foundation- serves as the basis for inspiration for the works presented at each edition of SonarPLANTA as its starting point.