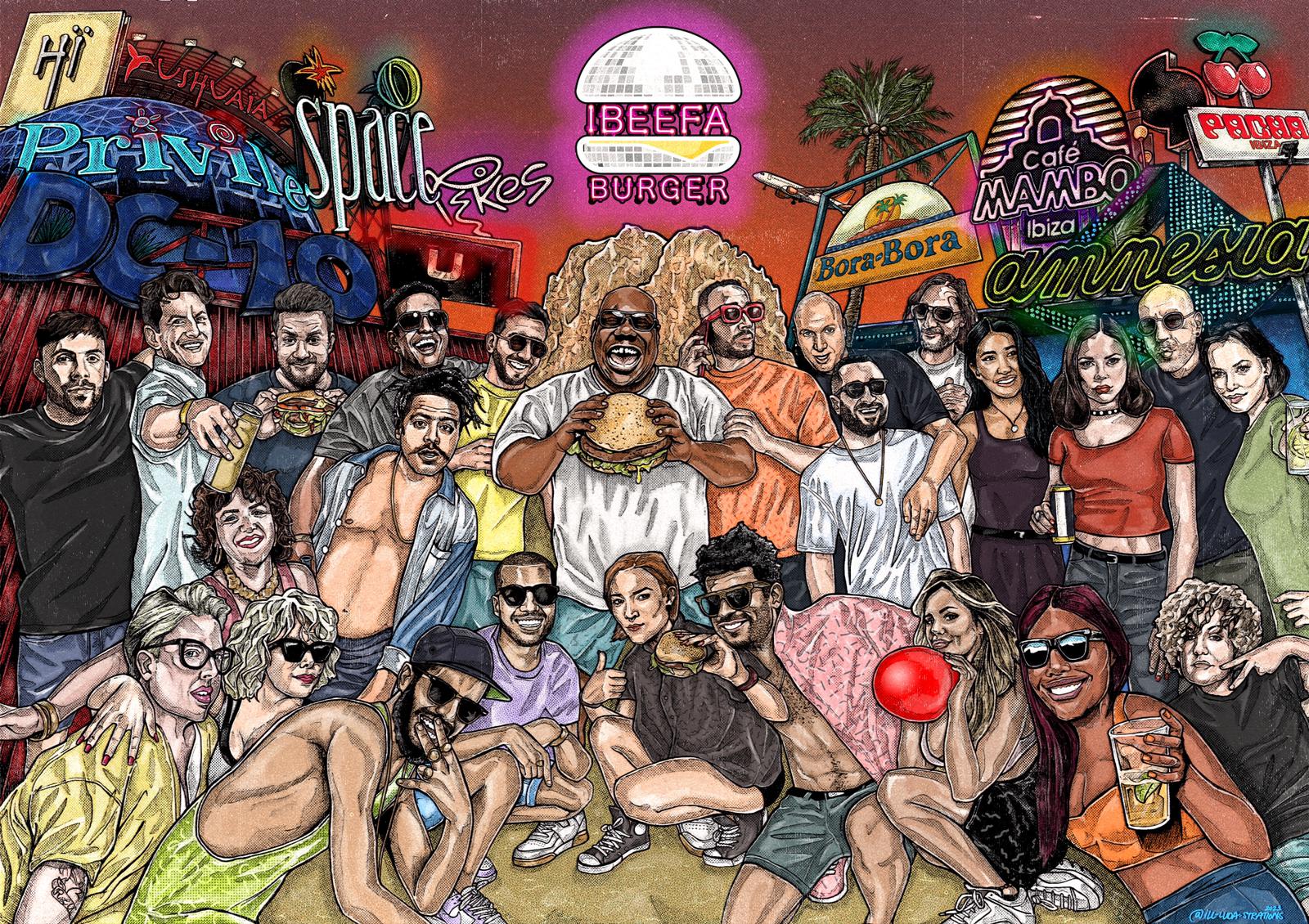 World's first house music inspired gourmet burger restaurant opens in Ibiza 
iBeefaBurger, the world's first house music inspired gourmet burger restaurant, has opened in Ibiza bringing an upmarket, club-style dining experience to the island.
House music fans can choose from a selection of freshly prepared, locally sourced food including meat-free, vegan and vegetarian dishes named after their favourite music artists in the unique dining experience launched last month. 
The vision of two experienced club promoters, iBeefaBurger seeks to combine the best of the premium burger experience with a taste of the atmosphere of the island's clubs, with live DJs providing the soundtrack. 
Pride of place is given to a large-scale mural of the world's top DJ talent painted by artist Harry Luda featuring icons such as Peggy Gou, Seth Troxler, Honey Dijon and the Space legend himself Carl Cox. 
Gourmet DJ talent on the menu
King of German techno Sven Vath makes a headline appearance as chicken burger Hen Vath in the 'Main Room' menu, whilst Ricardo Villalobos provides a vegetarian choice as Avocado Villalobos. American artists 'Martinez Burgers' and 'Paris Stilton'  also feature in the stellar line-up, whilst the Nacheo Plex nachos are inspired by award-winning Cuban-American DJ Maceo Plex.  
iBeefaBurger is the inspired creation of two British ex-pat entrepreneurs Ashley Ienco and Kai Cant. The Ibiza promoters and boat company owners were forced to diversify their business plans when the pandemic hit causing club closures and live events to be cancelled. The pair decided to combine their two passions of good music and good food into one distinctive brand – iBeefaBurger, Ibiza's first gourmet burger restaurant.  
The brand is also gifting iBeefaBurger 'Black Cards' to selected VIP's allowing them to eat for free for life. 
Co-founder Ashley Ienco said: "Having organised club events in Ibiza for years, I could see a gap in the market for a music inspired restaurant that replicated the club experience and brought the party atmosphere to dining. After a challenging year for everyone, we are positive about this summer and cannot wait to introduce music fans from all over the world to iBeefaBurger."
Kai, co-founder added "When you think of a burger restaurant in San Antonio you might envisage an all-night van with dodgy meat and fist fights in the queue. In fact, people's expectations of burgers have completely changed over the last decade or so, and we felt there should be something on the island to reflect this." 

Kai continued "Great music and the great food in an uplifting club atmosphere is what iBeefaBurger is all about. We've already received franchise offers from as far afield as Dubai and South America, so we are looking forward to expanding the brand internationally in the coming years."
British DJ Hannah Wants played a set at the opening party of iBeefaBurger which was streamed live. To watch Hannah's set at iBeefaBurger click here.
iBeefaBurger opened in May 2021 cofounded by entrepreneur Ashley Ienco and Kai Cant, the cofounder of Abode and The Tribe Ibiza travel company owner. The restaurant offers meat-free, vegetarian and vegan dining options and food is available to order via WhatsApp for eat in, takeaway or delivery. The restaurant is located on Carrer del General Prim in San Antonio and seeks to provide diners with the party atmosphere of going to a club, complete with DJs playing live sets, table service and a range of drinks from the bar alongside the mouth-watering food.