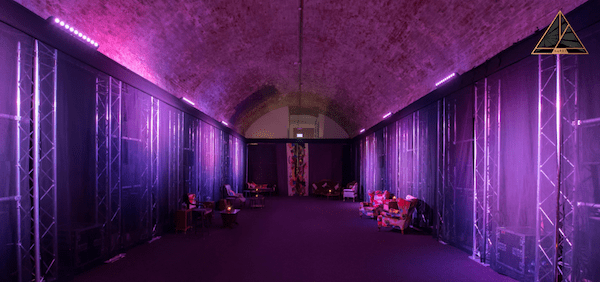 World's First Permanent 3D Sound System Arts & Events Space is Coming to London
Imagine an auditorium sound system so close to perfection that each person in a room full of 250 people enjoys up-close and personal sound with the sort of crystalline clarity found only in the world's best recording studios. Imagine a trail-blazing 3D and true stereo audio system able to place sound precisely, anywhere in the room, in all three dimensions. Imagine a world-first system that attracts audio designers from across the planet to check out the new global benchmark… This is the sound created by Aures London, the new Central London venue and Europe's first fully immersive sensory venue for the arts and events which launches this May,
With the completion of its immersive audio installation (echoic phase), Aures London is already a magnet for audiophiles. Aures London's co-founder Sam Davis explains, "We have taken the biomechanics of hearing and scientifically create a space where you're optimising the listener's experience to the highest degree, while simultaneously bringing this organic, almost life-like 3D element with movement and direction to create something totally unique."
The ground-breaking 3D audio technology developed by Titan Reality™ has set a new standard in Hi-Fi sound experience through a mass array of Pioneer Pro Audio XY speakers. The system is powered by ten separate Powersoft amplifiers, arranged to cover the length of the venue, positioning sound not only left and right but also to the front and back and height terms, relative to the floor and ceiling.
Davis continues, "Our system places every listener in the venue is in the 'sweet spot'. Instead of having just two sound sources at the front of the room like most venues, we have 25 sound sources on either side room on three sound planes. This means the listener can enjoy the dynamic power of auditorium sound while having the intimate clarity of headphones.
"The tremendous success of Beats headphones demonstrates a growing demand for sound quality. However, where headphones, VR and online culture are increasingly solo experiences, Aures London is looking to create shared immersive experiences and bring social entertainment into the 21st Century "
Aures has created a new aural and spatial freedom that offers endless possibilities for creative art and brand experiences. The venue allows artist and event curators to engage in high definition sensory memory experiences. Scientifically, the more senses engaged, the greater the impact on the lasting memory of the audience.
Aures is working with cutting-edge technology to deliver this unique event space. Later this year comes a low frequency, vibrating haptic floor. This takes the subsonic to a new level where sound produces a physical sensation for the whole body. Customised acoustic walls and ceiling panels are also due to be installed – each individually designed and manufactured by South Bank University robotic and AI department. This will tackle the reflections and distortions found naturally in any room, lifting the precision and clarity of sound to a level unrivaled anywhere in the world.
Aures has also joined forces with East London based visual experts, Observatory London, to explore Iconic Memory (Sight) through a combination of intelligent 3D lighting, 3D visual mapping, holograms AR and VR functions.
Not forgetting olfactory (scent) and Gustatory (taste) senses, Aures has worked with Azzi Glasser of The Perfumer's Story, Carlsberg UK, Campari UK and Charles Heidsieck Champagne.
Aures London is well on its way to engaging all five of the body's senses with a capability for a deeply immersive all-sensory experience. They are calling this room Sensorium and it is a part of a new development in the famous Leake Street graffiti tunnel beneath Waterloo station.
Partners
Pioneer Pro-Audio http://www.pioneerproaudio.com/en/index.html
Titan Reality – https://titanreality.com/
Powersoft http://www.powersoft-audio.com/en/
Observatory http://observatory.london/
Azzi Glasser https://theperfumersstory.com
Carlsberg UK www.carlsberg.co.uk
About Aures London and Leake Street
Leake Street – the famous Graffiti Tunnel of railway arches under Waterloo – was the home of Banksy's legendary Cans Festival in 2008, since when it has become a constantly changing legal canvas for street artists and taggers, and a celebrated part of London's urban culture. Aures London is the first opening in a regeneration by Lambeth Council of eight former railway arches, providing a curated collection of restaurants and bars, and joining established tenants the Vaults and House of Vans.
For further information see:
www.aures-london.com
@aureslondon