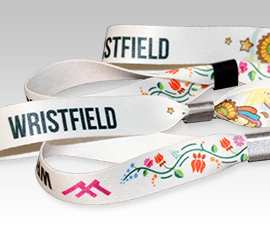 Wristbands24.co.uk – Production of festival wristbands, lanyards and event accessories
Wristbands24.co.uk, one of the best known names in the event accessories sector, has been offering its state of the art services for over 5 years. As part of the prestigious Wristfield Group, the company is operating in and serving countries, such as Germany, Spain, Italy, Romania, Hungary and the UK, and thus, rightfully calls itself a global provider of essential event accessories.
Whether it is a birthday party in your back yard, or a sold out arena show, Wristbands24.co.uk has got everything an organiser needs:
• Tyvek _'s wristbands in 20 different colours
• 8 different kinds of fabric wristbands
• 5 different kinds of vinyl wristband, including reusable ones
• Glowing ice cubes
• Lanyards and laminated passes
• Any and all sorts of promotional accessories, including baseball hats, bottle openers, towels and many more.
And this is only a fraction of the overall product offering.
Do you need something unique? Look no further, as Wristbands24.co.uk offers complete customisation on almost all of its products. What's more, the company provides free design of custom texts and graphics, based on client requirements.
In the lives of event managers and organisers, time is of the essence, thus Wristbands24.co.uk takes great pride in meeting tight deadlines, whilst maintaining its extremely high quality standards.
Wristbands24.co.uk's motto is to help you create memories, rather than just offer you wristbands. As the company believes that a wristband is not just a tool for entry and identification. It is also an accessory, made for preserving information and memories.
Create memories, so that your guests will remember your event when they come across your wristband among their relics. Wristbands24.co.uk is your partner in making your event an everlasting memory.