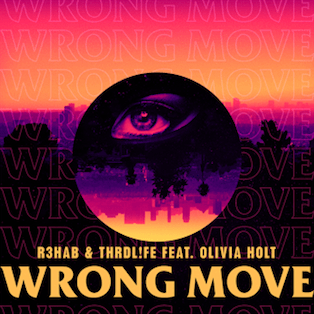 R3HAB x THRDL!FE ft Olivia Holt - Wrong Move
World renowned Dutch DJ/producer R3HAB teams up with South London duo THRDL!FE on the incredibly infectious new single 'Wrong Move' featuring U.S. singer/actress Olivia Holt; a hotly tipped club banger released via Ministry Of Sound.
'Wrong Move' is the perfect blend of both R3HAB and THRDL!FE's sound and style infusing dance and house which is amplified by Olivia Holt's stunning sultry vocal. The enthralling track instantly captivates the listener with its catchy hook laid on top of a thumping electronic production that progressively builds throughout.
R3HAB explains "It's been an honour working with the THRDL!FE guys on this track together over the last few months. Once Olivia Holt put her vocal performance on it, we all knew we had something very, very special. I can't wait for this record to become the summer anthem it deserves".
On producing 'Wrong Move' THRDL!FE say "Working alongside established names like R3hab and Olivia Holt on a record has been such a surreal experience for us. The way everything came together was such an unlikely series of events and the end product is something we are insanely proud of. We feel 'Wrong Move' represents a huge step forwards for us as producers and we are buzzin' about what the future holds for the song and our journey".
On working with both R3HAB and THRDL!FE, Olivia states "I'm forever grateful to be a part of this song with R3HAB and THRDL!FE. Both are so insanely talented and 'Wrong Move' is such a jam. Can't wait to see how it moves and impacts people."
Through an impromptu meet at ADE Festival, THRDL!FE sparked a conversation with R3HAB about current projects they were working on, which included a Julia Michaels track. The duo were thrilled when R3HAB (aka Fadil El Ghoul) wanted to work on it with them. Olivia Holt became involved as the guys were all massive fans of her vocal.
The new single showcases the remarkable way in which three outstanding artists from different parts of the world can collaborate to produce a Summer anthem that's destined to be played in clubs, bars and festivals throughout the UK and beyond.