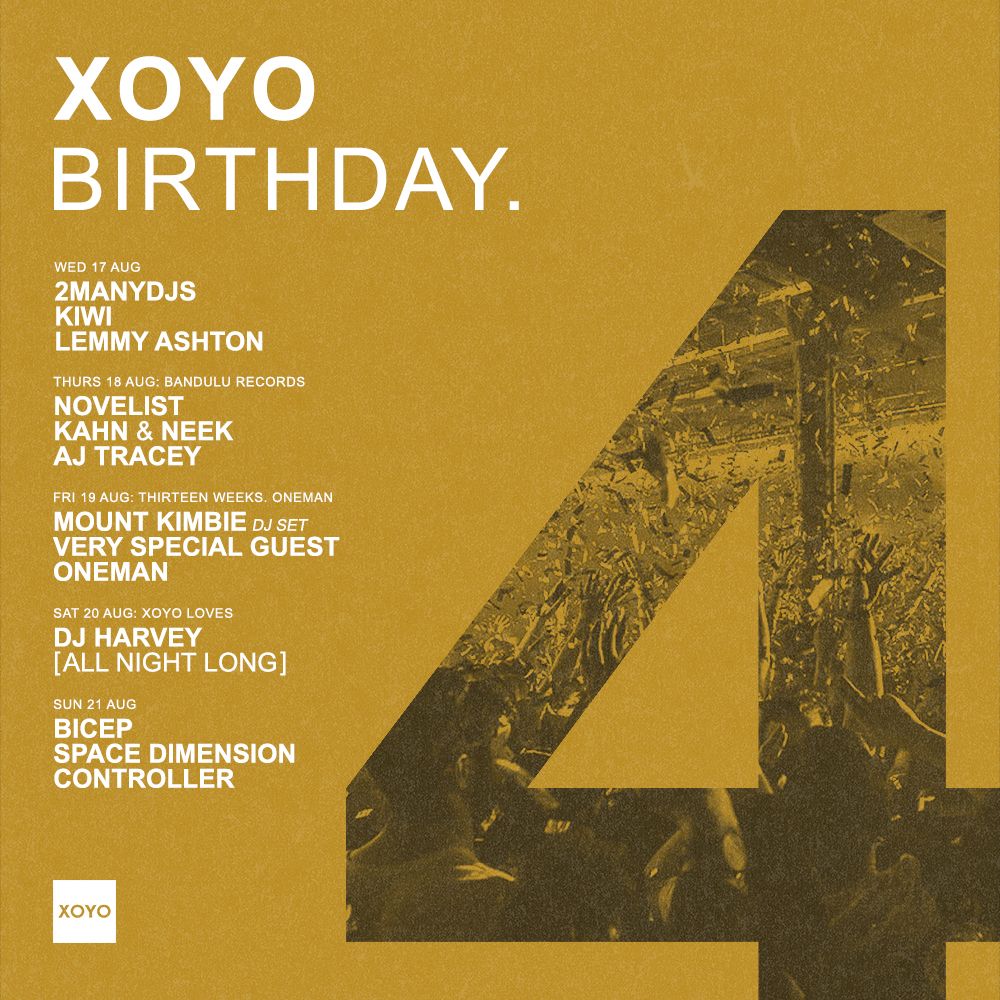 XOYO 4th Birthday w/ DJ Harvey, Bicep, 2ManyDJs, Mount Kimbie and more
Throwing parties is what we do best and our Birthday is one reason to go all out, paying homage to the music we love and the DJs, the artists and the people who have partied with us over the past twelve months…
This August we proudly mark our fourth year with five consecutive parties, each commemorating a facet of our history with a look into the direction of things to come.
2ManyDJs kick off our celebrations on the Wednesday followed by a grime heavy session with Novelist, AJ Tracy and Kahn & Neek on Thursday.
Mount Kimbie play a rare DJ set for Oneman on the Friday as he continues his thirteen week residency alongside a very special guest (and trust us, they are very special).
It was no mistake that our Birthday should land when we have the legend and enigma, DJ Harvey playing a month of Saturday's with us. He'll be going all night long. No room two, no guests, just Harvey doing what Harvey does best. What better way to bring us into our forth year.
To round off our string of celebratory sessions, the Sunday sees our favourites and past XOYO residents Bicep in for another workout alongside Space Dimension Controller – we cannot wait.
Wednesday 17th August
2ManyDJs
Kiwi
Lemmy Ashton
Thursday 18th August
Novelist
Kahn & Neek
AJ Tracey
Friday 19th August
Mount Kimbie (DJ set)
Very Special Guest
Oneman
Saturday 20th August
DJ Harvey [all night long]
Sunday 21st August
Bicep
Space Dimension Controller