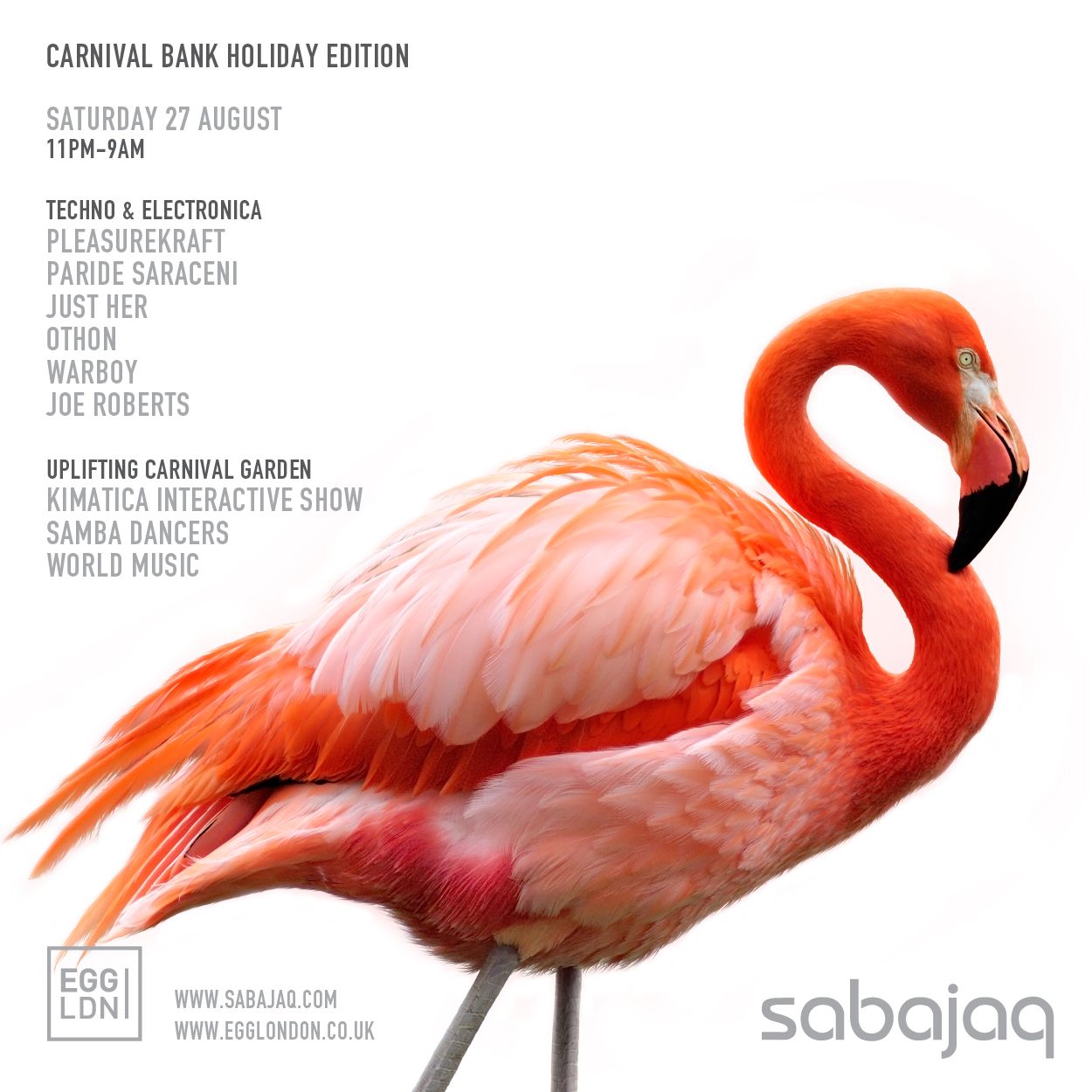 Sabajaq – Carnival Bank Holiday Edition
One of EGG's leading nights is back with a Carnival Bank Holiday extravaganza on August 27th when Sabajaq have a mouth watering techno line-up featuring Pleasurekraft; Paride Saraceni; Just Her; Othon, resident and founder Warboy.
EGG's renowned large outdoor garden will also be infused with carnival atmosphere hosting samba dancers, Kimatica's stunning interactive shows and DJs spinning uplifting world beats and summer grooves celebrating London diversity.
This party has been building up a great following and fine reputation for more than a year now. Their events always offering something fresh and different, with a great focus on sounds and production that always stands out. EGG London, of course, is one of the foremost clubs in the capital and always makes for an inviting atmosphere no matter who is headlining. Add into that the fact this is a carnival Bank Holiday, and you know it will be extra special.
This time out, tech house titans and hit making groove producers Pleasurekraft, who run their own Kraftek label, are bringing the heat, with Paride Saraceni also supplying the supple tech sounds. Resident Just Her, whose Constant Circles label is making waves in the electronica charts, is also playing, as is Othon, a classically trained talent delivering high frequency techno and deep electronica!
As such, you'll be hard pressed to beat another party as unique as this.
Line up:
TECHNO & ELECTRONICA
Pleasurekraft
Paride Saraceni
Just Her
Othon
Warboy
Joe Roberts
UPLIFTING CARNIVAL GARDEN
Kimatica Interactive Show
Samba Dancers
World Music
Links: www.facebook.com/sabajaq