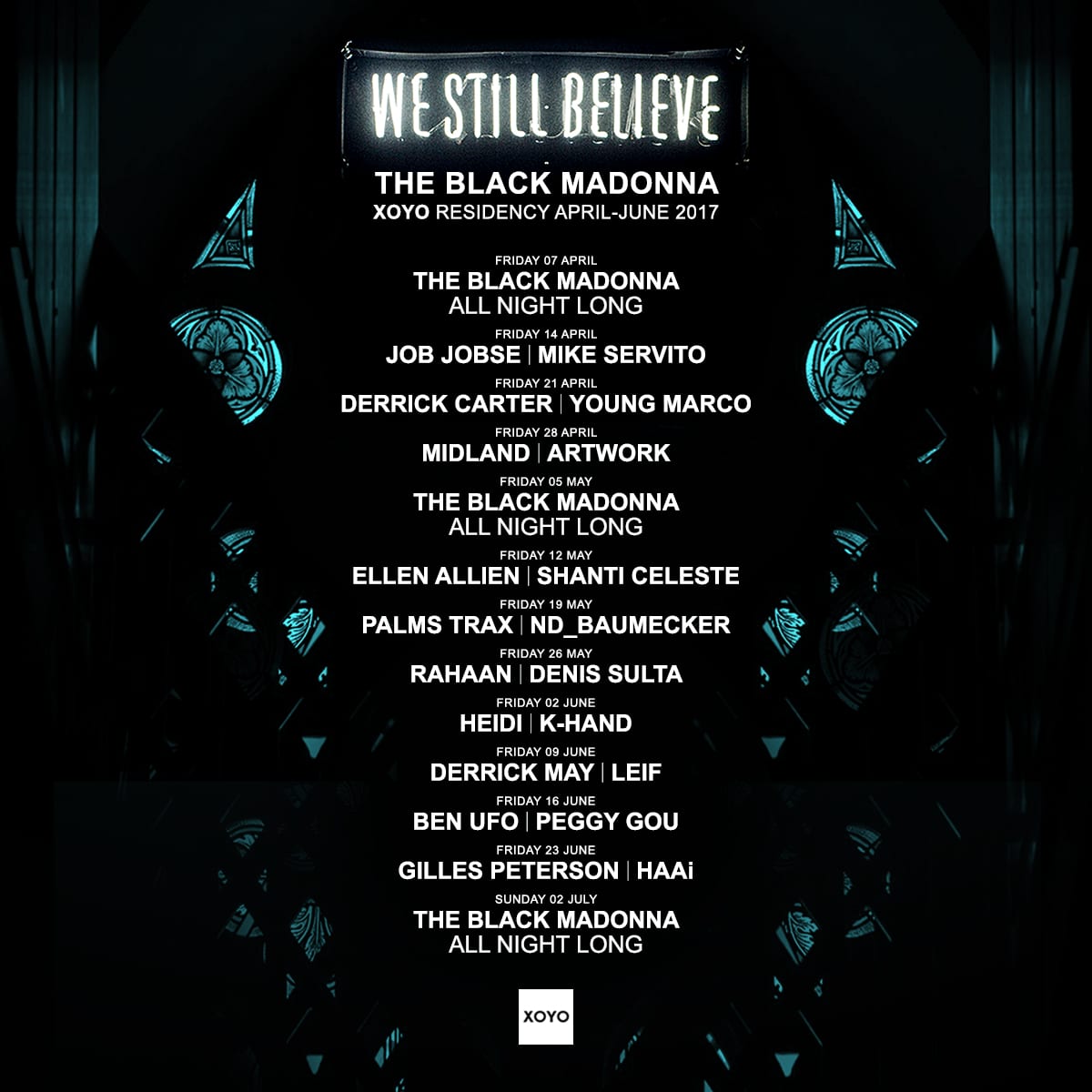 XOYO announce the full line-up for The Black Madonna's 13 week residency…
XOYO announce the full line-up for The Black Madonna's 13 week residency…

Following in the footsteps of Jackmaster, Bicep, Skream and Heidi to name a selection, The Black Madonna, will hold down three straight months as XOYO's weekly resident.

Having announced her residency at the start of the year, XOYO can now unveil what is possibly one of the most considered line-ups the series has seen so far. A true reflection of her musical tastes and nuances, The Black Madonna has carefully curated each week, taking you from soul to disco to techno to straight-up house with the originators of the sounds themselves alongside some of the most exciting new talent from the dance music scene.
Stand out sessions within the thirteen weeks include Friday 21st April, when fellow Smart bar resident Derrick Carter does a special disco alongside one of Amsterdam's most exciting exports, Young Marco.

Former resident Heidi returns to the club, this time as a guest on Friday 2nd June alongside an XOYO debut from Acacia Records boss and Detroit legend, K-Hand.

June sees The Black Madonna enlist two of the UK's finest selectors, Ben UFO and Gilles Peterson, to head-up a session each with support from newcomer Peggy Gou and Phonox's resident DJ, HAAi respectively.
As previously announced, the dance music icon will present a three-part voyage through dance music's formative moments with all night long sets on Friday 7th April, Friday 5th May and Sunday 2nd July – This will be the only time The Black Madonna will take you on this journey, make sure you're with her.
Full list of line-ups below…

Friday 07 April
THE BLACK MADONNA
ALL NIGHT PART 1: THE BODY ELECTRIC
Friday 14 April
JOB JOBSE | MIKE SERVITO
THE BLACK MADONNA

Friday 21 April
DERRICK CARTER | YOUNG MARCO
THE BLACK MADONNA

Friday 28 April
MIDLAND | ARTWORK
THE BLACK MADONNA

Friday 05 May
THE BLACK MADONNA
ALL NIGHT PART 2: THESE ARE THE BREAKS

Friday 12 May
ELLEN ALLIEN | SHANTI CELESTE
THE BLACK MADONNA

Friday 19 May
PALMS TRAX | ND_BAUMECKER
THE BLACK MADONNA

Friday 26 May
RAHAAN | DENIS SULTA
THE BLACK MADONNA

Friday 02 June
HEIDI | K-HAND
THE BLACK MADONNA

Friday 09 June
DERRICK MAY | LEIF
THE BLACK MADONNA

Friday 16 June
BEN UFO | PEGGY GOU
THE BLACK MADONNA

Friday 23 June
GILLES PETERSON | HAAI
THE BLACK MADONNA

Sunday 02 July
THE BLACK MADONNA
ALL NIGHT PART 3: LOVE IS THE MESSAGE