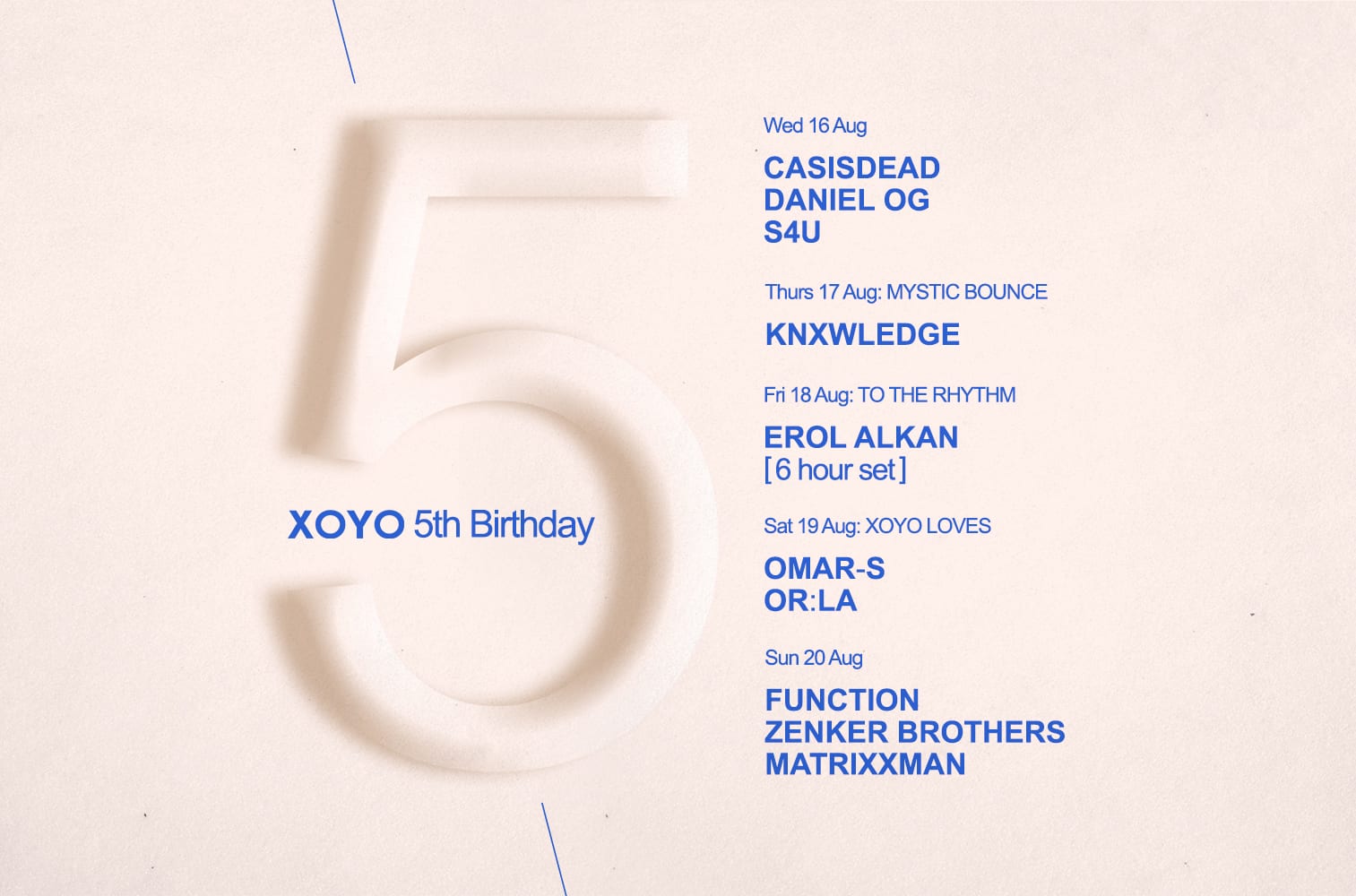 XOYO celebrate 5 years with 5 Parties…
Kicking off the first of five XOYO Birthday celebrations, we are keeping things London bound. The ever elusive CASisDEAD heads-up the party bringing his slow rolling lyrics and bass fueled productions toXOYO. Despite his calm onstage demeanor and enigma, his potent flows cause relentless energy on the floor. Pure 90s, Daniel OG comes in support. It's easy to see the Neverland Clan rappers appeal when you hear his affable style laid over those experimental hip-hop beats – it's magic. Rounding off the first of five, XOYO invites East-London collective S4U (Something for you).
Mystic Bounce, XOYO's monthly beat-driven night welcomes one of the most prolific producers of our time, Stones Throw Records' own, Knxwledge, for the second celebration of the series. Dominating the hip-hop sphere as he collaborates with the genres most famed artists – Kendrick Lamar, Anderson Paak, Earl Sweatshirt to name a few – Knxwledge has the beat making skills of someone set for legendary status. Standing out from a sea of producers, he creates a pastiche of hip-hop, jazz and soul which flow together into a sound totally his own – It's a genuine honor to have him mark our Birthday.

What better way to honor five years of XOYO than with an extended, all night set from our current resident, the icon, Erol Alkan. XOYO's famed quarterly residency series, now in its fourth year, is key to the clubs status in dance music. Erol Alkan curates three months of Fridays under the title To The Rhythm, with guests including; Ellen Allien, Daniel Avery, Gerd Janson, 2ManyDJs. For this session, it's Alkan front and center for a 6 hour marathon set.

The clubs longstanding Saturday night party, XOYO Loves, welcomes Detroit techno master, Omar-S for the penultimate celebration. This enigmatic producer and FXHE records boss has placed himself at the forefront of house and techno today – it's always a pleasure. Joining him in room one is Hotflush records signee Or:la, an up and coming selector who's definitely not afraid to take risks in her wide reaching, varied sets.
The celebrations culminate as XOYO take you on a ten hour techno tip throughout Sunday afternoon and into the night with some of the genre's finest talents. Berghain resident and techno legend Functionheads up the bill alongside Illian Tape's founding duo, Zenker Brothers. Self-confessed techno futurist Matrixxman, finishes off this huge Sunday session.
5 YEARS OF XOYO
Wednesday 16th August – Sunday 20th August

Is gives us enormous pleasure to announce, XOYO will celebrate 5 years with 5 consecutive parties this August.

Wednesday 16th August
CASisDEAD
DANIEL OG
S4U
Thursday 17th August
MYSTIC BOUNCE:
KNXWLEDGE
Friday 18th August
EROL ALKAN
ALL NIGHT
Saturday 19th August
OMAR-S
OR:LA
Sunday 20th August
FUNCTION
ZENKER BROTHERS
MATRIXMANN