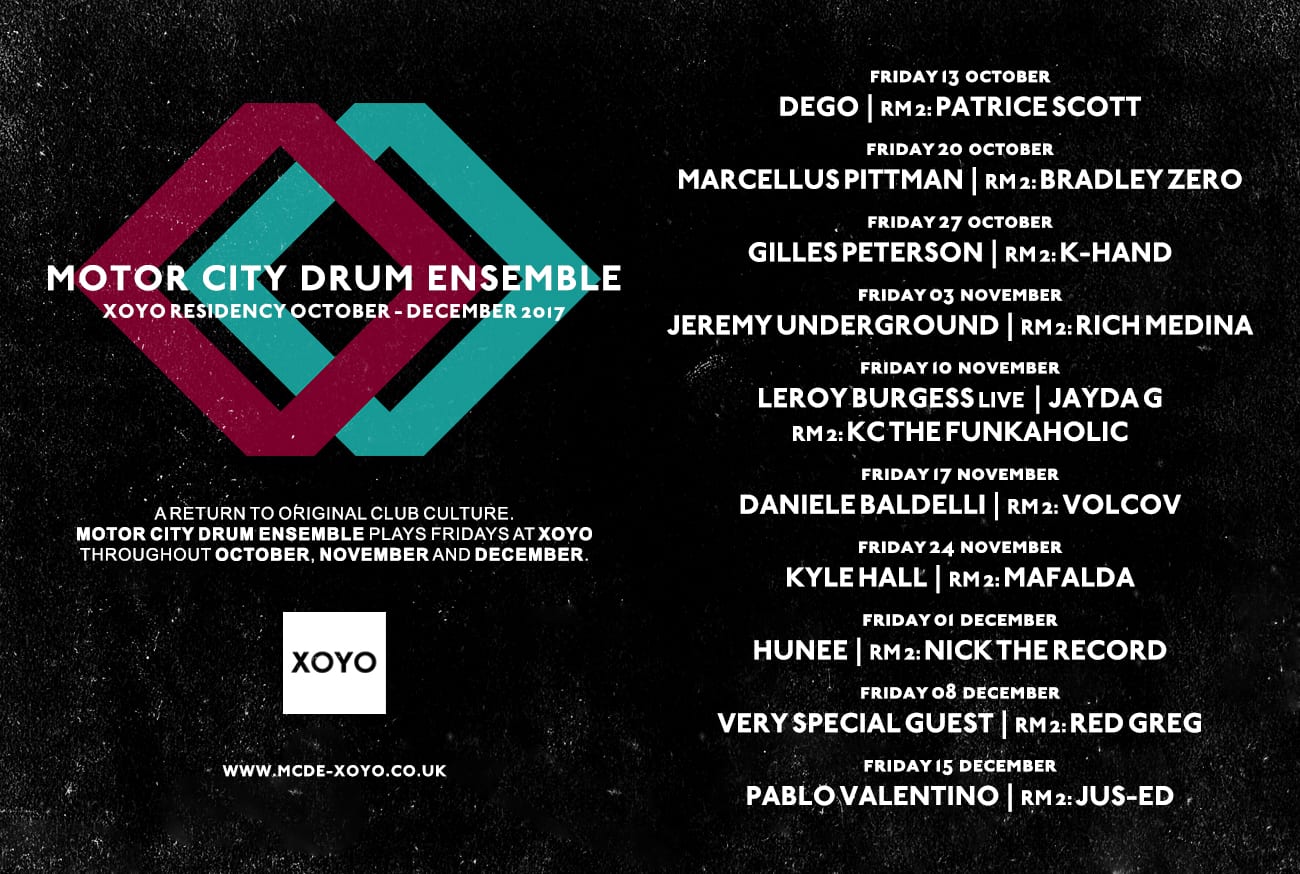 XOYO Residency 2017: Motor City Drum Ensemble Line-up Announcement
Launched at the start of 2014, XOYO's famed quarterly residency series has so far seen fifteen of the underground's most coveted acts hold down three months each (check The Black Madonna, Bicep, Erol Alkan…).
Last month, XOYO announced the phenomenal Motor City Drum Ensemble (MCDE) as our fourth quarter resident of 2017, taking you through October, November and December, playing ten consecutive Fridays with hand-selected guests.
We can now reveal the string of huge acts joining MCDE throughout his upcoming XOYO residency and we're sure you'll agree, this is going to be a special one.
There are few pairings more charismatic than Jeremy Underground and Motor City Drum Ensemble. Born from an impromptu closing set at 2015s Dimensions festival, both showcased the type of musical sensibilities which put them in the realms of the most coveted DJs on the planet. We cannot wait to see what they bring to the XOYO basement on Friday 3rd November.
A selector in the truest sense, Hunee makes his XOYO debut alongside MCDE on Friday 1st December. After releasing his debut album on Rush Hour, his rise to the peaks of dance music has been steady and thought out, his choice cuts of rhythmically playful and super-soul infused house music have cemented him among the elite. Add to that his relentless energy behind the decks and you have one of the most in demand DJs on the circuit. There's massive anticipation to see what him and MCDE bring to XOYO on Friday 1st December.
Cohort to the acclaimed 'MCDE' imprint as well as the creator of Faces Records, Pablo Valentino makes for the perfect accompaniment behind the deck to close what is set to be one unforgettable residency.
With his signature warm baritone voice and tension-building keyboard riffs, Leroy Burgess contributed to the success of many different projects over more than three decades – with Black Ivory, Aleem, Fonda Rae, Intrigue and Inner Life, and as Conversion and Logg amongst other pseudonyms. Whether disco-boogie or Salsoul, the underlying ingredient is always pure soul – this one will be special.
Other names not to miss include Marcellus Pittman, Dego, Daniele Baldelli, Kyle Hall, Gilles Petersonand a very special unannounced guest on Friday 8th December – it's a good one, trust us.
As is tradition, XOYO's room 2 will be held down by one DJ all night long. MCDE has lined up some of the biggest names in XOYO history to play the space. Highlights come in the way of Rhythm Section's Bradley Zero, Detroit techno innovator, K-Hand, Mafalda, Volcov, Patrice Scott and plenty more of this calibre.
"Here's the lineup for my XOYO residency… We worked hard on presenting something diverse, across multiple genres and eras, with some originators as well as current favorites. Thanks to everybody involved making this happen, I feel like it's going to be a wonderful 3 months! With Legendary Djs and musicians like Daniele Baldelli, Gilles Peterson and Leroy Burgess, the focus on the nights will be on my guests, and I will try my best to adapt to what they represent to me, changing my sets throughout the residency." – Motor City Drum Ensemble.
Check the full line-ups below…

Friday 13th October
DEGO | MCDE
RM 2: PATRICE SCOTT
Friday 20th October
MARCELLUS PITTMAN | MCDE
RM 2: BRADLEY ZERO
Friday 27th October
GILLES PETERSON | MCDE
RM 2: K-HAND
Friday 3rd November
JEREMY UNDERGROUND | MCDE
RM 2: RICH MEDINA
Friday 10th November
LEROY BURGESS LIVE | JAYDA G | MCDE
RM 2: KC THE FUNKAHOLIC
Friday 17th November
DANIELE BALDELLI | MCDE
RM 2: VOLCOV
Friday 24th November
KYLE HALL | MCDE
RM 2: MAFALDA
Friday 1st December
HUNEE | MCDE
RM 2: NICK THE RECORD
Friday 8th December
VERY SPECIAL GUEST | MCDE
RM 2: RED GREG
Friday 15th December
PABLO VALENTINO | MCDE
RM 2: JUS-ED