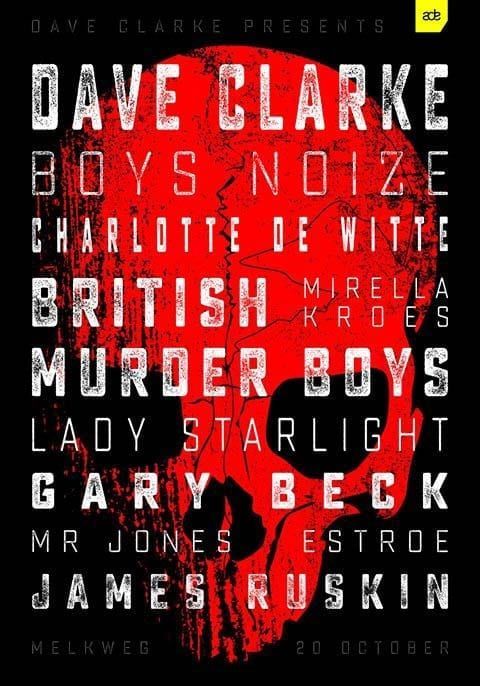 Dave Clarke presents stellar lineup for ADE with Boys Noize, Charlotte de Witte, James Ruskin and more
Dave Clarke Presents will be back at ADE 2017 for it's 13th edition with a stellar line-up with Boys Noize, Gary Beck, James Ruskin, the comeback of British Murder Boys (Regis & Surgeon), a performance by Lady Starlight and some of the low countries finest with Estroe, Mirella Kroes, Charlotte de Witte and Mr. Jones.
Many know Dave Clarke as the Baron of Techno, but with his ever expanding encyclopedia on everything dance related, he is also the Lord of Electro, with his popular 'Whip It' night being one of his most recent endeavors. Whip It proved just how irresistible the electro genre can be, so watch out for that ADE line up announcement.
Who better to headline this edition of Dave Clarke Presents than DJ/producer/label boss Alexander Ridha aka **Boys Noize **who effortlessly merges various styles with influences of hip-hop and disco roots as well as heavy noise and electro house sounds and his sets are equally uplifting, not only technically but also as a showman.
Then there's the return of the legendary British Muder Boys. The sideproject of Regis and Surgeon was responsible for some legendary performances creating total and utter chaos by drenching their brand of techno in a punk ethos, derailing into a perverse orgy of noise, sex sounds and some heavy percussion. A perfect fit for the American performance artist Lady Starlight, who's worked before with Surgeon.
Fans of techno will be happy to see the return of Gary Beck. The Scotsman is a fantastic dj and producer, having released productions on renowned labels including Cocoon and Saved with his latest release 'Famoo Funk', receiving support from Clarke's own 'White Noise' show and BBC Radio 1.
Then there's James Ruskin, the versatile Blueprint label boss who is responsible for some of Surgeon, Lakker and Samuel Gerridge's best tracks. As a dj and producer, he constantly reinvents himself, whether it's his solo tracks, or the collabs he does with Mark Broom or Regis as O/V/R.
Having made quite the impression at last year's event, it should come as no surprise to see Charlotte de Witte on the line-up. The Flemish dj and producer found herself embraced by the techno scene in a very short amount of time, largely thanks to her love for the darker side of techno.
The line-up is completed by Dutch techno veterans Mirella Kroes, Estroe and Clarke's studio buddy Mr. Jones.
Tickets:
This is the ticketlink. Normal presale tickets are €29
http://www.ticketmaster.nl/event/191213?brand=nl_melkweg
www.facebook.com/events/149737268924145/
Whip It ADE Line up also completed, Announcement very soon.
The Amsterdam Dance Event takes place from the 18th to 22nd of October, 2017.
About Dave Clarke
Dave Clarke is a DJ with an anarchist streak a mile wide and punk in his soul. Technologically, he's an early adopter with the studio to prove it, but he also embraces sounds outside the staunch electronic dance remit, from Nick Cave to Savages to old favourites Bauhaus. Such music informs his attitude as, using Serato on a 13" Macbook Pro Retina for his ruthlessly effective, fat-free club sets, he pushes the worldwide boundaries of what techno and electro can be. After a break , recent years have seen him make his presence as a producer felt again, working with Dutch partner Mr Jones (Jonas Uittenbosch) as Unsubscribe and dropping remixes ranging from John Foxx's seminal synth-pop gem 'Underpass' to Gesaffelstein, Detroit Grand Pubas and Octave One. Not a week passes when he doesn't live up to his nickname, the Baron of Techno, a moniker given him by the late, great BBC Radio DJ John Peel.
About ADE
Since its inception in 1996, ADE has grown into a globally renowned platform for the international dance and electronic music scene. The festival is the perfect place to spot the latest musical trends and emerging talents, as well as hearing the most recent work of both electronic music pioneers and current superstar acts. In addition to the extensive line-up of the ADE Festival, the ADE Playground offers music enthusiasts a large and varied daytime program including exhibitions, in-store promotions, pop-up stores and film screenings all over the city center. The business aspect of the event (ADE Conference) is recognized as the most important of its kind, presenting a broad range of conferences and networking opportunities that focus on music and technology, VJs & visuals, sustainability, dance & brands, harder dance styles, new talent and the education of students.
For more information about ADE: www.a-d-e.nl