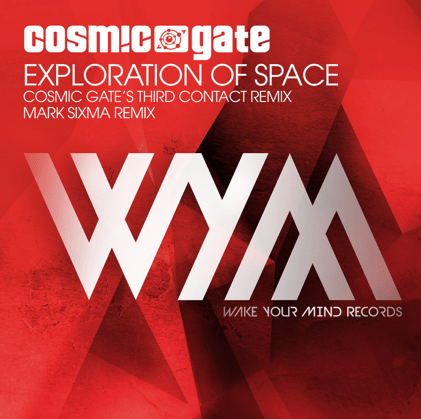 Cosmic Gate - xploration of Space (Remixes)
Cosmic Gate is transporting us to the early 2000's with a fresh remix of their original hit "Exploration of Space." Five years ago the duo updated "Exploration of Space" for the first time calling it their 'Back 2 Future Remix' – today they return with 'Cosmic Gate's Third Contact Remix'. The duo's third rendition of "Exploration of Space" is bound to surprise fans taking the classic track from a melodic trance anthem to a dance floor power-player. Version 3.0 is destined to become a festival favorite in 2016, as already approved by Armin Van Buuren and Dash Berlin, who both dropped it at Ultra Miami 2016.

In addition to the duo's remix, Dutch trance producer Mark Sixma tackled the challenge of putting his own signature touch on the beloved tune. With the integrity of the original leading the way, Mark Sixma's modern revamp deepens the bassline into a churning growl injecting an impactful amount of energy into a build up. Out now grab your copy of Cosmic Gate's and Mark Sixma's remixes of "Exploration of Space" here.

Through a chance meeting, German producers Claus Terhoeven and Stefan Bossems would come together to create Cosmic Gate, one of Germany's most successful and enduring electronic acts. With a career spanning well over a decade, the duo has created some of trance's defining singles, including classics such as "Be Your Sound," "Fire Wire," and "Exploration of Space." Possessing an expansive resume comprised of seven Top 40 singles, six studio albums and remixes for artists including Tiësto, Above & Beyond, Deadmau5 and more, Cosmic Gate's success continues into the new year. With performances in London, Miami, and Los Angeles and the debut of the duo's 100th episode of their Wake Your Mind Radio series already under their belt, Cosmic Gate is just getting started on a massive year in 2016.