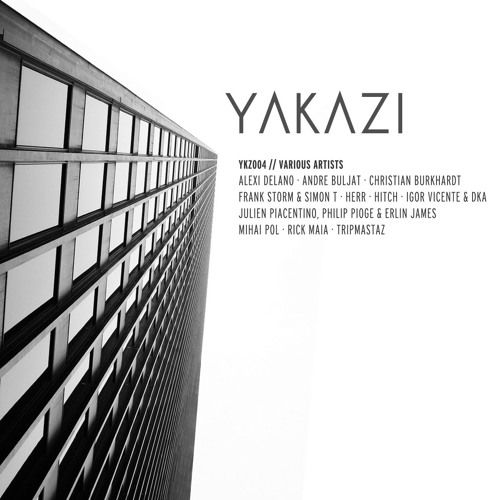 Various Artists - YAKAZI
Only four releases deep and the fledgling Barcelona imprint, YAKAZI, is ready to put its wares together in a show of strength; forecasting what is yet to come and showcasing where it has got to in its short lifetime already.
Self-diagnosed audiophiles, the crew behind the label stand united with one unifying mission: to move people through good music, prevailing fads and trends. With this at the heart of its every operation, YAKAZI have already come along in leaps and bounds, now resulting in the imprint's first compilation which pulls together a select number of current powerhouses alongside up-and-coming artists throughout electronic music scene.
Kicking things off is the dark and minimalist Alexi Delano. With more than two decades of experience, he has produced five albums and released countless amount of records on established labels such as the historic SVEK imprint, Plus 8, Minus, Drumcode, H-Production and many more. His sound combines the many differing roots and variations of techno with contemporary flourishes and impeccable sound design once again in his aptly titled opener, 'You Hear.'
Next up, German-native Andre Buljat and fellow YAKAZI co-founder takes us for a 'Walk in the Park.' By the time he was a teenager, he was experimenting on his first mixer and turntables and by 17 he was spinning Chicago and Detroit techno – combining these influences with Berlin's clinical precision and Chicago's raw energy, ultimately releasing on key labels including N.19, CBS Sessions, Serialism and more.
Fellow longstanding, German-born producer, Christian Burkhardt – a native of Heidelberg – steps up to the plate next to deliver a dark, driving, multi-layered experiment in the form of 'Square.' He is a producer that has carved out a niche for himself within house and techno – an influence that continues to transcend the global electronic music community.
Frank Storm and Simon T are young, talented Italian DJs and producers at the beginning of a fruitful career, clearly exemplified on 'Ask' – a track which calls upon deep and warbling elements and turns those aspects in a deep roller that will take things easily from peak time to the early hours.
HERR is none other than Buenos Aires artist, Hernán Herrera, who has been based in Barcelona since 2001. His ever-growing FACT project is well-known amongst dance music circles as one of the most forward thinking house and techno events around. Starting 2016 with strong releases on Serialism and now YAKAZI, keep an eye out for more of his unforgivably deep productions as stylistic as they are versatile – 'Optoma' is a perfect cut of seriously heavy depth, steeped in a weight underground vibe.
It's the turn of YAKAZI label boss, HITCH aka Edu Clarà, next on the compilation as he unveils the staggeringly funky groove that is 'Freakanalog' – a release with a bass-line as deep as they come – warm, analogue beauty that will keep you coming back for more.
Igor Vicente and Brussels-based house producer DkA take things down the rabbit hole with 'Amandarst' – a track which calls upon their collective interests and delivers a solid minimal tech groove, never lacking in that deep house feeling.
'Octobre Rouge' is the work of three inspiring, upcoming producers: Julien Piacentino, Philip Pioge and Erlin James. Rising through the electronic music scene, they pose as a significant reminder of the new generation of producers – those who are not afraid of mixing up the darker side of rough and minimalist techno – combining the deeply atmospheric into a dense wall of sound.
Once more, another relatively new face, Mihai Pol, from Brasov, Romania takes pride of place on this YAKAZI call to arms. Clever sound design, driving rhythms and perfect composition make 'Jocolata' a buy-on-sight record for any DJ wishing to challenge a dance floor.
Rick Maia is a DJ with extraordinary technical ability and a producer making waves with in the scene. He has the passion, intelligence and a understanding of the dance music environment which makes him a truly exciting prospect. 2013 was a pivotal year in his career culminating with a residency for FACT Worldwide events in Barcelona and releases, most notably on Elliptical Recordings. His track here, 'Unt5' is a break beat driven percussive tool with enough verve and strength to hold dance floors mesmerised in its groove.
The final cut and pride of place on the compilation is given to Tripmastaz – one of the few underground producers and DJs coming out of Russia that has gained widespread respect of the international community. Andrew Guyvoronsky (aka Tripmastaz) has showed his production powers in a variety of places – from being featured on compilations such as Fabric and DJ-Kicks and is now busy touring the world. 'Bomboklatt' on this compilation isn't the last you've heard of him, or any of the other outstanding selection of artists in this very special compilation for YAKAZI.
Keep your eyes and ears on these guys.