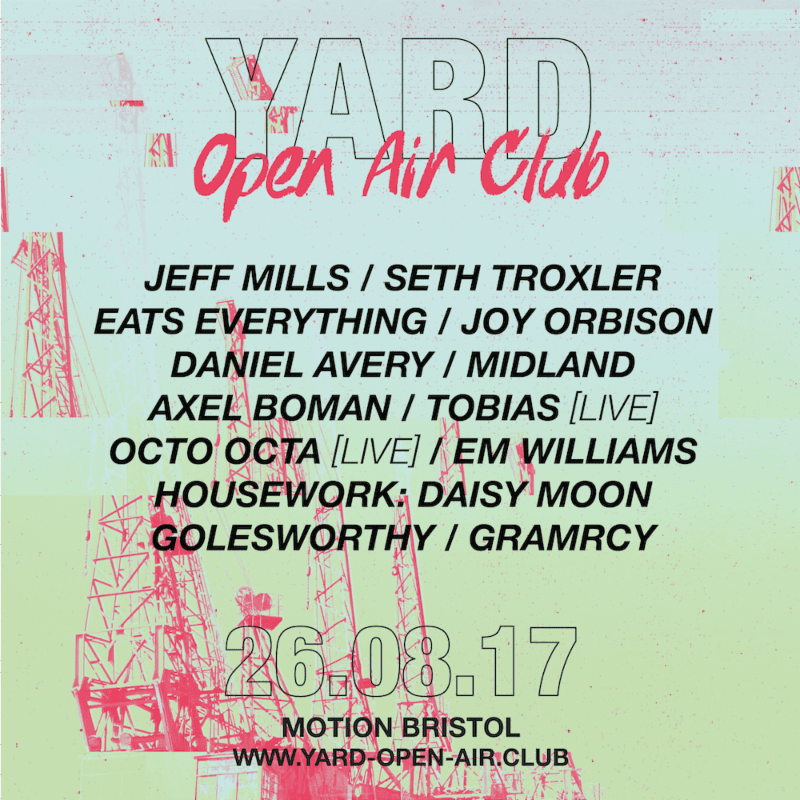 Yard Open Air Club Lineup Announced…
Since starting out as a skate park, Motion has been endlessly tweaked and transformed, its ever-shifting warehouse complex now home to huge raves, intimate sweatboxes and cutting edge live music. For the club's latest adventure, Yard is taking things outside.
WITH:
Jeff Mills, Seth Troxler, Eats Everything, Joy Orbison, Daniel Avery, Midland, Axel Boman, Tobias – LIVE, Octo Octa – LIVE & Many More
Yard will welcome a new era of open air clubbing in Bristol. A collaboration between some of the city's most established dance music institutions, Yard will bring our outdoor spaces to life. Summoning that specific type of joy that comes from dancing outdoors, Yard will be split across three newly developed open air spaces – taking place in the Container Yard, Crane Yard and Lock Yard. In terms of bookings we'll be keeping it hot and heavy with line-ups comprised of some of the most respected underground names in house and techno alongside genuinely iconic ones.

Yard welcomes true genius in the form of Detroit pioneer Jeff Mills. As a visionary who works tirelessly to keep techno firmly future-facing, Mills has been blowing minds for decades, consistently hurtling us into the future while ripping through +130bpm workouts. This headline set at Yard is a chance to lose yourself to the pummeling, otherworldly body music of The Wizard under the stars.
Alongside this rare appearance, we've lined up some absolute heaters, with dance music's eccentrics-in-chief Seth Troxler and Eats Everything alongside euphoric, bleeding edge selections from Joy Orbison, Daniel Avery, Midland and Axel Boman. Of our two live sets, expect expertly crafted, pounding belters from Ostgut Ton mainstay Tobias, while Octo Octa's live performance will weave through the bright flourishes of her trademark infectious grooves. Skilled at creating intimate atmospheres, Daisy Moon, Golesworthy and Gramrcy will bring a taste of their killer Housework parties, while Motion resident Em Williams will be setting the tone right.

Capturing the spirit of outdoor partying, art installations curated by Mr. Price will embellish our excursion with the kind of hazy glamour that his Studio 89 events embody. Energetic shape-throwing is actively encouraged, too, as energy levels can be replenished throughout by our new food traders, who will be serving up locally sourced food. Yard is also proud to announce that sustainability will be a strong focal point throughout, with leading green thinkers Kambe helping us to get eco-friendly with reusable cups – keeping your shakedown in the sunshine guilt free.

Yard is Motion's biggest and most ambitious outdoor event to date. See you there.
General sale tickets will go live at 9am Thursday 4th May via www.yard-open-air.club
www.yard-open-air.club