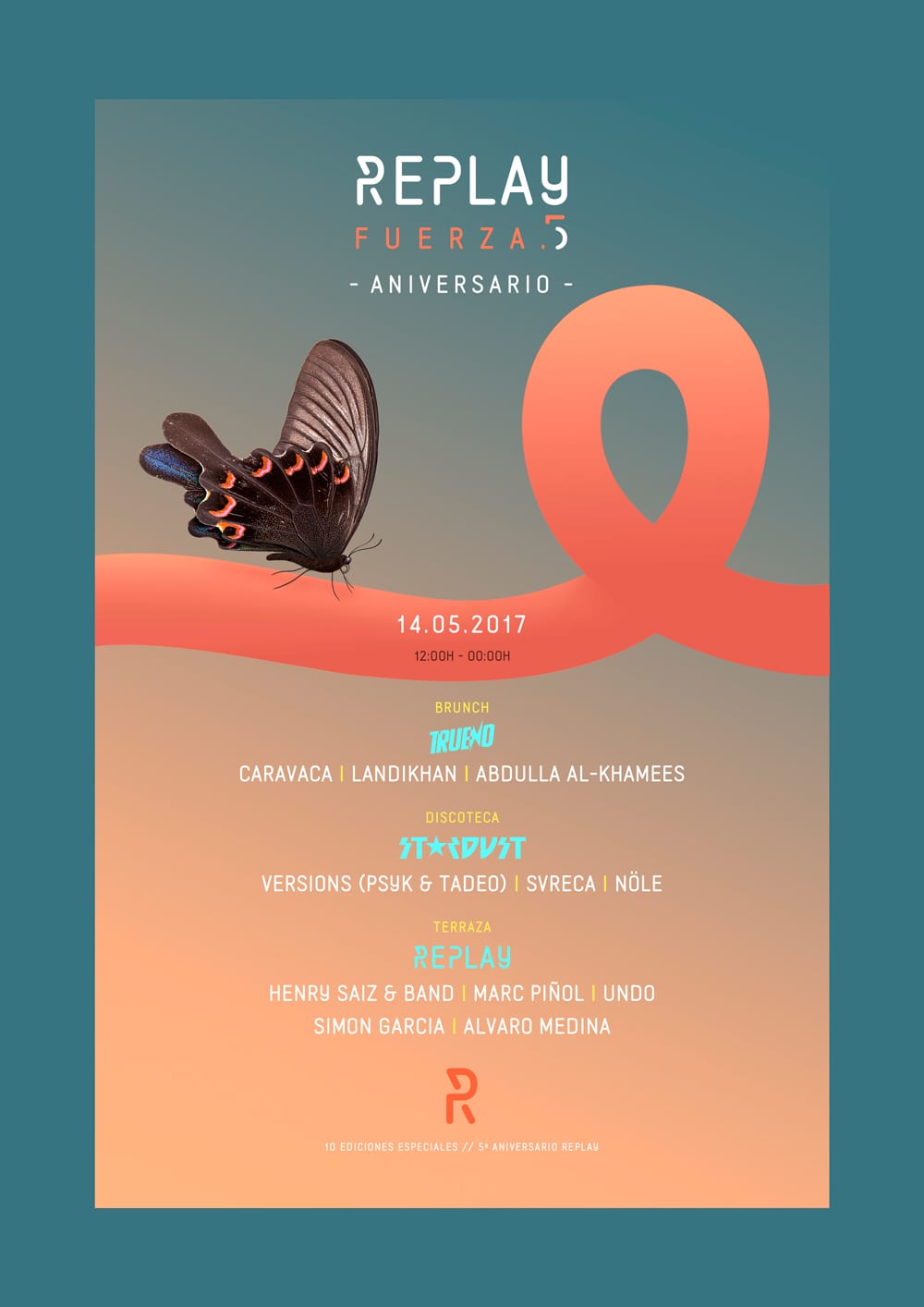 Marc Piñol, Svreca and many more at Replay Fuerza
It's not the first time that REPLAY dedicates one of its events to the Spanish talent but doing it within the series of 10 special events that the brand has scheduled for this season is something that we should really look forward to… Besides the big celebration of its 5º Anniversary, FUERZA is a declaration of intentions, the explicit materialization of REPLAY´s determined bet to visualize, and above all, to value the national electronic scene and its artists.
The Madrilenian club Trueno will be the responsible of the BRUNCH area from 12:00h with performances from the Malaga-based Caravaca, resident of emblematic places like Pachá Ibiza and Provocateur in Dubai, the Landikhan and the spaces of artistic provocation that he creates and Abdulla al-Khamees, capable of generating a coherent musical speech that covers from House to Techno.
The DISCOTECA will be under Stardust's control and will count on the presence of Versions, the duo formed by Psyk and Tadeo whose chemistry we don't know if is explained better in the studio or on the dance floor where they are natural conquers; Svreca, an outstanding figure in the national scene because of his capacity for mixing the most cold and sophisticated electronica with the most abstract and complex Techno; and last but not least, Nöle, the club´s resident and owner of one of the most dark and hypnotic Techno that can be found on the Spanish peninsula.
And in the TERRAZA REPLAY has scheduled performances by Herny Saiz & Band, an essential artist in the Spanish scene in which he stands out thanks to his capacity to create his own language that runs far away from imposed trends and fashions; Marc Piñol, a versatile artist under whose hands work with any type of gender; Barcelona-based Undo, a regular on the label Factor City; and of course, the indispensable residents Simón García and Álvaro Medina, the brand´s flagship.
REPLAY with FUERZA interpellates us once again to stop looking far and to discover the electronic talent that surrounds us. Celebrate the 5º Anniversary of REPLAY with the best electronic music outdoors on Sunday 14th May from 12:00h to 00:00h. Tickets can be acquired for a special price via Fever, also on Resident Advisor, Entradas a tu Alcance and the network of post offices in Spain. As usual, REPLAY can be reached using its official buses that depart every hour from Plaza de España.