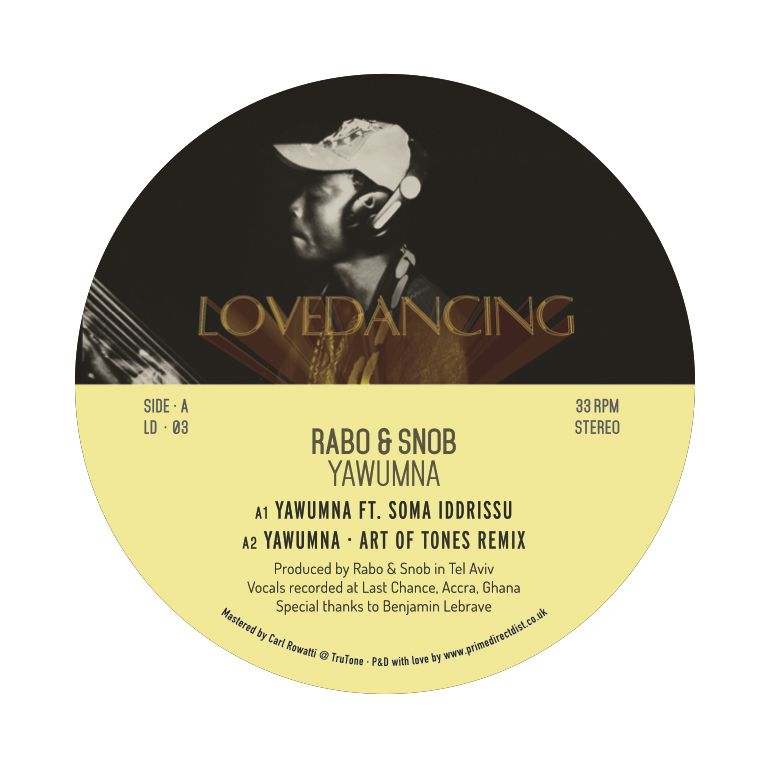 Rabo & Snob - Yawumna EP
LoveDancing is proud to present 'Yawumna', the new EP by Tel Aviv based veteran discoteers RaBo & SnoB. Ronen Sabo & Eyal Rob have been DJing together since the mid nineties and have been releasing their music via notable labels such as Whiskey Disco, LoveDancing and Disco Halal. Ronen, using the alias Obas Nenor has also released music on Moodyman's Mahogoni Music, Heist, and Strictly Rhythm.
'Yawumna', featuring vocals by Soma, is the fruit of the duo's visit to Ghana and the result of a chance meeting at Accra's main market while the duo were out looking for records and handmade percussions. The three quickly connected and Soma was recorded on vocals and the Kora. The result is an infectious, chantable afro stomper that feels both contemporary and rooted in Ghana's musical heritage. 20:20 Vision and Local Talk affiliate Art of Tones is on the remix adding his own signature tweak.
'Ifa' featuring Azizaa, is African house with anthemic qualities and a true club monster.Azizaa, who was introduced to Rabo & Snob via a mutual friend, packs the track with her unique vocal style and flamboyant energy. Let's Play House head honcho Jacques Renault steps up with an equally impressive remix.
An essential, dancefloor approved double A sider, out May 12th.
EP Title: Yawumna
Artist: RaBo & SnoB
Label: LoveDancing Recordings
Release Date: May 12th 2017
Formats: Vinyl, Digital
A1. Yawumna ft. Soma Iddrissu
A2. Yawumna – Art of Tones Remix
B1. Ifa ft. Azizaa
B2. Ifa – Jacques Renault Remix