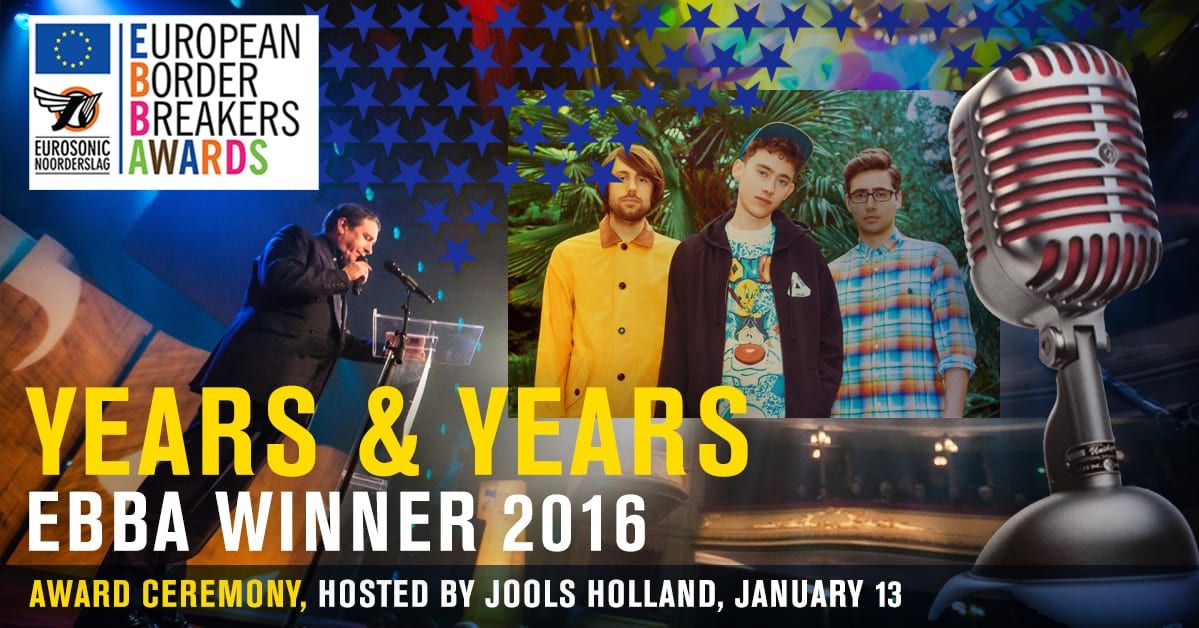 Years & Years revealed as 8th European Border Breakers Award Winners for 2016
The British band Years & Years are announced as the eighth winner of the 2016 European Border Breakers Awards (EBBA), the European music awards for emerging artists.
Lauded as the 'Sound of 2015' by the BBC, Years & Years are well on their way to world fame. Formed in London in 2010, the band consists of frontman Olly Alexander, bassist Mikey Goldsworthy and keyboardist Emre Turkmen.
Their catchy electropop, fusing synth with 90s-style R&B vocals, first caught the eye of French independent label Kitsuné Records, which released early singles Trap and Real. The video for the latter featured Ben Whishaw, best known for portraying Q in the James Bond films; he also co-starred with Olly Alexander in a West End play.
Earlier this month Carnival Youth (Latvia), AURORA (Norway), Oscar and The Wolf (Belgium), KOVACS (Netherlands), Alvaro Soler (Spain), SOAK (Ireland) and Seinabo Sey (Sweden) were unveiled as 2016 EBBA winners. Two more winners across Europe will be announced and filmed in the coming weeks. The footage will form part of a unique 'road-trip' mini-movie, which will be shared via the EBBA social media account and website.
The EBBA are about breaking down borders and recognising emerging European rock, pop and dance artists who achieved success in countries other than their own. These unique European music awards are funded under the European Union (EU) Creative Europe programme. With the EBBA, the European Union wishes to highlight the success of 10 debuting European artists in selling albums and touring outside their home territory.
From Adele (2009) to Milky Chance (2015), the winners of the EBBA represent the full breadth of European talent and diversity. Other previous winners include Stromae, Emeli Sandé, Gabriel Rios, Hozier, Melanie De Biasio, Of Monsters and Men, Woodkid, Mumford & Sons, Caro Emerald, Lykke Li, Disclosure, Katie Melua, John Newman, The Ting Tings, C2C, Tokio Hotel, The Script, Zaz, Nico & Vinz, Saybia, Damien Rice, KT Tunstall, Alphabeat, Milow and Afrojack.
Europe's cultural and linguistic diversity is a strong part of its cultural appeal, but linguistic barriers sometimes make it harder for artists to work internationally and achieve cross-border sales success. The EBBA seek to help them overcome these obstacles.
To be eligible for the 2016 awards, the artists must have achieved border-breaking success with their first international release in Europe between 1 August 2014 and 31 July 2015.