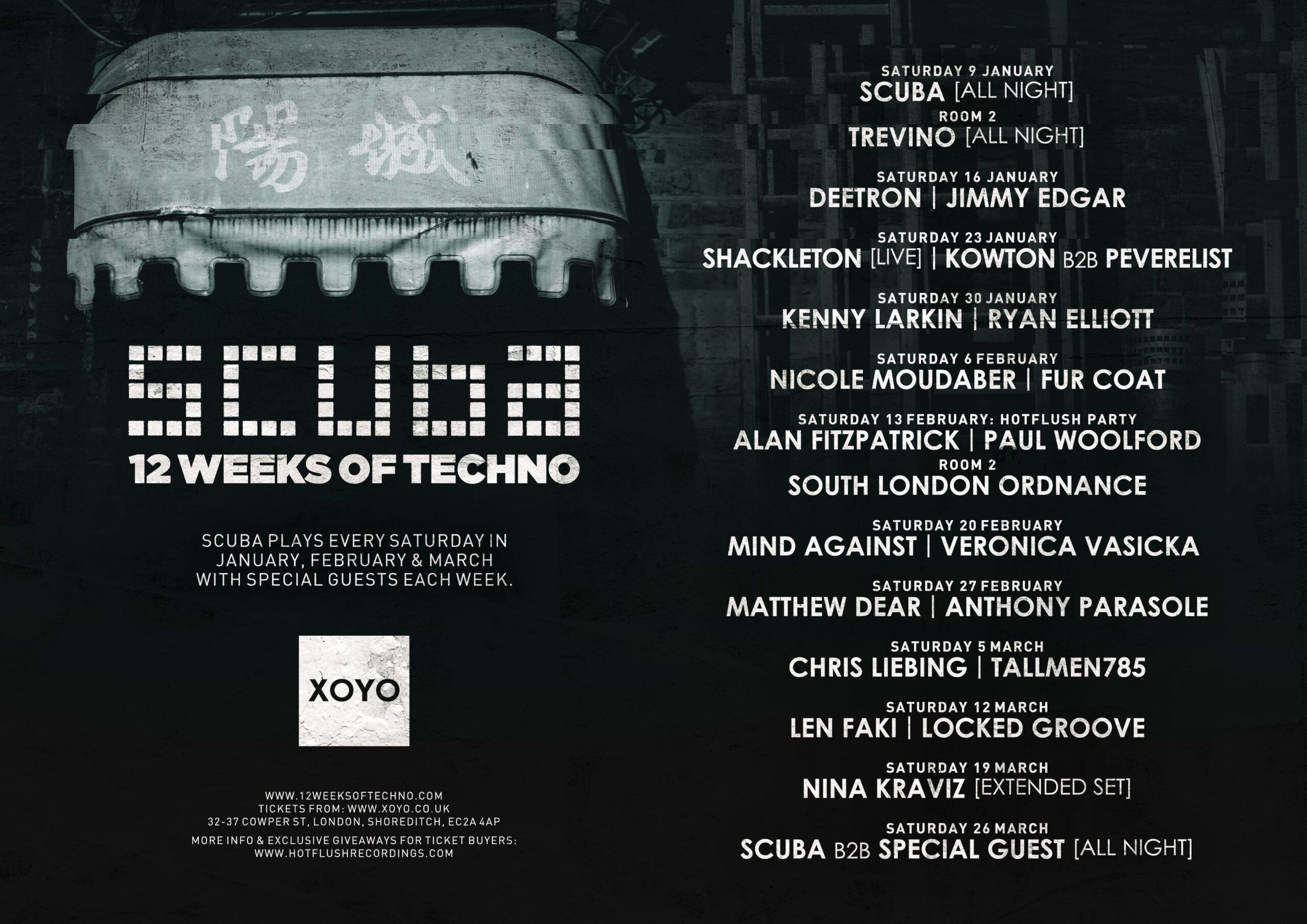 XOYO Residency Series 2016: Scuba presents 12 Weeks of Techno
We look ahead to our third year of the residency series… With every three months comes a new curator, a new opportunity to re-invent the sound of our Saturday nights.
With our first resident of the year we prepare to explore new ground as they present 12 Weeks of Techno. The artist who'll be leading us? We're proud to announce Scuba will be our first quarter resident of 2016.
A man of reinvention, Scuba's crossed genres over the years evolving into one of Europe's most influential and durable figures in dance music.
Alongside his acclaimed SUB:STANCE parties at Berghain and a relentless touring schedule, his position has been further cemented via plentiful releases on imprints such as Aus and his own label Hotflush.
This year saw him bring out his fourth album Claustrophobia; this record more than ever showing his dramatic approach to techno – a blueprint for his upcoming residency.
"I grew up with the club scene in London but since leaving for Berlin in 2007 I've only played in the city two or three times per year. The residency appealed to me because it's a chance to properly reconnect with the London scene, to present music that I love on a weekly basis, and to invite guests who I respect and admire" says Scuba.
Playing every Saturday in January, February and March, Scuba has enlisted a powerful roster of talent to play alongside of him.
"It's called 12 Weeks Of Techno so there's not much ambiguity about the music policy. But techno means many different things to different people and there's a really wide spectrum to the music. So when thinking about the guests I wanted to be as wide ranging as possible within that techno parameter and put together lineups that covered the full variety of what techno means to people. "
A double announcement, we're proud to unveil the full schedule for the fast-approaching 12 Weeks of Techno.
Saturday 9th January
SCUBA ALL NIGHT LONG
R2: TREVINO ALL NIGHT LONG
Saturday 16th January
SCUBA + DEETRON + JIMMY EDGAR
Saturday 23rd January
SCUBA + SHACKLETON LIVE + KOWTON b2b PEVERELIST
Saturday 30th January
SCUBA + KENNY LARKIN + RYAN ELLIOTT
Saturday 6th February
SCUBA + NICOLE MOUDABER + FUR COAT
Saturday 13th February: Hotflush Party
SCUBA + ALAN FITZPATRICK + PAUL WOOLFORD
R2: SOUTH LONDON ORDNANCE
Saturday 20th February
SCUBA + MIND AGAINST + VERONICA VASICKA
Saturday 27th February
SCUBA + MATTHEW DEAR + ANTHONY PARASOLE
Saturday 5th March
SCUBA + CHRIS LIEBING + TALLMEN785
Saturday 12th March
SCUBA + LEN FAKI + LOCKED GROOVE
Saturday 19th March
SCUBA + NINA KRAVIZ EXTENDED SET
Saturday 26th March
SCUBA B2B SPECIAL GUEST ALL NIGHT
Heavyweights of the scene come together to form three incredible months of techno-centric programming.
Highlights include Chris Liebing and Nina Kravis who make their XOYO debuts on Saturday 5th and 19th March respectively.
What's been a strong year for Mind Against continues into 2016 as they play alongside Scuba and Minimal Wave head honcho Veronica Vasicka on Saturday 20th February.
Scuba invites his Hotflush family to play across the series as well; check Alan Fitzpatrick, Paul Woolford, Locked Groove and Tallmen785 amongst others.
Room 2 takeovers to look out for would be Trevino's all night set on the opening date and South London Ordnance's on Saturday 13th February.
As is tradition, Scuba will play all night long on the first and last dates of his residency, though his closing party will see a special guest join in – any guesses as to who?
XOYO residency series 2016: 12 Weeks of Techno
Saturday 9th January – Saturday 26th March 2016