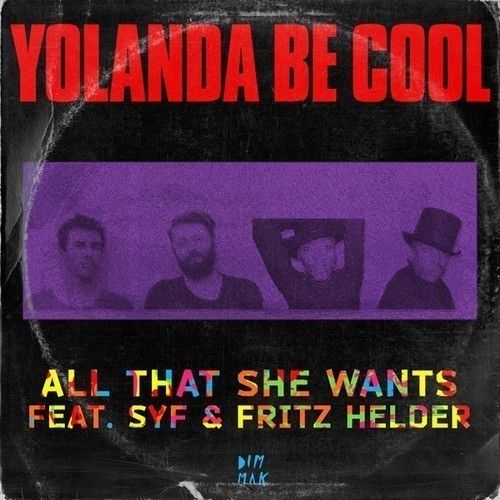 YOLANDA BE COOL feat. SYF & FRITZ HELDER – All That She Wants
Australian duo Yolanda Be Cool AKA Andrew Stanley and Matthew Handley, land on the formidable Dim Mak imprint with another sizable anthem that takes on an all-time dance classic and resurrects it most unlikely fashion. A collaboration between four of the brightest minds in electronic music, it's a truly momentous release for all involved and one that's set to be inescapable in 2014.
'All That She Wants' sees them reinterpret the Ace Of Base pop classic in cool, brooding, chugging style with the help of former Azari & III vocalists SYF and Fritz Helder – their first piece of work since the Canadian outfit recently disbanded. Almost unrecognisable from the kitsch original, its slo-mo charm and enchanting vocals are utterly irresistible. "We always wanted to do a cover of the original, which we love so much, but we knew we had to absolutely flip it" say the Yolanda boys. "We love the campness of [SYF & Fritz] and when we mentioned it to them, firstly in MIami at the WMC when Azari played after us, we knew straight away they would nail it.".
Cedric and Fritz went on to explain, "We grew up to Ace of Base, so when Matt and Andrew rang us up and pitched the Idea of a collab/cover, it was an immediate yes. The song is a classic and brought us back to a more innocent time. The collaboration process, however, was a journey from light to dark. We started with an up tempo vision, but as fate would have it, the darker more mysterious side of the song took hold and we all ran with it".
It's a record for radios as much as it is for afterhours house parties, effortlessly finding that sweet spot between accessibility and darkness.
Spearheading the hefty remix package, star of Defected and Hot Creations, Human Life, takes things a shade darker on his expansive, synth-heavy rework. New York house stars Walker & Royce offer up a demure, subtle deep house version, Kitsuné stalwart Plastic Plates opts for a slinky electro synth jam with tinges of Jimmy Edgar to it, fellow Aussies Wordlife go for jacking, rave-infused flex and Go Freek aim for the jugular with their blend of gnarly acid and '90s house bassline. There's something for every taste here, transforming the deep and dark original into something that will rock a wide array of dancefloors.
Look out for this monster exploding in across early 2014, as well as collaborations for Dim Mak and their own label Sweat It Out alongside Ben Mono, a new vocal bomb scheduled for WMC and a follow-up for Nurvous after their huge 'To Be Alone' emerged as one of the big ADE 2013 anthems. Add in lots of touring in Australia, European dates in February and US dates in March plus a Sweat It Out compilation and it is clear that Yolanda Be Cool is a name that is going to be on everyone's lips all year long.
www.facebook.com/YolandaBeCool2
www.twitter.com/yolandabecool
www.soundcloud.com/yolandabecool