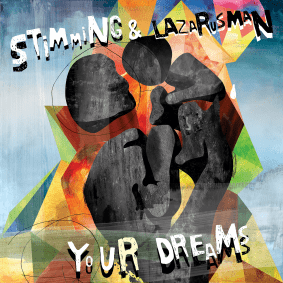 Stimming & Lazarusman - Your Dreams
Stimming and Lazarusman partner up to deliver 'Your Dreams' on Gruuv this November, whilst Tiefschwarz and label bosses Audiojack deliver stellar remixes.
With a solid body of material on labels including Diynamic, Stil Vor Talent and Hart & Tief, Hamburg based artist Stimming has firmly cemented himself as a clear stand out name since making his production debut back in 2007. With a decade of experience in the bag, including notable appearances at the likes of Watergate and Brooklyn Mirage and a who's who of names from the melodic house world making up his list of supporters, here we see the German talent joined by South African poet Lazarusman to deliver two versions of their hypnotic production 'Your Dreams' as Gruuv partner with UNICEF for Universal Children's Day 2018.
"Tuesday 20th November is Universal Children's Day – a United Nations backed initiative to mark the date when the UN General Assembly adopted the Declaration of the Rights of the Child. The UN have announced this day will be a #KidsTakeOver, where "UNICEF has invited children from around the world taking over key roles in media, politics, business, sport and entertainment to voice their support for millions of their peers who are unschooled, unprotected and uprooted on 20th November."
Your Dreams is a poem about fatherhood, parenthood, uncles and aunties, adults, those of us who are responsible and willing to inspire and help shape the humans of the future. "Let me hold them and guide them to become the dreams that they are meant to be.'
Lazarusman first worked with Stimming 10 years ago and they have since both become dads, a thought which inspired him to write this poem. Both of us in Audiojack and Ali from Tiefschwarz have young children too. We'll be inviting our children to work with us in the studio, DJ booth, club or office on this day, so keep look out for the videos. We'll also be donating all proceeds from record sales of this EP on Children's day to UNICEF." -Audiojack
Stimming & Lazarusman 'Your Dreams' is out on Gruuv on 16th November 2018.
Tracklist
1. Your Dreams (Lucid Version)
2. Your Dreams (Vivid Version)
3. Your Dreams (Tiefschwarz Remix)
4. Your Dreams (Audiojack Remix)