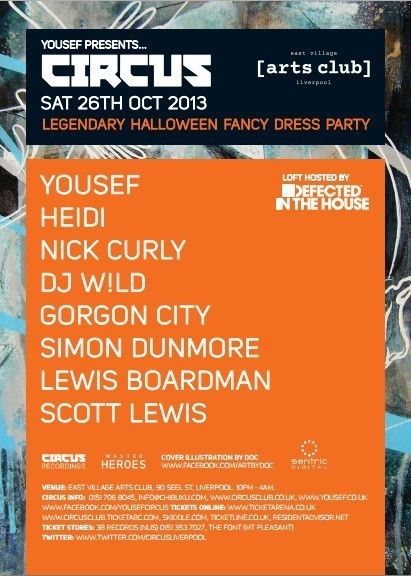 Yousef presents Circus – Halloween Fancy Dress
With age comes maturity, and that is prevalent within Circus as it steps into its second decade, and continues to move forward with an air of authority, and reverence as it slips out of a Summer of epic proportions. With Circus Recordings making heavy moves on dance floors across the globe in the guise of Green Velvets 'Bigger Than Prince, and last months birthday celebrations, there is a suitably amazing line up to announce for the annual and dare we say legendary Circus Halloween event. 
Yousef's summer ends, yet a relentless global touring schedule continues. Keeping Circus Events and Circus Recordings under complete control, Yousef's continuous studio commitments are revealed in many colours this month. With new music for Crosstown Rebels, Get Physical and of course the anthemic 'Float Away' with The Angel which is causing uproar in ibiza and now around the world with its release on Warners / FFRR.
 
Heidi makes a welcome return after her Boxing Day incursion once again bringing her dedication and passion to the proceedings. Canadian born and now living in Europe, Heidi has committed every ounce of her energy and determination to put herself in the position she is in today, it has never been about right place, right time, Heidi has created that time and place herself. Playing across the globe and holding residences with her 'Jackathon' parties, her unique vibe and sound has reached the ears of House enthusiasts at clubs and festivals such as EXIT, Global Gathering, Detroit's Movement Festival, Fabric- London, Womb – Japan to name a but a few.
Few producers in the history of dance music have made such a rapid and far-reaching impact on the electronic music scene as Nick Curly. With a startlingly rapid rise through the ranks, he has defined a whole new genre of forward-thinking underground House and Techno music, with tracks released on seminal House music label Cecille and his own imprint, 8Bit. Already well received back in 2011 at Circus, his return is much-anticipated. 
Inspired by the endless groove possibilities when House, Garage and Bass music go toe-to-toe, Gorgon City's distinctive sound is a logical development of the duo's individual work as RackNRuin and Foamo. Both respected and renowned for their electrifying bottom-end workouts, it's a platform for the North London producers to fuse the deeper, sexier sounds they've been excited by for years but not yet had the opportunity to explore. Currently taking up residence on Black Butter Records – the same label who gave us chart-smashing vibe maestros Rudimental – their unique funk fusion hints at club carnage but is executed with sleek, sonic sophistication.
French DJ W!LD makes his Circus Liverpool debut, the Gallic troubadour has been an intrinsic influence on the world of House music in the past few years, rapidly building up a heady profile as a tastemaker du jour. His celebrated residency at Circo Loco has been firmly cemented by show-stopping debuts at the WMC and Sonar, as well as being enlisted on arguably the most impressive talent agency on the planet; Cocoon. His inimitable brand of deep and dark, sexy and twisted house is a perfect fit for the mammoth wall of sound that awaits him in the East Village Arts Club.
With Yousef's huge House release 'Beg' released on Defected last year Circus has invited Defected In The House to host The Loft and will be headed up by label boss and electronic music industry figure head, Simon Dunmore. Simon is Defected; plain and simple. Without him, one of the world's longest-standing and most highly respected house music labels would not exist, and the current landscape of electronic music would appear that little bit flatter. Rapidly approaching its 15th anniversary, few labels have consistently operated at such a high level as Defected Records, due in no small part to the drive, determination and A&R talent of its owner and founder. 
Circus' two residents, Lewis Boardman and Scott Lewis, complete the lineup, bringing their mature stance into invigorating House music to the East Village Arts Club.