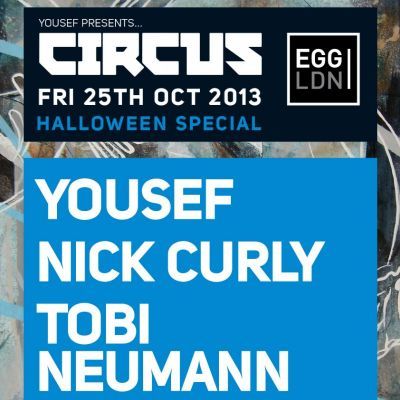 Yousef presents Circus London
Returning to what is regarded as the Circus home from home, Yousef selects yet again another stella line up of forward thinking and pioneering artists to headline his self curated event in the Capital at Egg London. Last months event, which was part of the Circus 11th year celebrations, seemed to raise the bar once again, delivering perhaps the most solid of underground selections from System of Survival, Shaun Reeves, Wildkats and Yousef beating out their twists on House, Techno and Electronic music and reinforcing the Circus message of Enlightenment and Entertainment.
Moving ahead to Octobers session, the relentless pressure to present an unequivocal program of the leading global producers and DJs does not stop and Yousef and the Circus team deliver yet again, no questions asked.
German born producer and DJ Nick Curley has forged a strong career since his early residency at the Vibration Club in the Karlsruhe region of Germany and has been inspired by luminaries including Dj Sneak, Frankie Knuckles, Dennis Ferrer and Villalobos.
Another home grown German talent also takes part in this months proceedings. Munich born Tobi Neumann, classically trained in both the piano and guitar and also as a sound engineer, Tobi hosted his own event, 'Flokati' at Ultraschall bringing in guests including Steve Bug and Chez Damier helping to spread his reach and reputation far and wide. With residencies at Berlin's 'Watergate' and 'Weekend' and Ibiza's 'Amnesia' plus his productions for Chicks On Speed, 2Raumwohnung, Miss Kittin amongst others have made Tobi Neumann one of the driving forces in the German electronic music scene.
Fully fledged Circus family members The Acid Mondays once again join the line up having played at both London and Liverpool Circus events previously and having released their Svenkins EP on the Circus label. The pair have also released tracks on Illusion Recordings, 2020 Vision, Deep Vibes, and DJ Sneaks Magnetic label and have been laying down their warped vision of hallucinogenic House from their Ibizan stronghold, weaving their way round some of the Islands more underground sessions including the Zoo Project events.
Curating and hosting the event is Yousef, juggling the releases of the 'Bigger Than Prince' by Detroit legend Green Velvet on his Circus imprint, which has been perhaps the biggest track of the Summer in Ibiza and is being well received globally, plus his self-penned 'Float Away' track featuring the heavenly vocals of The Angel on Pete Tong's FFRR / Warner label. Further remixes for Crosstown Rebels, Get Physical, Intec and Leftroom recordings are also ready to be presented to the Global dance music audience across the Autumn and Winter months and Yousef will be touring extensively as well as further artistic endeavors in the studio..