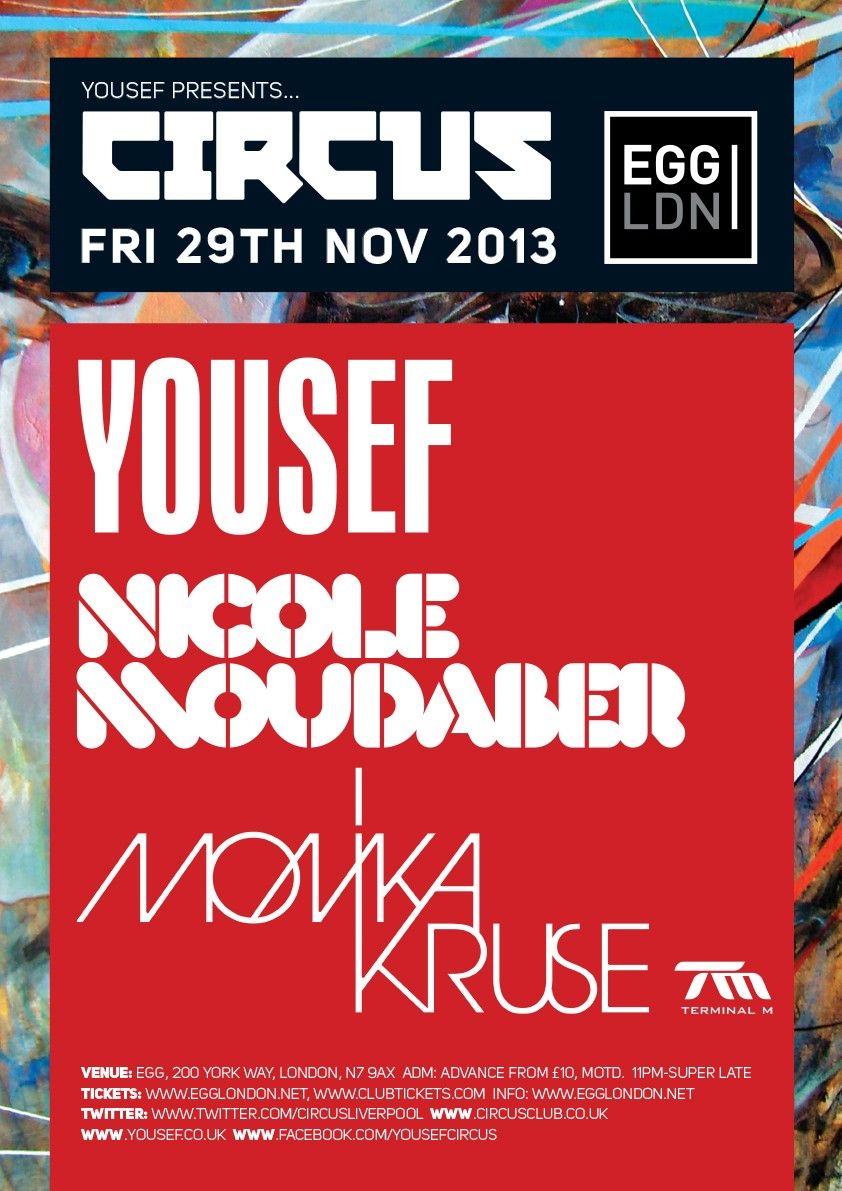 yousef Presents Circus
Yousef presents Circus London
Featuring Nicole Moudaber and Monika Kruse
Friday 29th November @ Egg London
Returning to the capital for its monthly exploration into authentic, underground House, Techno and Electronic music and all that is positive in the UDM scene, Yousef and Team Circus once again bring a together line up of the established ambassadors that Yousef is so very passionate about. It promises to be another mesmerising event.
Yousef's latest selection presents two of the most current women on the underground scene to Circus London. The line up consisting of Yousef, Nicole Moudaber and Monika Kruse.
This event will see Nicole return to where in essence, it all began for her. While studying in London she immersed herself in the city's underground scene with nights like Trade, DTMP & Strawberry Sunday, here Nicole became a regular DJ and slowly worked her way up the ranks before performing with Carl Cox at Space, which was recorded for the legendary Radio 1 Essential Mix back in June 2012. As well as an established producer, she also runs her own imprint, MOOD records. Check some of Nicole's productions
such as 'Hair' released on Leena Music and 'Break It' released on the Kling Klong label in 2012. Expect nothing less then epic from her incoming DJ set of drum driven Techno that will ignite the already exhilarating atmosphere that the Egg Club manifests.
Berlin born Monika spent her formative years growing up and studying in Munich. Here Monica started her career by running her own illegal parties and legendary 'Housetram' events. Monika's undeniable passion for House music has seen her perform for some of the most iconic events and clubs including Wire, Underground Fusion Festival, Panorama bar were she has held a residency, as well as Carl Cox & Friends at Space. It is safe to say Monika has certainly made her mark as a pioneer for women in House music, and has made impressive pinpoints in the Electronic music map, she has also found the time to create and nourish her own label, Terminal M, which is currently sitting on 13 accomplished years within the industry and is home to artists such as Paul C & Paolo Martini with their 'Waterdrops' EP and recently celebrated its 100th release which included the Yousef track, 'Fantasy Drum'.
As the firm lynch pin in all Circus events, Yousef as always will deliver his perspective on 21st Century House music, working the seductive groove and rhythms and moving through the full spectrum of deep through to the hypnotic, beat driven workouts he is loved and respected for while still firmly pushing out his message of 'Enlightenment and Entertainment, serious music and fun times'. Recently just back from completing a North America tour, Yousef will be heading to South America playing at Pacha in Buenos Aires and Disco Club in Sao Paolo. Yousef latest release on Defected Records 'I See' Ft Charli Taft is set to continue his ascendence of productions and along with the forthcoming releases on his Circus Recordings from Harry Romero, Reboot and Paul C & Paolo Martini the drive for underground House music is being spearheaded right here.
Yousef presents Circus London
Featuring Nicole Moudaber, Monika Kruse & More TBC
Friday 29th November @ Egg London
200 York Way, London, N7 9AX
11pm – 8am
Ticket Cost – £13.50 / £15.50 / £17.50 / £19.50
Tickets – http://bit.ly/1aH9Ex3