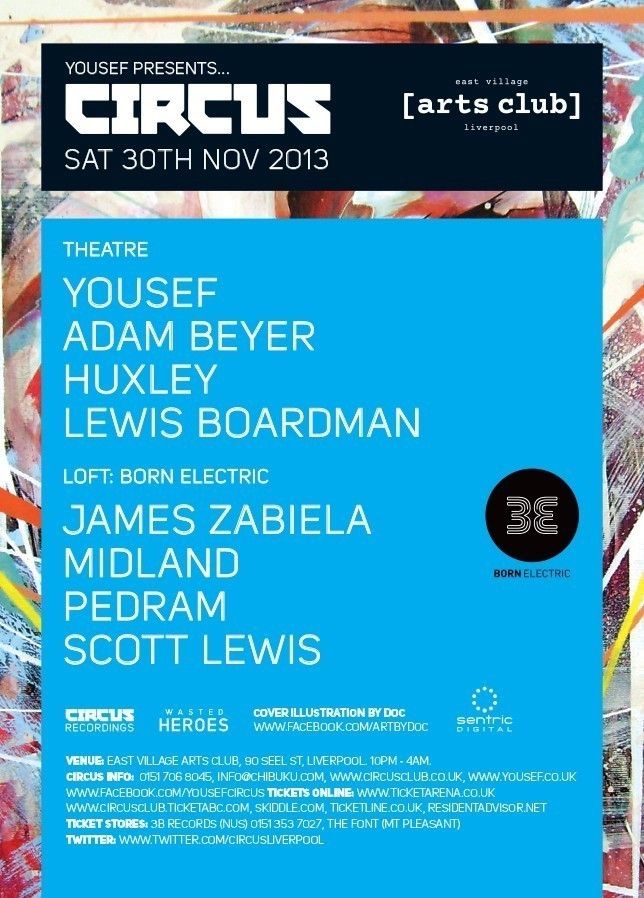 Yousef Presents Circus
Yousef Presents Circus Liverpool
Featuring: Adam Bayer, Huxley, Lewis Boardman
The Loft hosted by Born Electric Featuring: James Zabiela, Midland, Pedram & Scott Lewis
Saturday 30th Nov @ East Village Arts Club
After Circus Halloween party that blew the roof of the Seel St venue, the electronic juggernaut that is Cir-cus shows no sign of slowing down as we head deep into the winter months. Curating and presenting the event as always, Yousef has asked long time friend of Circus, James Zabiela to host the loft with his Born Electric label, also heading up the bill will be Adam Beyer. Joining the already strong line up are Huxley, Midland & Pedram performing beside Yousef himself and Circus residents Lewis Boardman & Scott Lewis.
Southampton born James Zabiela is a firm favourite among the regulars at Circus were he finds himself performing in front of packed out rooms every time he returns to the Liverpool venue. Zabiela has loyally spent over a decade performing for renowned We Love at Space Ibiza each season proving his con-sistency and innovativeness to attract crowds year after year. A stalwart of the electronic music scene of-ten melding his love of tripped out vocals and hyper sonics to devastating effect. With strong production credentials under his belt with leading labels such as Toolroom, PMI, his own label Born Electric, and Re-naissance which has also seen releases from Circus's founder, Yousef; JZ brings it all the party!
Adam Beyer is one of Sweden's most notorious Techno DJ's. As a truly international ambassador for Techno globally, he is also heavily involved in his 3 record labels; Drumcode, Truesoul & Madeye. Drumcode; a home to leaders in new wave Techno has seen successful releases such as 'Awake' by Jo-seph Capriati earlier this year and lauded classics from Beyer himself such as 'This Is Code Red' back in 2008. Expect heavy sets of percussive lined Techno, inspired by Beyer's drummer background.
Huxley a former garage producer before finding a flare for House music, will be sure to deliver a bass led set to the crowd showing off his former interests in the UK & US garage scene. Some of Huxley's most credited work includes his lauded 'Let It Go' from Hypercolour in 2012, which showcases Huxley's versa-tility as a producer. Keep an eye out for upcoming projects from Huxley such as collaborations with the likes of Sam Russo & Eythl.
Midland made a burst onto the House music scene back in 2010 with his release 'Your Words Matter' with long-term friend Pearson Sound that charted into DJ Mags '100 most important House tracks'. Mid-land, part of the Born Electric family with his seminal releases 'The Healing' will be supporting James Zabiela in the loft.
Pedram's various production work under different alias's in the recent past has seen him make fans of Anja Schneider, Paul Woolford, Nic Fanciulli. But it has been the joining of forces with James Zabielaís Born Electric imprint that has seen a long term vision and distinction of his sound forged. Based in Shef-field but originally hailing from Iran, Pedram made the move to what is arguably the original electronic mu-sic capital of the UK, Sheffield, with labels like Warp and acts like LFO and Forgemasters seeming like neighbours to not just Pedram, but most young, aspiring producers in the city. 2013 saw Pedram marking his debut release on James Zabiela's Born Electric with a two track double A side EP which garnered support from the likes of Midland, George Fitzgerald, Dusky, Tensnake amongst others.
At the centre point to every Circus event we find the key stone Yousef, with his mature flare and deter-mined work ethic he delivers something exceptional every time we see him perform in his home that is East Village Arts Club. Working the sound system and hyping the crowd to a frenzy we always know we are in for something special when Yousef presents Circus. With recently completing a North and South American tour and fitting in dates at ADE, his touring schedule is relentless. His imprint, Circus Record-ings keeps moving forward, rolling deep from the summer success of Green Velvets 'Bigger Than Prince', the roster of forthcoming release is as forward thinking as ever with new material from Harry Romero and Reboot in the pipeline. Yousef's own productions schedule see's a follow up to his Beg release on De-fected in the guise of 'I See' Ft Charli Taft, already gathering strong plaudits from his contemporaries and peers.
Yousef Presents Circus Liverpool
Featuring: Adam Bayer, Huxley, Lewis Boardman
The Loft hosted by Born Electric Featuring: James Zabiela, Midland, Pedram & Scott Lewis
Saturday 30th Nov @ East Village Arts Club
TICKETS – £16 / £18
TICKET LINK – http://bit.ly/18IXzmi