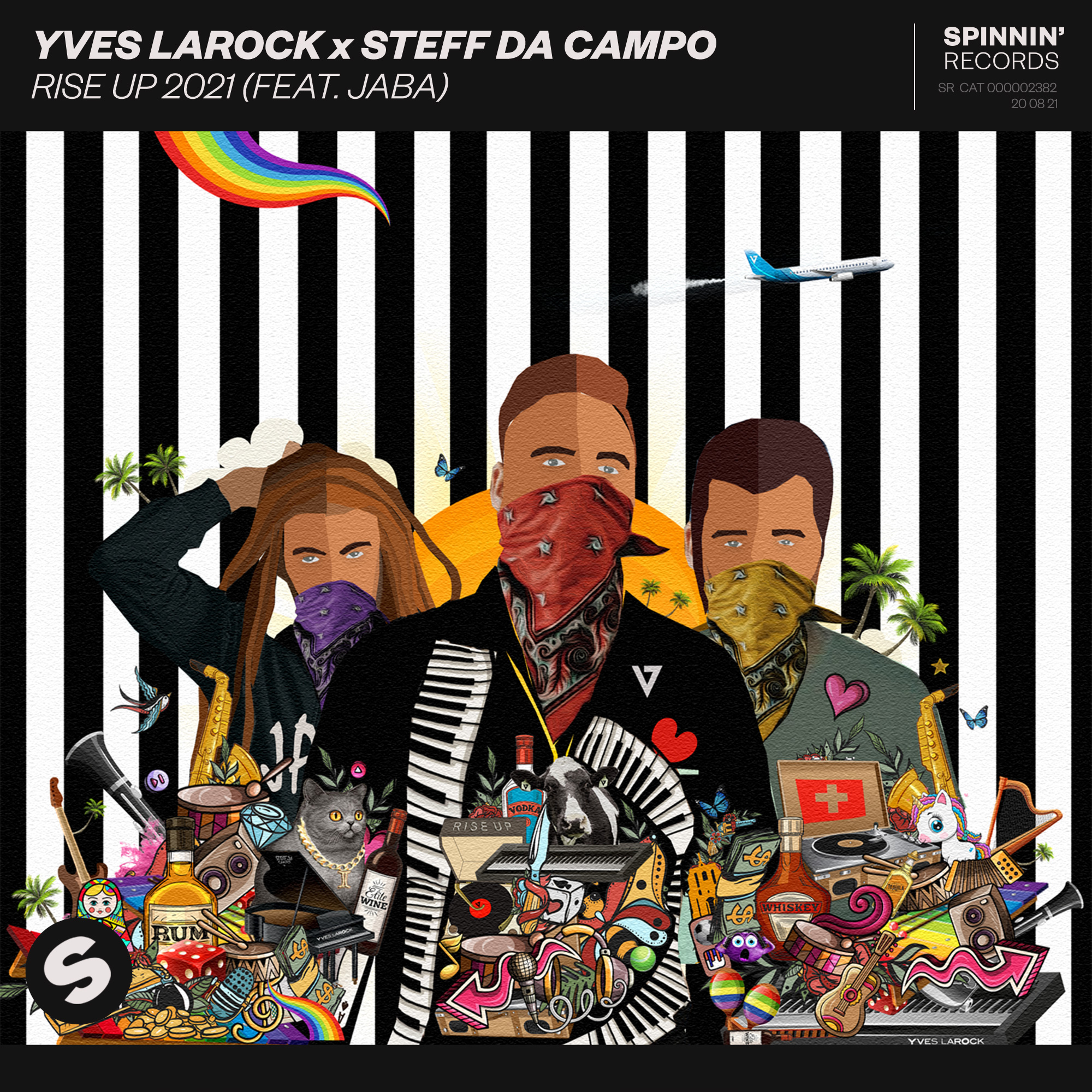 Yves Larock & Steff Da Campo Discuss Raising The Br For 2021
Back in 2007, Yves Larock's monster hit 'Rise Up' dominated global charts and radio station airwaves. 14 years on and the single has been revisited by Larock and Dutch house star Steff Da Campo. Flavoured with reggae and with original vocalist Jaba back on the topline, is the new version capable of doing just as much dance floor devastation as the original? I House U caught up with both producers to find out how the collaboration came about, and how both have managed to 'Rise Up' through the current pandemic to new periods of creativity…
Hi Yves, Steff, welcome to I House U. Can you start by telling us where in the world you are and what you're doing right now?
YL: I'm in my studio, making music, in Neuchâtel a small town by a lake in Switzerland.
SDC: In the beautiful city of Leeuwarden, in the North of Holland editing the video for 'Rise Up 2021'.
Congrats on the 2021 edition of 'Rise Up' – why did you feel the time was right for a new version? 
YL: We are in a period of doubt, so I don't know if it's the right time, but in any case, I find that this version is magic.
SDC: I was messing around with ideas and I always loved 'Rise Up', somehow it got together right now. I hope the 'Rise Up' message may somehow connect to the fact the world is slowly opening up again after the mess from the pandemic.
Compared to the original version, what's different about the 2021 edit?
YL: The essence of the original title is the same, but the sound is totally different and actually, the reggae part is the cherry on the cake.
SDC: We kept the building blocks from the original like the super vocals by Jaba and some of Yves' original production, I added the Steff sauce to the club mix, which Yves loved. After that we started working on a variety of radio versions and remixes, with 71 Digits and also with Mr. WakuWaku. Some of these are more radio, in some we have included some additional reggae influences.
The original track was one of 2007's biggest hits – do you anticipate the 2021 version getting the same amount of traction?
YL: I hope. In 2007 all the clubs were open, so I hope that they will all reopen soon so that this title can have a life in a club.
SDC: I estimate 200 million streams hahaha. No, it's hard to beat Yves' success with the original, but I have been getting great responses from fans already, both Yves and I have great teams, which collab with Spinnin on some great promo ideas and we have shot a great video, so we will at least try to score a massive hit with all guns blazing!
The theme of 'Rise Up' is definitely something we're feeling here at I House U after the last year and a half! How have you both been, how have you been coping with Covid and do you feel like things are getting back on track now?
YL: I hope, let's stay positive, but with this pandemic, we are in perpetual doubt, I hope that we will not be announced a 4th, 5th wave. Otherwise I think a lot of clubs, artists won't get up.
SDC: It has been pretty terrible for our industry, especially for all the people who work so hard behind the scenes and who lost their jobs. At the same time, it gave me the chance to spend extra time with family and friends, so that's positive. But I can not wait to really hit the road again like before this mess.
If you've learnt one thing from the world going on lockdown, what is it?
YL: Life is a play: what matters is not that it lasts long, but that it is performed well (a quote from Seneca).
SDC: Value what you still have, not what you lost.
Do you have any touring plans that we should know about?
YL: I have a few dates coming up, but everything is very slow and since we don't yet know how tomorrow will be, the organizers are hesitant and I understand them.
SDC: My agent is working on a European tour, but it has been hard, as many shows are constantly cancelled or rescheduled due to constantly changing covid measures in each country.
What can we expect next from you?
YL: Considering I've had a year and a half in the studio, I have a lot of releases planned, so a lot of new music in the next few months
SDC: I have about five releases ready to go, but first I want to focus on 'Rise Up 2021'. I do have a remix coming out soon, which I did for A7S'amazing "Nirvana" really stoked about that one.